@mchelle .. should the user be able to upload only one image at a time and set the title and caption or upload multiple images ?
The problem with allowing uploading multiple images is that users would be able to completely flood the gallery!
Hello zhenjueyimen
We have created a plugin that works with our Easy Visualization Tools for WordPress, so that you can use the Google Chart Tools to visualize your earnings. Check out the plugin on our website. Or send us a PM and we can send the Envato API plugin to you.
Please notice that this is a public forum. You should contact the author of the item. I'm sure he/she will help you. Go to the authors profile page and send a message.
mordauk said
I spoke with Collis personally a few days ago and brought this up. He said that that is definitely not true, and if it is, it shouldn't be. Authors are more than welcome to include auto updaters. I include auto updaters in all of my new plugins.
Hi Pippin,
I'm glad that you were able to get an answer from him. Maybe they can make it official because I'm really tired of not being able to get an answer. This is the latest of many emails I've received from Envato concerning this.
It does say that an approval is on the way, but still nothing official. We've only been asking for this for 12+ months now.
However this is good then we can get started implementing auto updaters in all our plugins.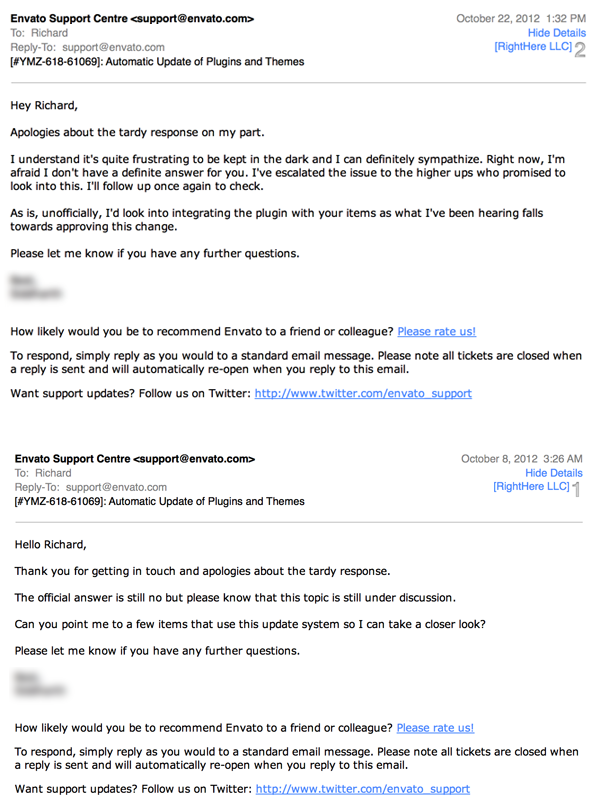 Is it a template or a WordPress plugin you have purchased? This is a public forum. If you contact the author of the item through the profile page of the author I'm sure he will be happy to assist you or point you in the right direction
Hello colorit
Some authors on Codecanyon have implemented automatic update into their plugins just like when you download a free plugin from wordpress.org. Other authors including our self offer a "update notification" and then you will need to go to your Codecanyon account and download the plugin again.
Unfortunately this is not the ideal situation, but officially we are not allowed to offer automatic updates. Rumors say that Envato is working on something similar to the automatic update they offer for WordPress themes on themeforest.
I would encourage you as a customer to request Envato to speed this up.
pixelentity said
for TF it's already possible using API , no luck for CC though
I got an answer from support just a few days ago that we are not allowed to do it with Codecanyon (WordPress plugins).
That is great news that this is possible now on Themeforest for WordPress themes. Then there might be light at the end of the tunnel!
I hope this is just the first of many improvements that will come. A lot of good suggestions has been made throughout the comments in this thread.
Personally this doesn't really make any difference for me. When I have an item ready for upload I will find the Upload feature
I don't think that it need to be placed at the very top of the Author Dashboard. This space could be used for better things.
This might be off topic, but I have three things that I really which that Envato would prioritize soon. I know this is only targeted towards Themeforest and Codecanyon, but we have been discussing this back and forth for more than 12 months in the forum, and we still don't have a clear vision if anything has happened in reference to these topics.
Automatic Update feature for WordPress themes (Themeforest) and WordPress plugins (Codecanyon).
I'm aware of that several authors have their own systems in place that serves updates, but the official answer from Envato is still that we are not allowed to deliver automatic updates to our customers.
We almost daily have customers asking us why we can't deliver automatic updates. Why do they have to install plugins or themes by FTP or disabling, deleting and reuploading? We are in 2012 not 2001.
Choose license per item uploaded
We have to can only opt-in for Extended License on all our items not individual items. It would be a great improvement if we could choose Regular or Extended License per item. It would give greater flexibility to how you want to offer your items to customers.
Developer License
Almost every week we have customers asking for Developer Licenses for WordPress plugins. Or they ask for discount when purchasing multiple licenses.

Also the Extended License pricing on Codecanyon (specially WordPress plugins) is absurdly priced. It is only 5 x the item price. Look at a WordPress theme on Themeforest and its 50 x the price.

This means if you want to purchase a theme for your WordPress Multisite network you will pay around $2,000-$2500 for a theme, which I think is fair as you can run hundreds or thousands of sites from a WP MS installation.
However if you purchase some of the most popular WordPress plugins ($15 – $25 per plugin) you only pay $75-$125 for a plugin and then you can use it throughout your entire WordPress Multisite network, which could potentially be hundreds or thousands of websites.
We love the Envato Marketplace and we hope that Envato will continue to be the market leader in this field. We need someone to take action on the above and get some official answers.
12 months of waiting is enough!
Hello Brandon1980
We are right now working on version 3.0 of our gallery plugin and this is one of the features we are adding. It should be out soon. Hopefully less than a week.