Stockwaves said
[...] If it matters, it's WRONG, it's better if buyers use search and your items should be recognised for their respective qualities, not your sales history (which also could be of other kinds of items).
No offense but it's better because of your opinion? And maybe the good sales history could be due to author's items quality?
Stockwaves said
What I will agree on is that it SEEMS really cool to have a ladder to climb. It does make this website stand out and I love the ambition. The problem is, again, you can't, even as a hard working author really climb to the point where it matters. [...]
If you think you can't climb that high, you can't.
QantumThemes said
[...] Recapping the situation after reading all the things published by Envato so far:
1. author becomes sellers
2. envato take a percentage as commission
3. there is a shadow (illegal) invoice that goes from the author to the buyer
4. buyer can declare to be a company to avoid paying VAT, we cannot check
5. authors are paid by Envato but make invoice to customers, so transaction doesn't have any real cash flow proof
6. author needs to discount commission from earnings, so potentially I can pay 0 taxes or be in permanent credit if commission is 50% (for example) or if my tax rate is less than normal for particular situation
7. envato collect vat for us (and we say to tax office that someone did for us) which leads to an impossible situation,
8. authors who sells small things will stop existing as incoives for 2$ are simply silly as killing flies with a shotgun
9. we have no certified docs nor transation about the commission held from envato which makes legally impossible to discharge the cost from the earning
10. invoices are issued without permission to people we don't know
11. invoices are out of any order for a professional like me that has many other invoices to external customers
[...]
Great post, +1 sir.
Just one question. Buyer deposits $50 to Envato then he buys one of my items. Then he receives the invoice issued by me (or rather, on my behalf). But I don't receive any money from him directly. How is this possible? Then the buyer threw this invoice as cost invoice but such an invoice is invalid because there is no direct money flow between buyer and author. Not to mention situation in which the buyer or the seller provide false personal information (or doesn't provide any) for invoicing purposes.
7Studio said
1. Envato don't have permission to issue invoice on our behalf.
2. We need to follow hierarchical numbering of our own invoicing software.
3. Invoice must include TAX ids and full address of both parties.
+1
FinalDestiny said
Guys, stop quoting that design, it takes so much space that reading anything else becomes extremely hard.. pretty much anything looks better than the current white, but that design wouldn't make it much better, if they'd make a contest they'd get lots of better designs than that one.
I agree. Mentioned design looks very heavy and overloaded plus some of the elements are outdated. White background is fine, I got used to it already
It's fine, although the font size could be 14px.
Version with gray background and white boxes:
Click to Enlarge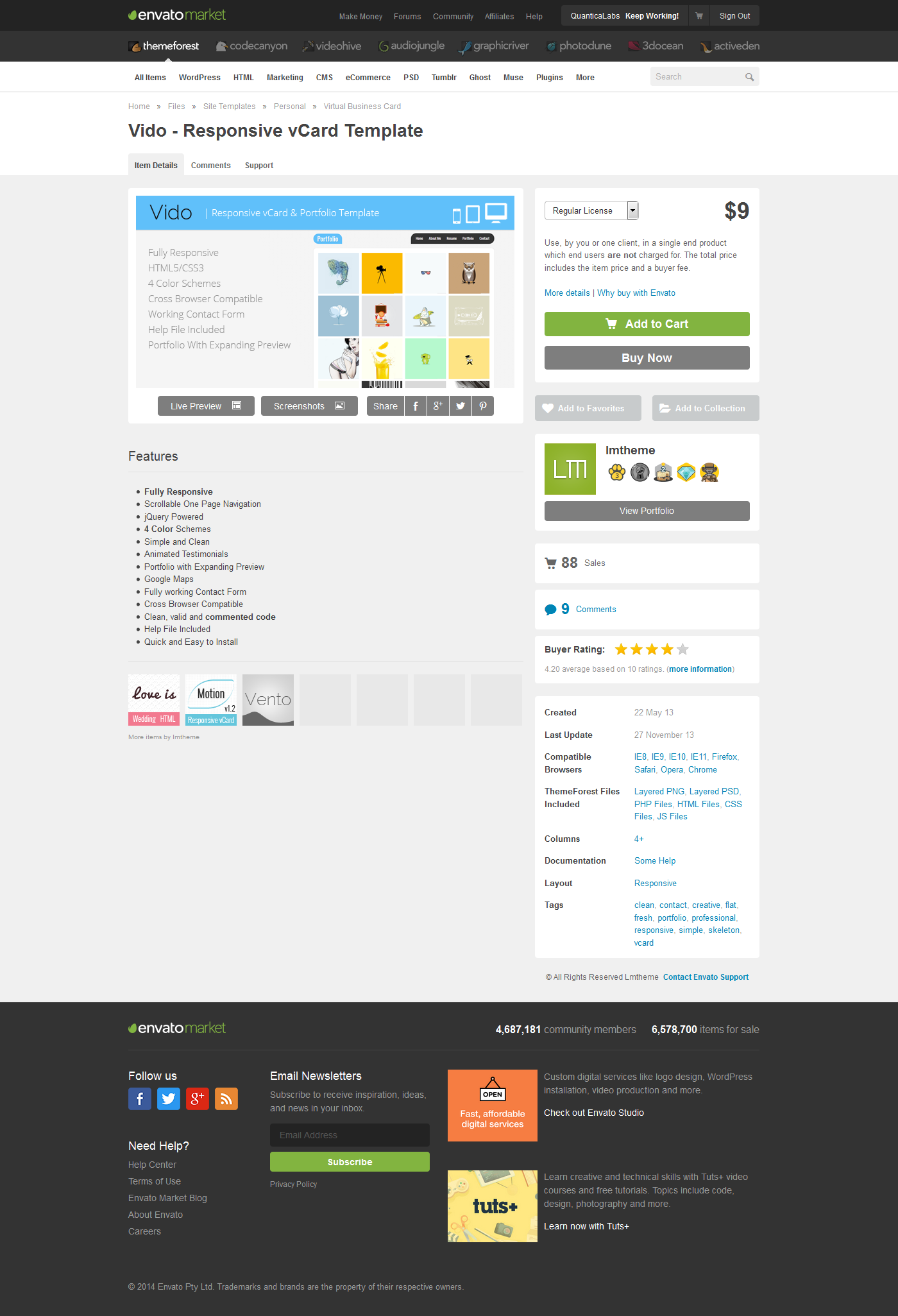 natman said
Also, big thanks to QuanticaLabs for jumping in to answer questions!
My pleasure
Gareth_Gillman said
Envato are the seller (no matter what they say) and they are responsible for the VAT, it doesn't effect your earnings and you don't need to declare any VAT to your governments tax office, Envato are (or will be) signed up to the EU VAT system so when a buyer in europe pays for their item then Envato will pay that money (through an intermediary) to the country of the buyer e.g. Bulgaria.
+100
Relax, it seems the changes doesn't affect the authors
corrella said


QuanticaLabs said


corrella said


QuanticaLabs said


HELIOSMEDIA said
For me it is not clear.


1. Example:
I sell item for $10 and I get %56 = $5.6
Who will pay the VAT tax? Customer or Me? Is that mean that EU author items will be more expensive?

Buyer will. EU buyer without VAT EU will be charged $10 + VAT.

Are you sure, that buyers pay the tax?

Reffering to blog post:

EU buyers who provide a valid EU VAT number as well as buyers who confirm their country is not located in the EU will not be charged VAT on Envato Market. For EU non-business buyers, we will add VAT based on the rate in their country of residence to the list price of the item(s) at time of purchase.

Does that mean, the items of EU authors will be more expensive for non-business-buyers than items from other authors?
For EU non-business buyers items will be more expensive regardless of where the author came from.