Vict0rPH said
My client buyed a after effects intro from videohive. When i try to open it it says that nine files are missing. I cant find them anywhere! Please help.. What should i do in this situration? Im using after effects cc 2014…
All files are being reviewed by staff, so there's no way files are missing.
1. Either a corrupt download happened, so redownload from www.videohive.net/downloads
2. Or you have separated the project file (.aep) away from it's directory and it can't access the footage. A normal template always have a folder called "Footage" that holds the assets. The main project and this folder must be in the same directory. This should solve your problem!
I have the same issue here: http://videohive.net/popular_item/by_category?category=after-effects-project-files (windows – Firefox)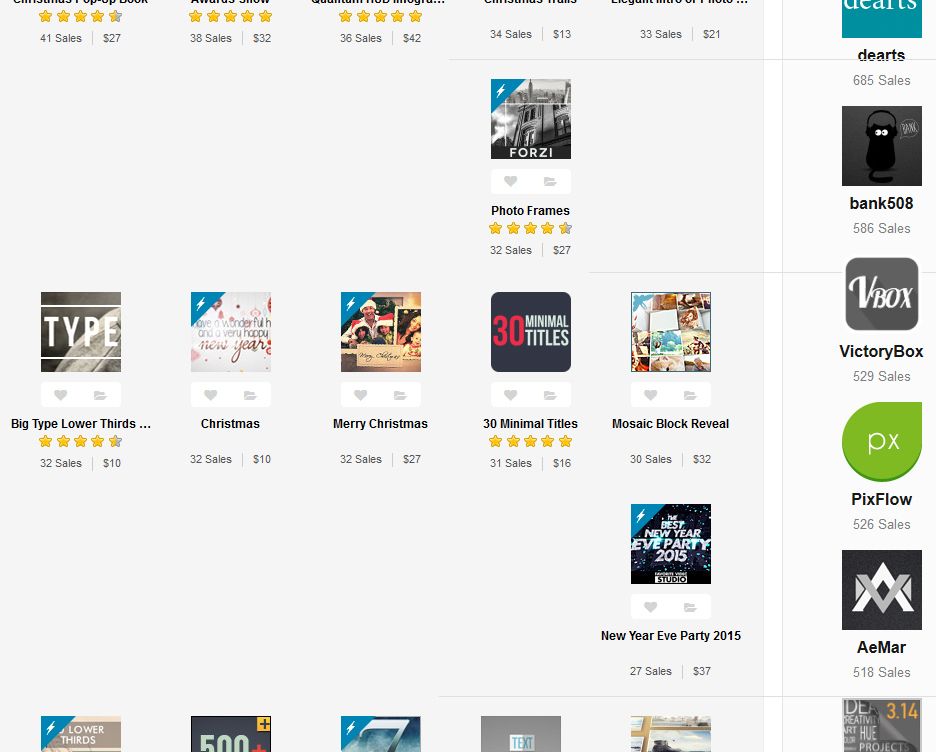 Love the idea! I'm in too!
urbazon said
Something just crossed my mind: since the author portfolio page is, basically, a 'specialized' search results page… Can we expect to finally get these filters on our portfolio pages as well? Pleeeeease?
Great work guys! +1 for the roll out in the authors' portfolios too!
I would like to propose this project: http://videohive.net/item/broadcast-design-complete-news-package-5/6058779
I believe it best matches visuals and audio.
The graphs are visually pleasant! What I think is missing is a "number of sales" graph. Now it only sorts earnings. Well done!
Zero dominator error usually fixes after a quicktime re-installation
OrpheusFX said
Should I create a new account or to upload stock footages in my current account Orpheus FX
In my opinion, go with a new account. Since there's no category filtering (as Creattive mentioned), stock footages could flood your portfolio and harm your After Effects sales…
nlanschuetz said
I am a college student who works with our local community station. I produce a weekly newscast. If I were to buy an after effects template, do I have to purchase it for each newscast? What qualifies as a single end use? Thanks guys!
If you're going to render a different version of the template in every newscast I believe you will need a new license each time. If you're using the same Intro (one render) in all your episodes, then I think a single license does the job…
iMovie cannot open "After Effects" projects. So the only category you can shop from Videohive is from "stock footage" and "motion graphics". Also, keep in mind that it does not even recognize alpha channel, so you can only import and use the video part from the motion graphics files…
You could try downloading the trial version of After Effects and edit your template:
https://creative.adobe.com/products/download/aftereffects