Hi everybody!

I want to use variables to output the background of certain divs, in that case it's the body.

So, I'm including this to my header
<?php include ('dynamic-styles.php'); ?>
In that file, there is this: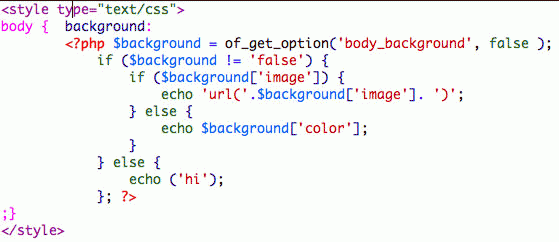 Nothing changes in the theme, but what's strange is, as soon as I take a look at the output sourcecode of the site, it tells me that everything got included the right way, like so:



(black is what I chose in the options panel obviously)
I am really confused, because as soon as I type that in the header manually the background changes like it should… 

Can anybody help?
Thanks in advance!
Edit: I used images cause the code output is broken as I type it.
Helpful Information
Please read our community guidelines. Self promotion and discussion of piracy is not allowed.
Open a support ticket if you would like specific help with your account, deposits or purchases.
Item Support by authors is optional and may vary. Please see the Support tab on each item page.
Most of all, enjoy your time here. Thank you for being a valued Envato community member.