Hey Everyone,
I'd like to announce the launch of my iPhone app, Leaflet, for Envato Marketplace Publishers. Here's a quick preview: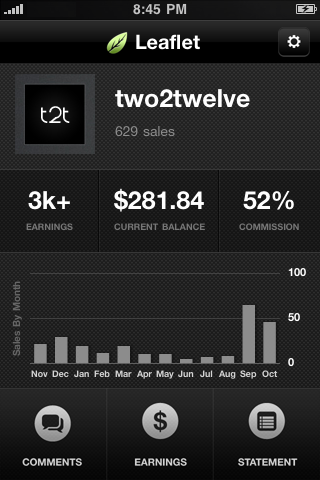 Leaflet lets you keep track of all of your account related information including comments, earnings breakdown, statement list and receive push notifications for both new sales and comments. You can also respond to comments and view individual statement entries all in one beautifully designed interface.
It's Available now on the App Store for $1.99
I have some great ideas in the works that are coming in (frequent) future updates. Also, an Android version is launching within the next few weeks.
Hope you like it!
Helpful Information
Please read our community guidelines. Self promotion and discussion of piracy is not allowed.
Open a support ticket if you would like specific help with your account, deposits or purchases.
Item Support by authors is optional and may vary. Please see the Support tab on each item page.
Most of all, enjoy your time here. Thank you for being a valued Envato community member.