Wow!
Did you clean your tables before making a photo?! I can't believe your tables are always so clean! My table around my laptop is always full of garbage – empty mugs (usually 5-7), pencils, paper, dried banana skin, mini electric drill, knives etc..
Art-of-Sound said

oh yeah, this looks much closer to reality!
KamilWaheed said


PixFee said


Lovely. I am gonna keep this picture as a reference for setting up my workspace at home (which doesn't exist right now) if you don't mind.
Wow!
on desk: imac 27", logitech mouse, apple keyboard, panasonic lumix gf5, nokia lumia 920, apple ipad 2, audiotechnica ath a500, some other small useful things.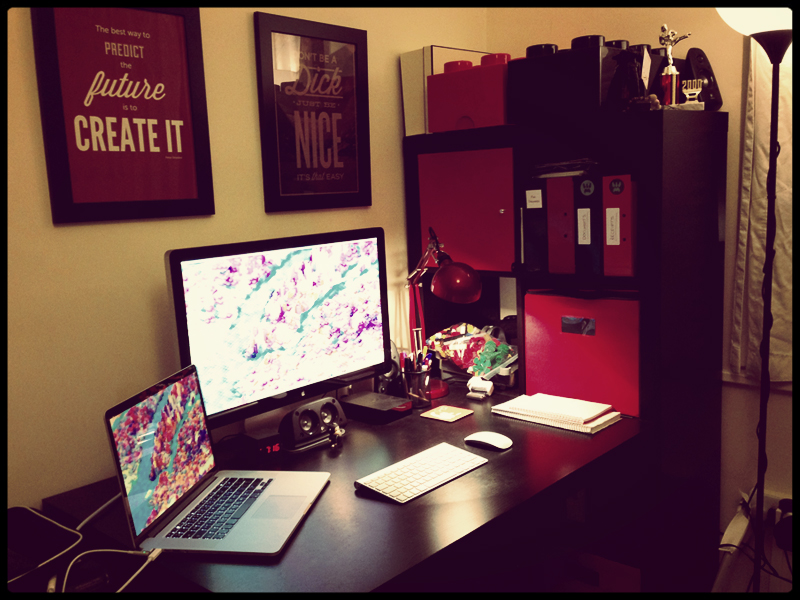 My Workspace
Features:
15" MacBook Pro Retina
27" Thunderbolt Display
1TB HDD
2TB Wireless HDD
Karate Trophy
Lego
Ikea
ChristineWilde, very cool!
ChristineWilde awesome place
Here's mine
(a little bit messy):
Here is mine
Helpful Information
Please read our community guidelines. Self promotion and discussion of piracy is not allowed.
Open a support ticket if you would like specific help with your account, deposits or purchases.
Item Support by authors is optional and may vary. Please see the Support tab on each item page.
Most of all, enjoy your time here. Thank you for being a valued Envato community member.