WordPress 4.1 Ready

Brooklyn, a truly one page parallax WordPress theme with more than one face. No matter if you use it as a photographer, travel / web design agency, nonprofit / environmental organization or even as a music / video producer. You can easily turn it into your personal website.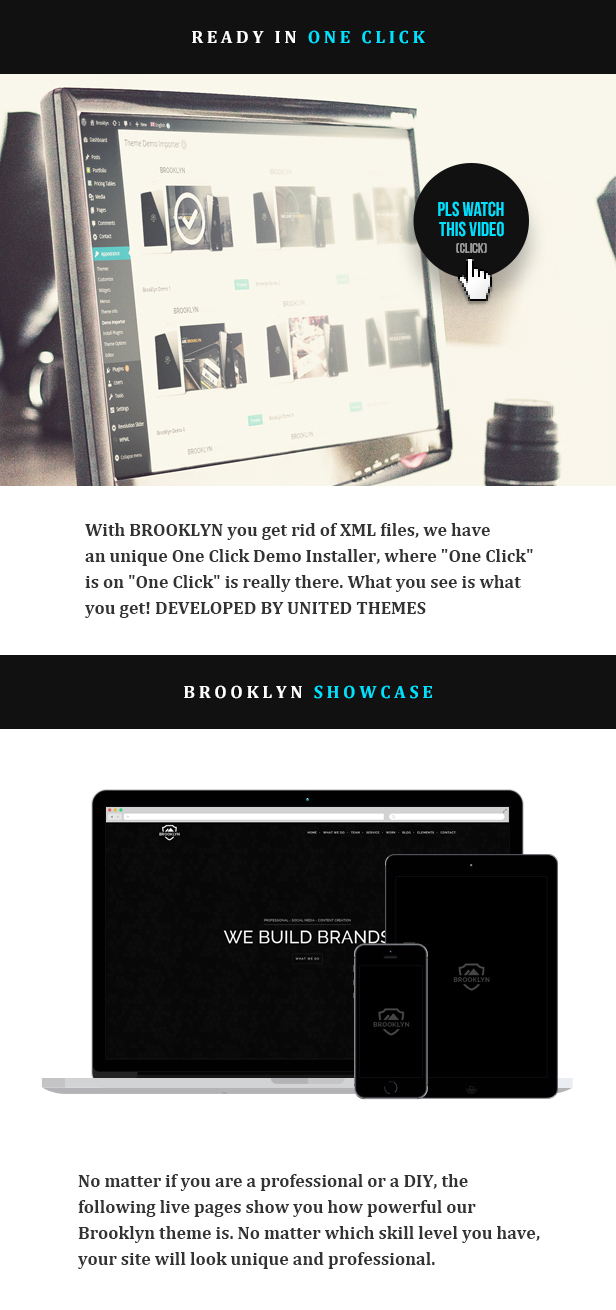 Awesome Showcase





Fully Responsive
Retina Ready
Extremely Customizable
WP 3.7+ Ready
Demo Files Included (XML)
10 Hero Styles
5 Header-Title Styles
2 Header Styles Dark & Light
Fullscreen Slider
Parallax Support
Fullscreen YouTube Video (Desktop only)
Parallax Background Section
Video Background Section (YouTube Desktop only)
Color Background Section
Unlimited Colors
Portfolio Management
Tons of Shortcodes
Shortcode Generator
Font Awesome Icon Integration
Smooth Scroll
Multiple Sidebars
Blog Sidebar Left, Right and Without Sidebar
Child Theme Ready
Child Theme Included
WPML Ready
Translation Ready
Perfect Code
Custom Widgets (Twitter, Video, Flickr)
Twitter Plugin
Search Engine Optimized
Crossbrowser Compatible
and much more…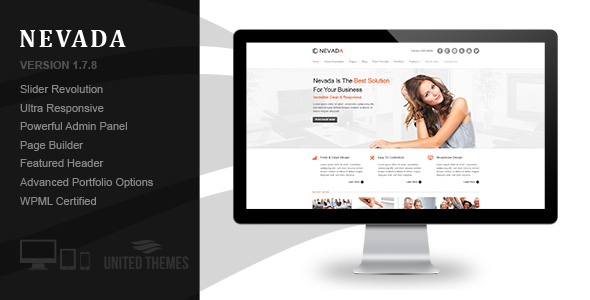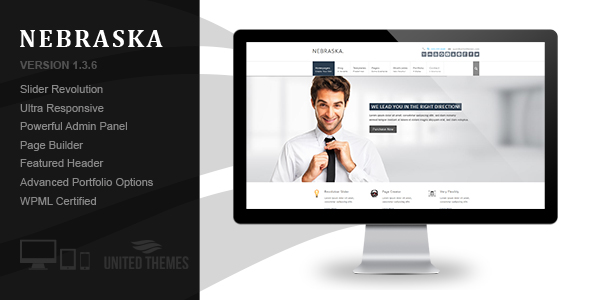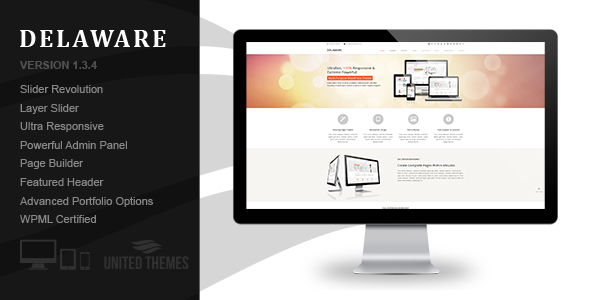 Brooklyn Version 2.8.2 – February 7, 2015

-- INFO: Update to Google Analytics
-- INFO: Added Title Attribute to ut_button for better user experience

-- BUG: fixed an issue with Showcase Shortcode on Single Pages
-- BUG: fixed an issue with Showcase Title not linking correctly
-- BUG: fixed an issue with Video Player Shortcode in Portfolio Slideup Items
-- BUG: fixed an issue with Member Popup closing when using Member Icons
-- BUG: fixed an issue with Menu Cache
-- BUG: fixed an issue with Service Icon Box not displaying in FireFox

Brooklyn Version 2.8.1 – December 19, 2014
Dear Customers,
this is a small update for our beloved Brooklyn Theme. It's our Christmas Edition 2014 and wo hope you enjoy it as much as we do. Do not forget to have a look at our new Demo #13. We wish you a merry Christmas!

-- BUG: Fixed an issue with Shortcode Generator. Please make sure to update the Shortcode Plugin at least, the theme itself has not been modified.

Brooklyn Version 2.8 – December 18, 2014

-- NEW FEATURE: Added Demo #13 ( Demo 14 )
-- NEW FEATURE: Added Snow Effect in Revolution Slider

-- BUG: Fixed an issue with theme caching
-- BUG: Fixed an issue with Contact Section link not working when Contact Section was disabled on particularly page
-- BUG: Fixed minor CSS issues

-- INFO: Update to Revolution Slider 4.6.3 to 4.6.5
-- INFO: Update to Video Shortcode
-- INFO: Simplified Portfolio Configuration

Brooklyn Version 2.7.1 – November 24, 2014

-- BUG: Fixed an issue with Twitter Shortcode
-- BUG: Fixed an issue with wrong color on word rotator
-- BUG: Fixed an issue with hero style not getting applied correctly on video hero
-- BUG: Fixed an issue with Demo Importer and PHP 5.5

Brooklyn Version 2.7 – November 21, 2014

-- NEW FEATURE: Added Demo #12 ( Demo 13 )
-- NEW FEATURE: Added New Table Style 3 ( before 2 )
-- NEW FEATURE: Added New Shortcode : Custom Box
-- NEW FEATURE: Added Border Option for Front Page Hero
-- NEW FEATURE: Added Border Option for Blog Hero
-- NEW FEATURE: Added Color Background Chooser for Dark Header
-- NEW FEATURE: Added Color Background Chooser for Light Header
-- NEW FEATURE: Added Color Background Chooser for Dark Footer
-- NEW FEATURE: Added Color Background Chooser for Light Footer
-- NEW FEATURE: Added Border Options for Sections
-- NEW FEATURE: Added Border Options for Contact Section
-- NEW FEATURE: Added Section Header Text Alignment Left
-- NEW FEATURE: Added Section Header Text Alignment Center
-- NEW FEATURE: Added Section Header Width ( Fullwidth )
-- NEW FEATURE: Added New Overlay Animation Effect - Connecting Dots
-- NEW FEATURE: Added New Overlay Animation Effect - Rising Bubbles
-- NEW FEATURE: Added New Video Shortcode. Now a poster image displays instead of the video player and on click the player get's loaded. As a result your site performance is greatly increased, especially when using multiple video players.

-- CHANGE: improved caching options
-- CHANGE: improved woocommerce default support
-- CHANGE: re-added the video background feature for entire site

-- BUG: Fixed an issue with missing Page and Section Settings on lower screen resolutions
-- BUG: Fixed an issue with missing color on section header align left / right
-- BUG: Fixed an issue with section header alignment when editor is empty
-- BUG: Fixed an issue with portfolio lightbox filtering
-- BUG: Fixed an issue with portfolio bad anchorage
-- BUG: Fixed an issue with mobile navigation ( visual fix )
-- BUG: Fixed an issue with site performance when no video was entered for video sections

Brooklyn Version 2.6 – September 10, 2014

-- NEW FEATURE: Added demo #11 ( Demo 12 )
-- NEW FEATURE: Added demo #8a ( The new Landing Page )
-- NEW FEATURE: Pages do now support all Hero Types
-- NEW FEATURE: Portfolio Pages do now support all Hero Types
-- NEW FEATURE: Added shortcode: Highlight Section
-- NEW FEATURE: Added shortcode: Video Testimonials
-- NEW FEATURE: Added shortcode: Spacer
-- NEW FEATURE: Added new Hero Type: Split Hero ( Image )
-- NEW FEATURE: Added new Hero Type: Split Hero ( Video )
-- NEW FEATURE: Added second button for Hero
-- NEW FEATURE: Added button customizer for Hero
-- NEW FEATURE: Added left alignment for section headers
-- NEW FEATURE: Added right alignment for section headers
-- NEW FEATURE: Added new pricing table layout 2
-- NEW FEATURE: Added lightbox option for WordPress Galleries
-- NEW FEATURE: Added border radius option for WordPress Galleries
-- NEW FEATURE: Added bunch of design customization options for single pages ( now you can build complete pink websites )
-- NEW FEATURE: Backend Phase 2 ( visual refresh )
-- NEW FEATURE: Improved Page Management similar to our Nevada theme
-- NEW FEATURE: Improved Portfolio Page Management similar to our Nevada theme
-- NEW FEATURE: Improved Section Management similar to our Nevada theme
-- NEW FEATURE: Improved Pricing Table Manager UI
-- NEW FEATURE: Improved Portfolio Showcase Manager UI
-- NEW FEATURE: Improved Twitter Settings UI
-- NEW FEATURE: Contact Section can now be turned on and off per page
-- NEW FEATURE: Contact Section can now be designed per page
-- NEW FEATURE: Improved Video support per page
-- NEW FEATURE: Videos can now be added separately to each page hero
-- NEW FEATURE: Videos can now be added separately to each section on the front page
-- NEW FEATURE: Videos can now be added separately to the contact section
-- NEW FEATURE: Improved Page Speed
-- NEW FEATURE: Hero Caption Title font size can now be changed individually per page
-- NEW FEATURE: Show / Hide Scroll To Top Button
-- NEW FEATURE: Added more icons for social links in footer
-- NEW FEATURE: Copyright font size can now be changed to bold

-- BUG: Fixed an issue with volume control when using youtube
-- BUG: Fixed an issue with broken youtube videos due to youtube api change
-- BUG: Fixed an issue with broken twitter links inside the twitter widget
-- BUG: Fixed an issue with twitter overflow bug
-- BUG: Fixed an issue with portfolio slideup animation in IOS Safari
-- BUG: Fixed an issue with reponsive font sizes in Hero
-- BUG: Fixed an issue with fitvid and JW Player
-- BUG: Pricing Table CSS fix
-- BUG: Navigation CSS fix
-- BUG: Social Network dark color CSS fix
-- BUG: Showcase Navigation CSS fix
-- BUG: Fixed minor CSS issues

-- INFO: Update to Revolution Slider 4.5.4 to 4.6.0
-- INFO: Update to Font Awesome 4.2

Brooklyn Version 2.5.3 – June 26, 2014

-- BUG: fixed an issue with blank targets on portfolio
-- BUG: fixed an issue with client grid
-- BUG: fixed an issue with caption resizing in hero

-- INFO: update to Revolution Slider 4.5.4


Brooklyn Version 2.5.2 – June 5, 2014

-- BUG: fixed an issue with social share icons not opening the popup
-- BUG: fixed an issue with site display in IE9
-- BUG: fixed an issue with hero font size calculation

Brooklyn Version 2.5.1 – June 2, 2014

-- NEW FEATURE: Added demo #10
-- NEW FEATURE: Added new header style #11

-- CHANGE: Added Retina Logo Upload
-- CHANGE: Update to Font Awesome 4.1

-- BUG: fixed an issue with black border in background videos
-- BUG: fixed an issue with Twitter hashtags
-- BUG: fixed an issue with video / gallery popup in grid galleries
-- BUG: fixed an issue with hero fonts on single portfolio pages
-- BUG: fixed an issue with split screen section causing large spacings on tablets / mobiles
-- BUG: fixed an issue with social share icons on single portfolio pages
-- BUG: fixed minor CSS issues

Brooklyn Version 2.5 – May 1, 2014

Version 2.5
-- NEW FEATURE: Added demo #9
-- NEW FEATURE: Added new team member style
-- NEW FEATURE: Addes new hero slider with some fancy transitions
-- NEW FEATURE: Added single portfolio pages
-- NEW FEATURE: Added share function to portfolio pages
-- NEW FEATURE: Added widget support for footer
-- NEW FEATURE: Added carousel function to client shortcode

-- CHANGE: Added star ratings and dates to single quotes
-- CHANGE: improved mobile navigation

-- INFO: update to Revolution Slider 4.3.8

-- BUG: fixed an issue with Twitter Widget displaying no tweets
-- BUG: fixed an issue with multiple use of team templates
-- BUG: fixed an issue with unclosed tags in archive
-- BUG: fixed minor CSS issues

Brooklyn Version 2.4.4 – March 29, 2014

-- INFO: update to Revolution Slider 4.3.3

-- BUG: fixed an issue with twitter widget displaying no tweets
-- BUG: fixed an issue with animated image not animating in chrome
-- BUG: fxied an issue with overlay in hero slider
-- BUG: fixed an issue with selfhosted video causing a javascript error on subpages
-- BUG: fixed an issue overlay in split sections

Brooklyn Version 2.4.3 – March 25, 2014

-- NEW FEATURE: Navigation width can now be changed
-- NEW FEATURE: Self Hosted Background Videos

-- BUG: fixed an issue with portfolio height when different slider scripts images are inside the portfolio
-- BUG: fixed an issue with CSS3 Animation and background flickering in Chrome

-- INFO: update to Revolution Slider 4.3.1

Brooklyn Version 2.4 – March 6, 2014

- NEW FEATURE: Added new demo to one click demo importer
- NEW FEATURE: Portfolio Categories are now sortable for each showcase
- NEW FEATURE: You can now choose the section where your hero button should scroll to
- NEW FEATURE: Single testimonial shortcode

- CHANGE: Pre Loader can now be turned on / off for different site parts like blog, page, single posts or front page
- CHANGE: Added Instagram to team management

- UPDATE: Revolution Slider 4.2

- BUG: fixed an issue slider galleries on single portfolio pages
- BUG: fixed an issue with testimonial shortcode rotation

Brooklyn Version 2.3.1 – February 21, 2014

- NEW FEATURE: Added randomize option to quote rotator
- NEW FEATURE: Scrolling Icon and Element Animation
- NEW FEATURE: Added external links for portfolio items
- NEW FEATIRE: Added new scroll to animation effects
- NEW FEATURE: Enhanced Blog Shortcode to show blogposts by category
- NEW FEATURE: Added animated header background

- BUG: fixed an issue with site displaying issues on firefox mobile
- BUG: fixed an issue with missing images in multiple portfolios
- BUG: fixed an issue with missing contact section on single pages when video was activated
- BUG: fixed an issue with video sound still playing after portfolio was closed
- BUG: fixed an issue with portfolio navigation and gallery was not loaded correctly
- BUG: fixed an issue with IPAD safari crash when video poster was set
- BUG: fixed an issue with Global Header Slogan Font Styles
- BUG: fixed an issue with special character in popup portfolio
- BUG: fixed an issue with special character in word rotator
- BUG: fixed an issue with galleries on single pages
- BUG: fixed an issue with gallery captions
- BUG: fixed some minor CSS issues

Brooklyn HOTFIX – February 10, 2014

- BUG: fixed demo import 7

Brooklyn Version 2.3 – February 10, 2014

Version 2.3
- NEW FEATURE: Added new rain effect for hero images
- NEW FEATURE: Added Blog Excerpt Shortcode
- NEW FEATURE: Added Demo #7
- NEW FEATURE: Added alternate logo upload for navigation

- BUG: fixed some minor CSS issues
- BUG: fixed an issue with team hover effect on IPAD
- BUG: fixed an issue with external linking in main navigation
- BUG: fixed an issue with section header padding
- BUG: fixed an issue with background player in chrome while visitors are logged in at google
- BUG: fixed an issue with portfolio loading performance
- BUG: fixed an issue with section animation

Brooklyn Version 2.2 – January 14,2014

-- NEW FEATURE: Added one click demo install interface
-- NEW FEATURE: Added pricing table plugin
-- NEW FEATURE: Added new header style : dynamic hero
-- NEW FEATURE: Added section animation on/off switch
-- NEW FEATURE: Added custom logo upload for preloader
-- NEW FEATURE: Added new section style : split section
-- NEW FEATURE: Added 50 Pattern
-- NEW FEATURE: Added Section Shadow
-- NEW FEATURE: Added Demo #6

-- BUG: fixed some minor CSS issues
-- BUG: fixed an issue with portfolio image cropping

-- INFO: update to Revolution Slider 4.1.4

Brooklyn Version 2.1 – December 21, 2013

- NEW FEATURE: Added new portfolio style ( before 1 now 2 )
- NEW FEATURE: Added new portfolio lightbox
- NEW FEATURE: Added new pattern overlay
- NEW FEATURE: Added new portfolio navigation styles ( before 1 now 3 )
- NEW FEATURE: Added new header transition effect ( mixed header style )

- CHANGE: You can now change the visible state of the navigation

- BUG: fixed an issue with theme customizer
- BUG: fixed an issue with custom hero html output
- BUG: fixed an issue with portfolio height overflow
- BUG: fixed an issue with member style 3 disalignment
- BUG: fixed an issue with icon chooser background
- BUG: fixed some minor CSS issues

Brooklyn Version 2.0 – December 14, 2013

- NEW FEATURE: Added Revolution Slider
- NEW FEATURE: Added over 600 Google Fonts
- NEW FEATURE: New Theme Options Panel

- CHANGE: Added "LinkedIn" to member profile
- CHANGE: Added timer for testimonial and twitter rotator

- BUG: fixed an issue with team member overlay flickering in chrome
- BUG: fixed an issue with portfolio anchor pagination
- BUG: fixed Mute / Unmute Button Alignement Chrome / Safari

Brooklyn Hotfix Version 1.1.1 – December 6th 2013

- BUG: fixed an issue with tablet slider on chrome and mobile view
- BUG: fixed an issue with section title style 1

Brooklyn Version 1.1 – December 4, 2013

- NEW FEATURE : Added new hero header type : tablet slider
- NEW FEATURE : Added new section header style ( before 5 now 6 )
- NEW FEATURE : Added 2 new team member box styles ( before 1 now 3 )
- NEW FEATURE : Added mute and unmute button to hero video section
- NEW FEATURE : Added twitter rotator with avatar
- NEW FEATURE : Added twitter rotator without avatar
- NEW FEATURE : Added hero section text align
- NEW FEATURE : Added pattern management to header, section and contact section

- CHANGE: added color picker to progress bar
- CHANGE: moved home link management from theme option to "Appearance" -> "Menu" 
- CHANGE: changed scrolling behavior when opening a portfolio detail
- CHANGE: dynamic CSS and JS file are not also available inside the child theme
- CHANGE: added hover effect to custom icons

- BUG: fixed an issue with contact section alignment on tablets
- BUG: fixed an issue with Safari Scroll Crash
- BUG: fixed an issue with navigation and section highlight
- BUG: fixed an issue with scrolling to portfolio details
- BUG: fixed an issue with video poster image on tablet portrait

Brooklyn Version 1.0 – November 28, 2013

Version 1.0
- initial release


Daniel Zedda License
Aurimas Adomavicius License
Mark Sebastian License
Audio file by urbazon