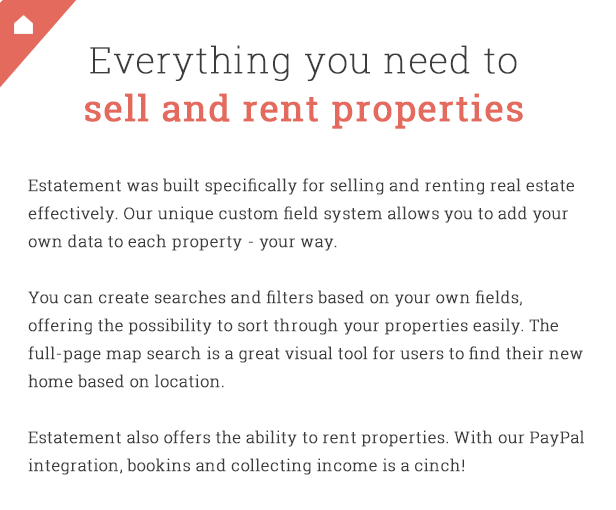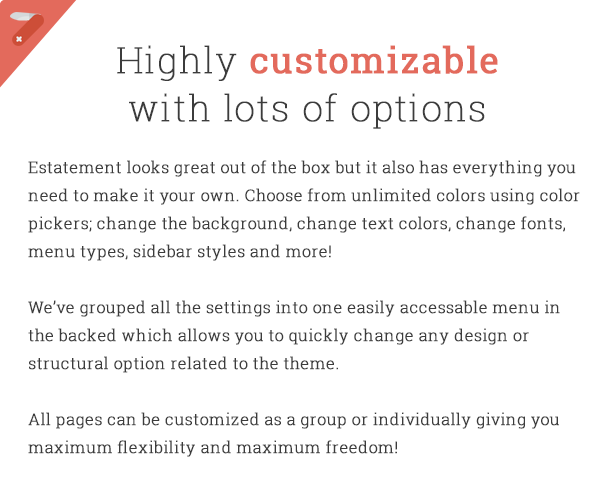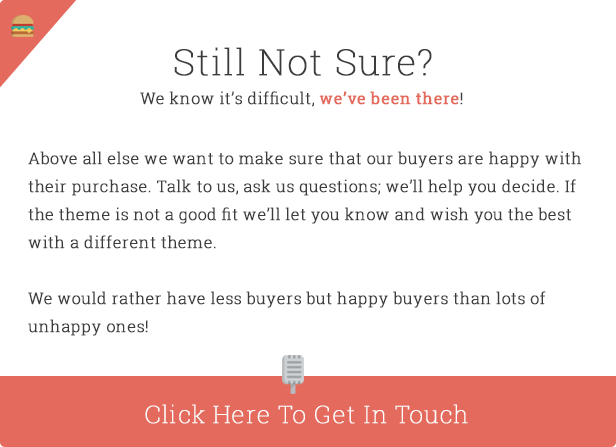 Estatement In Detail
Estatement is an extremely flexible theme for managing realestate properties. It gives you powerful options for displaying your properties and communicating with potential buyers. Our full page search and map based search lets users search your catalogue and gives you the power to add any built in or custom property detail as a search field.
Our numerous shortcodes give you the ability to add tabbed sections, property lists, customizable sliders, messages, buttons and more into any post content! The custom widgets allow you to add property lists, contact information and more to any sidebar.
Powerful contact options include customizable auto-responders to prospective buyers. Contact details (and auto-responder text) can be set globally or for each property individually in case you work with multiple agents.
Estatement property listings allow you to build specific property lists, including only houses, semi-detached houses, apartments, and so on.
How It Works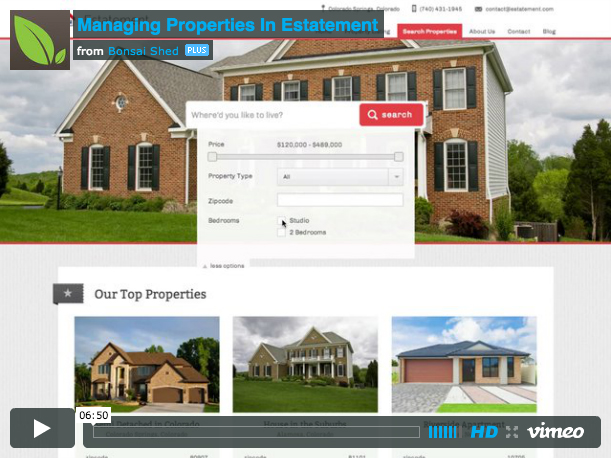 Map Search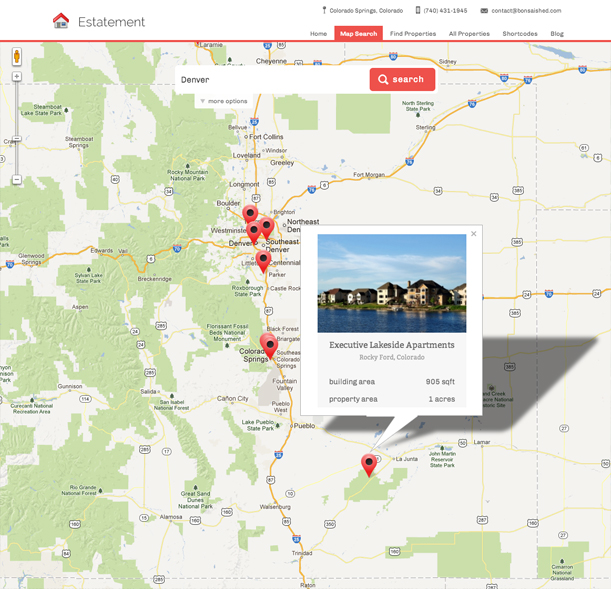 Estatement includes full page map searching with customizable proximity. Users can enter a location and all properties near there will pop up on the map. The pop up contains essential information about the property, allowing the user to click through to the main property page. The proximity can be set by the user between 25 and 500 miles.
We're continuously adding features to our maps. You can already customize the markers, the map type, the text in the search area and we're bringing you more features regularly!
Full Page Search
Our awesome search page allows not only looks beautiful it is extremely powerful. You are in complete control of how the user can search your properties. Control the fields shown, control the type of field used and add your own custom search parameters. Want to the user to be able to search based on how far a property is from the subway? No problem!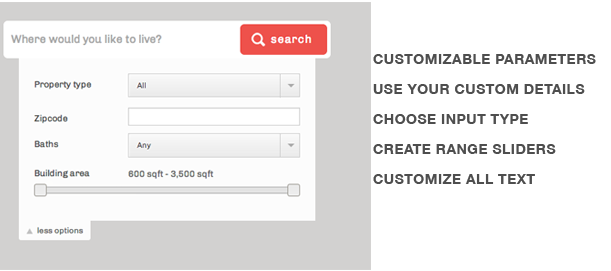 Live Filter Search
You can specify search fields and search controls (dropdowns, range sliders, checkboxes and more) and use them to filter properties live with an awesome animation. Check this out on our Live Filter Page Demo.
Fixed Size Map/Search (airbnb style)
Instead of having the map/search page take up the whole page you can also add it to the top any page to create an Airbnb style top section users can use to search your realestate and properties.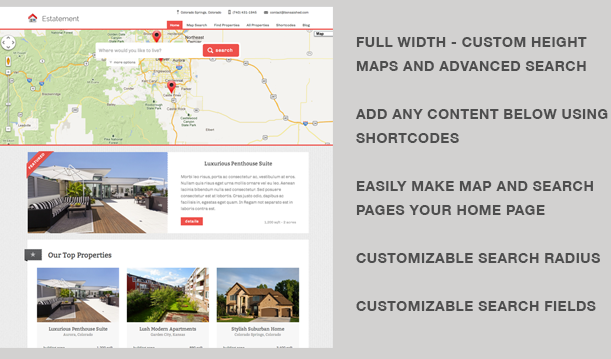 Featured Properties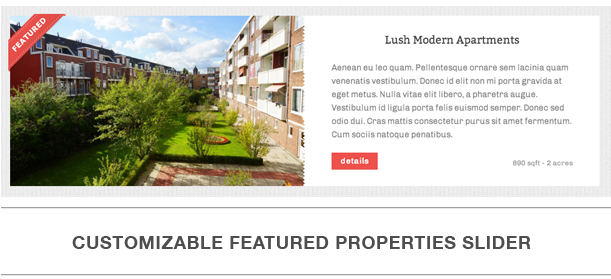 Property Lists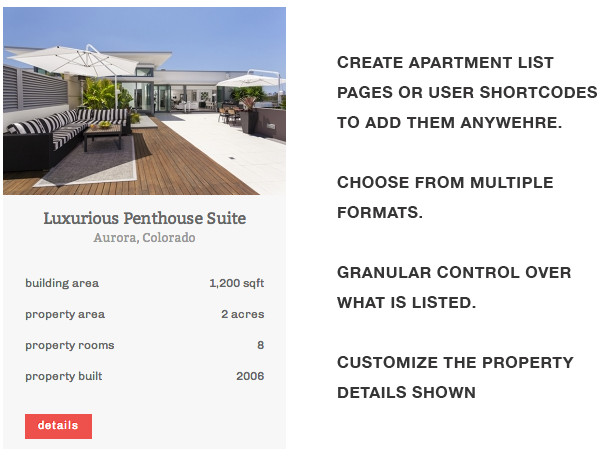 Property lists can be added as a custom page template or using shortcodes. Use the page template to create either a central listing of all properties or to narrow down a list to a specific property type or category.
The [propertylist] shortcode can be used to add a list of properties absolutely anywhere you'd like. Choose from three formats, choose the details shown, choose the properties shown, it's all up to you, 100% customizable realestate lists anywhere you need them!
Showcase Your Properties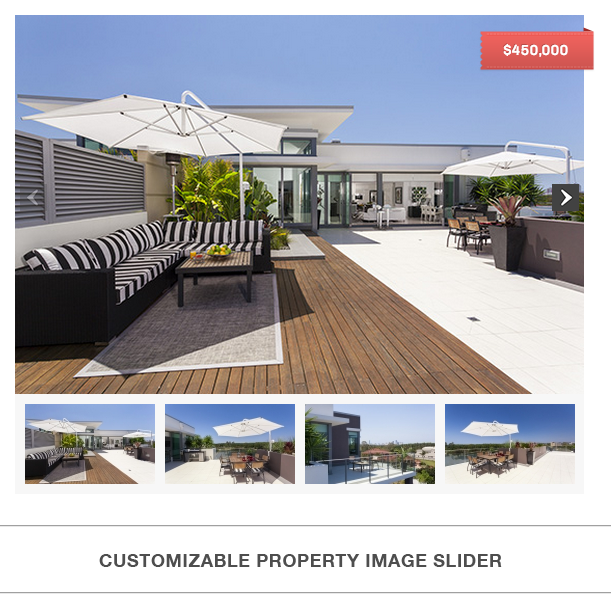 Property pages give you all the bells and whistles you need. Add multiple images for a beautiful mobile ready slider, display all the property details, add custom maps, create tabbed sections, insert shortcodes (like a slider!) into the tabs, and so much more!
Viewers will be able to contact you from each property page. You can select different contact details and auto-responders for each contact page to maximize the efficiency of your listings.
Manage Bookings And Accept Instant Payment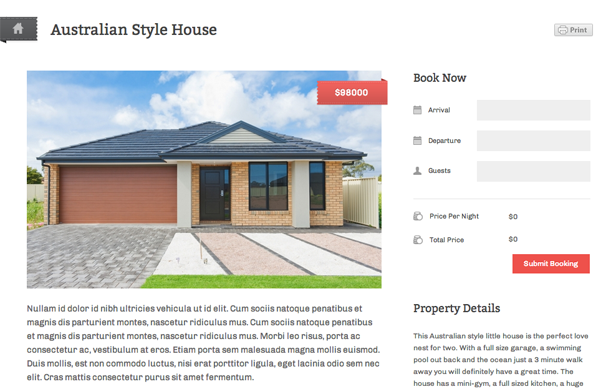 As of version 3.0 you can now manage bookings. Each apartment has options for setting the minimum/maximum stay nights, minimum/maximum guests, separate prices for daily/weekly/monthly stays, seasonal pricing, and much more!
Bookings can be managed extremely easily and you can accept PayPal payments right out of the box, just enter your PayPal ID. If you like you can assign a different PayPal ID to each property. Payments are processed securely on PayPal and bookings are only entered into the database once the payments gave been verified.
If you can't, or don't want to use PayPal, you can still accept bookings and manage them manually very easily.
Multiple Agent Support
Since version 2.4 Estatement offers advanced multiple agent support. We've created an agent user role and any agent (even multiple agents) can be assigned to each property. Agent details can be shown next to properties using widgets.
Agents have their own page which lists their properties and their information and we also have an agent list template available where you can show all your agents in one place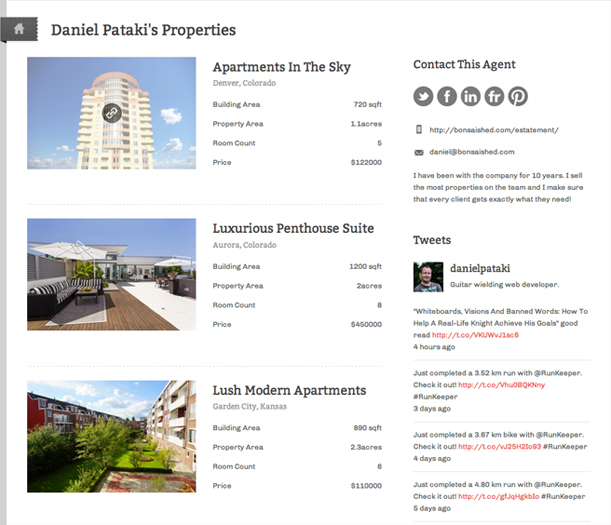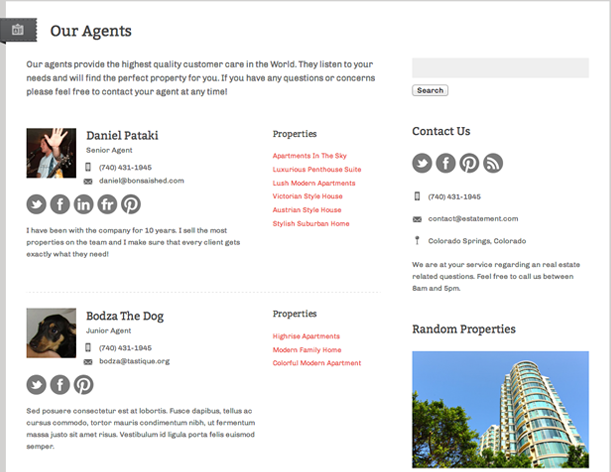 dsIDXPress Support
Realestate agents make heavy use of MLS/IDX data and we've got you covered there. Estatement supports the popular dsIDXPress plugin which will work out of the box and give you all the tools you need to show MLS listings on your website.
Embed Any Content
You can include content from many sources by just pasting a link to it. Youtube, Vimeo, Soundcloud, Twitter, Instagram, Smugmug, Photobucket and more!
Just copy paste the link to the item you want to share and the embed link will be generated for you. No more messing about with embeds, iframes and other ugly things like that.
Customization
Estatement supports the Live Theme Preview customizer built into WordPress 3.5+ It enables you to make changes to your theme and view the result as you're modifying the colors. With 42 options (and counting…) to modify you'll be able to tailor the website to your style.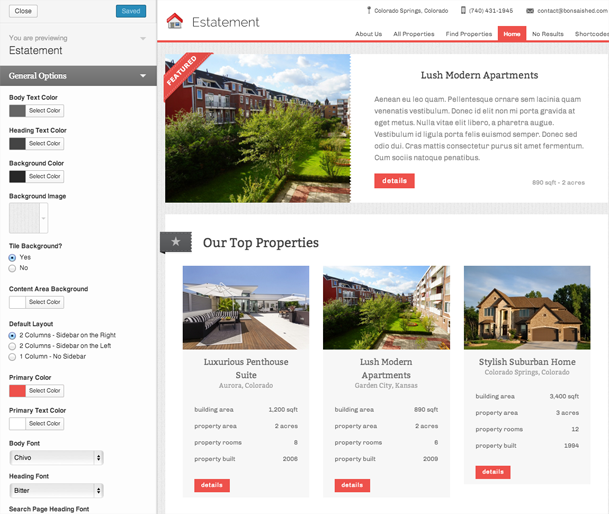 Widgets & Shortcodes
Estatement comes chock-full of custom widgets and shortcodes, here's a quick list:
Widgets

Custom Contact Widget
Twitter Widget
Featured Item Widget
Properties Widget
Custom Latest Posts Widget
Agent Contact Widget
Property Contact
Property Details Widget
Map Widget
Property Pricing Widget
Booking Widget

Shortcodes

Google Maps
Content Columns
Tabbed Content
Content Accordion
Slideshow
Property List
Highlight
Buttons
Messages
Lines
Post & Page Options
To make sure you can add your properties, posts, pages and content easily we've created an intuitive and lightning fast options section on each page.
Apart from giving you granular control over your website it also has full documentation for the section shown, inline documentation for every option, full shortcode documentation and links to the support center, knowledgebase and announcements blog.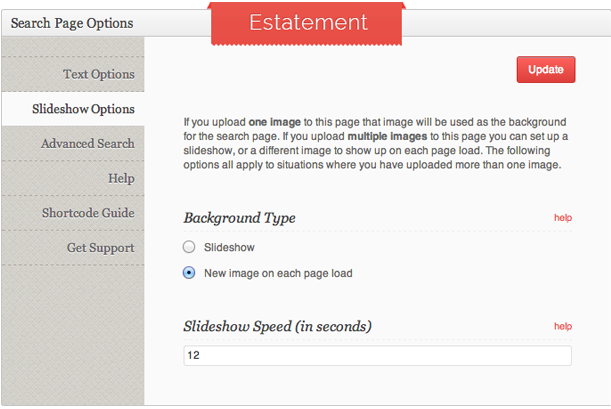 Full Feature List
Layer Slider bundled with the theme
Advanced property management features

Built in details like price, area, room count, location details and more
Create any custom details
Make any custom detail searchable for the users
Customize all search fields
Create beautiful slideshows for all your realestate properties
Insert maps anywhere
Insert tabbed content and content accordions
Set your currency and area units
Categorize properties and set their type
Set up featured properties
Use shortcodes to list properties anywhere
Choose from different layouts when listing properties
So much more!

Fully customizable full-page search

Customizable full-page background image slideshow
All search fields can be specified and customized
Make any custom detail a search field, a dropdown or a range slider

Live Filter Search

Filter properties using range slider, dropdowns and more
Awesome animations are used to live filter the results
Custom fields can be used and custom controls can be specified

Powerful Booking Management Options

Minimum/maximum nights
Minimum/maximum guests
Daily/weekly/monthly pricing
Seasonal pricing
PayPal support right out of the box
Booking Calendar
Awesome and user-friendly booking-flow for users

Create sliders for any page easily using Royal Slider, Layer Slider or other shortcode capable slider plugins
dsIDXPress support (for MLS/IDX data)
Basic Multiple Agent Support

Assign different contact information to each property
Assign different agents (WordPress users) to each property
Multiple agents can be assigned to a property
The agent user role is available to differentiate agents from regular users
Dedicated agent page listing properties of that agent
Agent contact widget

Agent List page template
Fully customizable map search

Customizable map type
Customizable map markers
Property preview inside the map
Proximity search with modifiable radius

Fully customizable custom fields

Add any custom fields to properties
Add any custom fields to the search
Select different field types for your custom data
Customizable formatting for each field (number format, text)
Separate prefixes and suffixes for each field

Maps and search sections can be added to the top of any page to get an "Airbnb" style search page
Frontend and backend is translation ready
Unlimited Colors for many elements
WordPress Theme Customizer with Live Preview
Choose from over 500+ fonts via Google Web Fonts
Create custom sidebars and assign them to each post and page individually
Custom Shortcodes

Google Maps
Content Columns
Tabbed Content
Content Accordion
Slideshow
Property List
Highlight
Buttons
Messages
Lines
Sidebar

Custom Widgets

Custom Contact Widget
Agent Contact Widget
Property Contact
Property Details Widget
Twitter Widget
Featured Item Widget
Latest properties Widget

Threaded comments
Include a page when there are no search results
Add analytics code easily
Contact Form 7 Compatible
Mailchimp Compatible
Commenting can be enabled/disabled for properties
Create custom columns for maximum flexibility
Custom lightbox galleries
Tableless responsive design
Coded with SEO in mind
All images retina ready
Fully customizable header

Custom logo
Custom contact details
Custom menus

Customizable background which supports large fixed images
Fully customizable footer
Widgetized footer
Create unlimited sidebars
Help & Support
We're a friendly bunch here at Bonsai Shed and we'd like to provide you with first class support. We aim to respond to any support request in our Support Center within 24-48 hours. We welcome any praise or criticism as well. Our goal is to bring you regular updates based on your feedback.
We have an extensive and ever-growing Knowledgebase and the theme comes with complete documentation. We add general WordPress articles regularly so if WordPress itself is giving you trouble, feel free to take a look!
Since we update our theme regularly you might want to follow our development via our Announcements Blog. If you prefer, you can also subscribe to the Announcements Feed
Estatement has inline documentation on all backend pages with custom meta boxes. Inline documentation is available for shortcodes on all pages and links to our support and help sections can be found on all pages as well.
Supported Popular Plugins
WP User Avatar
Layer Slider
Royal Slider
Yoast SEO
All WordPress Standard other plugins, we're expanding this list as we verify
Changelog
Version 4.3
Slideshow without ids now lists all images
button target attribute now set correctly
Property lists can now list based on a single user
Propertylist shortcode has an added author parameter
Better tabbed content responsiveness
Resolved a WP All Import and filter page conflict
Added offset parameter to propertylist shortcode
Included user order preserved in agents page
Encoded Google font link for validation
Fixed a pagination issue with non-latin caracters
Fixed an issue with text based dropdown values
Added custom CSS field in theme options
Added parameters to the postlist shortcode
Added Ids to property table and taxonomy tables
Reorganized search page options to make them less error-prone
Version 4.2
Fixed a column number bug (mainly for 2 columned propertylists)
Marker clicks can now open properties directly
Fixed a profile field issue
The default blog sidebar is now the correct one.
Agent order can be specified on the agents page
Advanced search can be shown by default
Added default text to the contact field
Added the ability to control property excerpt length
Fixed image scrolling bug in property slider
Added slider to blog page
Fixed a default map marker issue
Fixed live filter OR type filter issue
Added previous and next property links (optional)
Removed old custom data from property page
Emails now use the blog name and admin email as the "from" info
Version 4.1
Added spain as a top country
Removed regular prices from pricing widget if there were none
Fixed a width issue in map displays
Footer image can now be selected
Map Advanced search slides up after search
Fixed a bug in the featured images of properties
Added login page with forgot password flow
Added separate logged in/not logged in menu
Added foundation 4 rtl support
User profile fields can now be added
Modified the no_results_page parameter for propertylists to not break pages if not set
Empty field icons do not show up in header
Added temporary solution to rtl tabs
SEO – Conformed with Google Webmaster Tools Structured data testing
SEO – Google plus profiles can now be linked to pages
Duplicate proximity buy resolved
Map optimizations
Added login and registration pages
Added links to property images on the map
Added taxonomy filter restrictions
Agent permalink base can now be changed
Added geolocation info for properties in the admin
Search can now be disabled again in the map
Fixed an issue with search field dropdowns
Updated Pot files
Added the url_slideshow shortcode
Added street view options to map shortcode
Initial map location can be specified via coordinates
Corrected currency issues for PayPal in bookings
Better logo typography
Fixed a coordinates issues in the default map shortcode
Fixed some irregular paddings
Added Montenegro to the country list
Removed redundant help link for property custom data
Shortcodes are now executed in the title shortcode
Added excerpt option into propertylist shortcode
The featured ribbon can now be changed in the settings
Buddypress integration
Fixed a property sorting bug
Version 4.0
Completely revamped maps to be much nicer
Fixed a sidebar text color issue
Fixed an unlikely import bug for external importers
Made sure drafts don't show up on the map
Added the option to disable the agent contact widget links to the agent pages
Added background alignment to the theme customizer
Fixed button primary color hover
Added horizontal and vertical map offset
Added author option to properties
Added some missing admin strings to translation
Added some missing front end string to translation
Added horizontal and vertical tiling options to the site background
Added support for full width logos
Fixed a visual form builder compatibility issue
Content can now be added to the property list template
Menu positions will now not overwrite any plugins
Custom taxonomies can now be used in the property list settings
Slightly better automatic zoom controls
Added drag re-search to map template
Added initial zoom control to map page
Image IDs can now be specified for the main slider on the property page
Enabled taxonomies in the propertylist shortcode
Fixed a taxonomy bug in the advanced map search
Enabled image specification in search slider
Fixed a map custom field issue
Added custom taxonomies to the featured properties module
Fixed a search terms issue in the search
Fixed a text size bug in lists
Fixed a field duplication issue
Added a number of parameters to the slideshow shortcode
Added decimal and thousand separator options
Added the option to select how properties are ordered on list and filter pages
The print icon can now be specified
Added custom data shortcode
Added slider page template
Seasonal prices can now be named
Fixed a price display issue in the price widget
Added the coord property to maps for greater coordinate accuracy
HTML can now be added to custom fields
Pagination now available in the filter
Phone number and email can be shown/hidden on agent pages and contact widgets
Added favicon and apple touch icon
Agents without properties can be listed
Filter title option has been added
Hide property from map option has been added
Map marker saving issue now fixed
Better RTL Support
Resolved a marker content error
Added a default blog sidebar
Modified title in the header for SEO compatibility
Fixed an issue with the agent page not displaying properties
Fixed a map issue where properties weren't displayed if a search form was also used
Added google plus contact widget icons
Social links in contact widget open in new window
Added google plus to users
WooCommerce buttons now work (excluded from CustomSubmit)
Fix for IE8 addEventListener issue
Added support for sliders in header
Fixed agent page pagination
Added Twitter details
Added no_results_page parameter to the propertylist shortcode
Fixed form label misalignment on mobile devices
Added spam protection to the contact form
Added the ability to list agents on the agents page based on ID
Search pull animation added to half-page search as well
Fixed empty property shown on some formats
Version 3.1.1

Quick fix of array format which only works PHP 5.4 and up.

Version 3.1

Fixed an error in the search filter system
Fixed an issue where empty values sometimes
show up
Fixed a bug where only 5 pages were pulled when
selecting a search results page
Added pagination to agent page
Fixed a fringe case curl issue
Fixed a live filter issue with spaces
Admins can now be excluded from agent lists
Responsiveness imporovements in IDX Results
Agent list now links out to the single agent
pages
Added and/or filters to the live filter
Got rid of a menu conflict with Contact Form 7
4 properties can now be shown next to each
other using the propertylist shortcode
Header phone number is now a tel link
IE filter issue is now fixed

Version 3.0

Bookable properties are now supported
Added Booking widget
Added pricing widget
Added Booking page template
Added paypal gateway to bookings
Fixed a custom taxonomy creation bug
Official support for WP User Avatar
Official support for WordPress SEO by Yoast

Version 2.7

Fixed a full page map centering bug
Fixed a full page map slider bug
Custom fields and taxonomies are now fully translatable with WPML
Added the option to disable search altogether from maps
CSS Support for dsIDXPress
Added a map widget
Fixed a bug affecting range live filters
Contact form fields are now trasnslatable
Added telephone field to contact form
Property IDs can now be specified for the featured module

Version 2.6

Fixed stuck options page bug
Dragging now disabled on maps on touch devices
Fixed a color bug due to a missing JS file
Fixed a footer color bug
Values can now be targeted via CSS
Button hovercolor now works with gradients
Added read more text option to theme customizer
Permalink for properties can now be changed
Fixed compatibility issue with MyMail plugin
Removed search button from live filter
Sidebar is now visible on mobile devices under the content. It can also be hidden in the theme customizer
Footer sticks to the bottom on smaller pages
Fixed Twitter Widget bug

Version 2.5

Live filter template
Added mailto and tel links to agent widget
Added mailto and tel links to contact widget
Proximity options can now be completely customized
Contact success message can now be modified in the theme customizer
Repositioned the contact message so print button doesn't overlap
Added the ability to add/modify custom taxonomies
Completely rewritten custom field and taxonomy display system
Better custom field/taxonomy ordering options
More powerful propertylist shortcode options
Better property details widget ordering options
Custom map marker icons for each property
Searches can now be directed to property listings
Added a couple of missing strings to the translatable strings
Rewritten, more modular search
Search can now be placed in listings pages
Added search widget
Added fax field to contact widget
Added background attachment property
Fixed some foundation 4 tab bugs
Property list can now be hidden on agent list template

Version 2.4

Option to show the full content for on the blog page for posts
Quotes are now escaped (so can be used) in the map error message
New agent selector with multiple agent options
Fixed slideout menu hover error on map pages
Added multiple agent support to agent contact widget
Redesigned agent contact widget
Added advanced search to the map
Added an agent list template
Property subtitle is now customizable
Added width and hovercolor parameter to button shortcode
Active accordion title is not primary colored
Added help section with video to custom fields section

Version 2.3

Property page sidebar now shows up as a selectable option in property settings
Made sure empty details don't show up
Fixed a no custom fields error message in the custom fields widget
Made CURL the primary way to retrieve data and file_get_contents the fallback
Selectable formatting for custom fields
Slight adjustment to image widths in slider to fix non 100% image problems
Properly aligned property lists with non 3 divisable items
Featured item details can now be selected
Price field is now built in.
Fixed a bug in the property details widget when all fields are set to show
Taxonomy archive description slightly modified to look nicer
No search results message for maps can be turned off
Single property page ribbon can now take custom field data
Added basic support for agents

Version 2.2

Widgetized property details and contact form
Automatic formating of numbers
Option added to condensed location into one field in the sidebar widget
Added condensed location into listing pages
Added condensed location into the properylist shortcode
Footer and Footer bar can now be removed
Added ordering capabilities to the propertylist shortcode
Sliders in hidden tabs now work
Featured item slider is now jQuery based to sidestep some Chrome background animation bugs

Version 2.1

Fixes for greek language output
Modified the default suffix for acres to include a space
Modified picture quality function to be php 5.2 compatible
Renamed some of the default custom fields to prevent data duplication
Twitter feed modifications to support non latin characters
Made some fields undeletable fields. These can still be renamed but can not be deleted.
Excluded location data from the details list, it is now only under location.
Added description and title to custom taxonomy archives

Version 2.0

Properties icon bug for retina devices fixed
Added editable custom fields
Custom fields can be added to thepropertylist shortcode
Custom fields can now be selected for listings
Removed unit options
Added option to add comments to properties
Added lightbox galleries

Version 1.3

No results message for the map page can now be specified
Map can be set to automatically start at the user's location
New loading animation for loading properties on the map
Fixed a bug related to special characters (eg: greek letters )
Added .po files for language translations
Added non-full page option to map page
Added non-full page option to search page

Version 1.2

Added latitude and longitude fields to the properties' settings
Added map type selector to the map page settings
Added a default map location option
Better map experience on small screens
New map marker icon
Customizable map marker icon
Search is performed on load for the default map location
Added some additional inline documentation

Version 1.1

Added full page map search
Added the include and columns parameters to the propertylist shortcode
Added Google API key settings to the customizer