Flight – HTML Version (for WordPress Version click here)
Description
Flight is a stunning, interactive, fully responsive, Retina-ready, fullscreen background slideshow template. It has a modern transparent look and includes a completely unique fly out menu that responds on command. The menu optimizes and adjusts both horizontally and vertically – all based on the end-user's device resolution. Flight is designed with the latest technologies in W3C validated HTML5 , CSS3, and jQuery. It is well-suited for a wide variety of purposes, including (but not limited to) photography or professional photo gallery, full screen gallery, blog, portfolio, artistic showcase, beauty or fashion, personal, non-profit, sports, marketing, or any other person, artist, or business that has creative visual work / artwork that deserves to be set apart from the rest.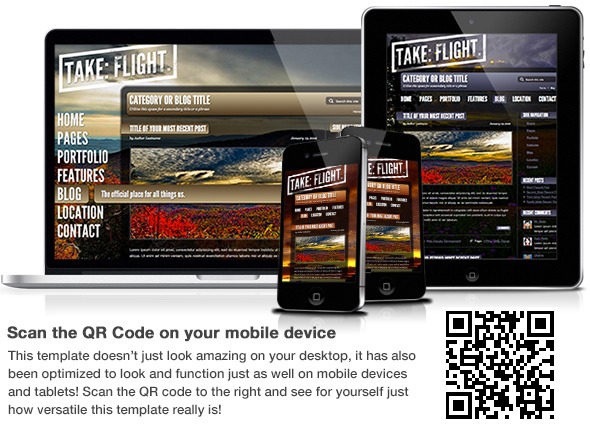 Key Features:
Industry Exclusive Fly Out Menu – the only template available with this unique menu system
Menu Alignment – menu changes from left to right in seconds, depending on your preference
Fully Responsive Framework – tested extensively on devices ranging from 300px to 2560px
Compatible, Flexible & Versatile – with all major browsers and a wide variety of devices
Vertically Responsive – not just horizontally responsive – the menu actually resizes vertically
Fullscreen Background Slideshow – fully featured with 5 different background options
Filtered Overlays – includes 16 different overlays to give your backgrounds a filtered effect
Video Backgrounds – optional built-in JW Player that supports integrated video backgrounds
Category Filterable Portfolio – beautiful, smooth jQuery filtered portfolio added in Version 2.2
50 Color Schemes – comes with 50 uniquely designed colour schemes to ensure flexibility
25 HTML Page Layouts – stacked with 25 HTML5 page layouts, simplifying customization
W3C Validated Code – HTML5 pages are fully validated and guaranteed to be error-free
Simple & Semantic – easy to understand semantic classes, descriptive blocks, and hierarchy
Easy to Customize – customization is a breeze with beautiful code indentation & commenting
Dedicated Support Website – we are here to help, simply visit our dedicated support page
Extensive Documentation – easy full coverage manual and step-by-step instruction guide
Retina Display Support – ready to serve up high-resolution images to Apple Retina Displays
SEO Enhanced – proper implementation of the new markup language and code structure
8 Photoshop PSD's Included – includes the actual source PSD files used in creating
Blueberry Responsive Slider – this jQuery image slider is built-in and is fully responsive
prettyPhoto Lightbox – used for images, flash, YouTube, Vimeo, and iFrame external sites
Full Screen Google Maps API – Satellite & Roadmaps.. Contact pages include small maps
Working Contact Form – includes a contact form that is easy and simple to setup and use
… and much, much more – packed with tons of other features, effects, layouts, and widgets!
Dedicated Support:
We are happy to answer your support questions and help you with problems you may encounter. Please post your question on our
Support Forum
at
http://support.themesuite.com/
and we will try to assist!
Detailed Changelogs – Easy Updates: