Magazine Flying News – Masonry Responsive Wordpress Theme
FLYING News Magazine a Retina-ready and fully responsive Magazine, Pinterest style Newspaper and Blog theme – now in v 2.9.8 with a full e-shop Woocommerce functionality. It comes with a rich feature set to allow you to create your advanced and user friendly SEO optimized blog with a great attractive Pinterest style look.
If you like the FlyingNews Magazine theme, please don't forget to rate it

New update 2.9.8 was released 25. 8. 2015 (HOW TO UPDATE)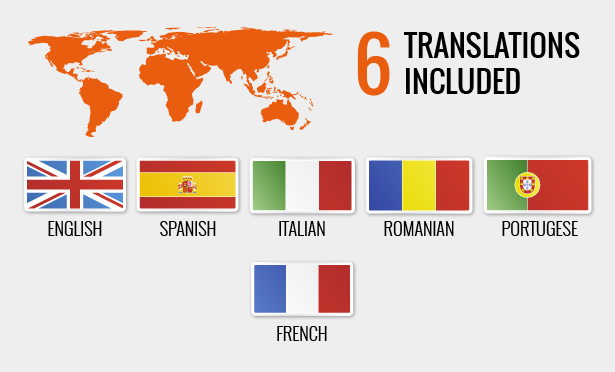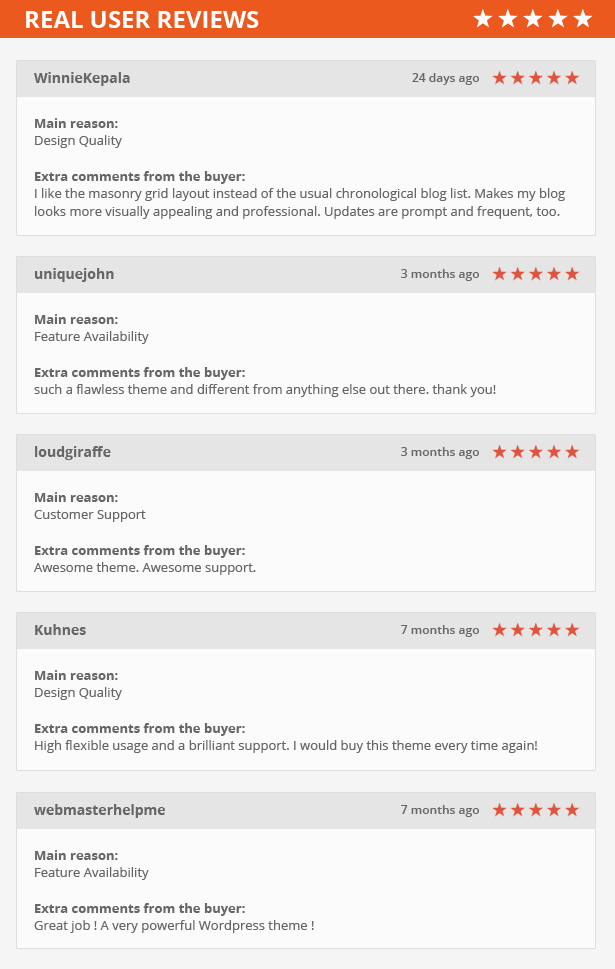 Unlimited Colour Options
Liven up your Website! FLYINGnews allows you to easily choose a color combination according to your wishes.
Ads Management
Manage your advertising campaign easily and comfortably. FLYINGnews contains 11 preset ad positions that you can put a banner type of your choice into.
Post Reviews!
Change a common blog to an amazing catalog with ratings. Our theme integrates a complex evaluation system with a stars and percentage rating style support. Choose a rating box placement, a number of evaluation criteria, you also can allow or not allow your customers to rate the posts.
Incredible Menu
Assign text/html/post or shortcode to each item of your menu and expand the capabilities of your menu.
Easy One Click Installation
FLYINGnews includes a simple way to import our demo content including all settings – ONE CLICK!


Features
Fully tested for WordPress 4.1+ WordPress 4.0+ WordPress 3.9+ WordPress 3.8+ WordPress 3.7+ WordPress 3.6+ WordPress 3.5+ Compatible with 3.4+.
100% Retina Ready no extra plugins needed.
Fully responsive design
Works beautifully on iPhone, iPad, and other mobile devices & tablets.
Full color management. Set up color for page or categories.
Powerful Admin Panel
Rating and post reviews

Unlimited criteria
Definable user ratings
Percentage or stars ratings
Rating description
User definable rating placement (top, bottom)

Ads Management, 8 positions by default. Possibility of banner's placement between posts!
SEO optimised content.
Shortcode Content Generator with 25+ shortcodes.
Breadcrumbs support included.
Unlimited Sidebars!

Create custom sidebars for the various sections of the site
Sidebars can be positioned on the left or right side for page/post or categories

WPML Compatible.
Advanced Blog Options

Support post types (standard, video, gallery, quote, image)
Select a premium slider to show on your blog page!
Easily order your Blog Posts
Easily specify the number of items per page
Pages can have left or right sidebar
Tons of options to add or remove meta data, featured images, full or excerpt, etc.

Translation/Localization ready – includes .mo & .po files.
Demo Content & Theme Options export provided.
Pagination integrated.
Add Google Analytics easily.
Unlimited Portfolio Pages

Set up multiple Portfolio Pages
Sortable/filterable categories
Use Images, Docs & Videos Very Easily!

Logo uploader. Retina ready!
Custom Page Templates & Page Options included

Blog Page
404 Page
Portfolio Page
Cotact Page

Contact form with simple captcha.
Custom background image uploader.
Favicon uploader.
Easy backup and restore the theme option.
On/Off facebook comments.
Fully integrated social sharing.
Semantic, clean, valid HTML5 & CSS3.
Cross-Browser Compatibility FireFox, Safari, Chrome, IE8, IE9, IE10.
30+ presets patterns and colors.
Template update checker.
Fully layered PSD file included.
Helpful, instructive documentation.
Quick help integration.
Support microdata
Releated posts
Beautifully designed Built-in Custom Widgets

Flickr Sidebar and Footer Widget
Twitter Widget
Tab Posts
Contact Details Widget
Advertising Ad Widget TWICE!
Login Widget
Social Links Widget
Basic Text Widget which can use our shortcodes!

No timthumb script, 100% wordpress.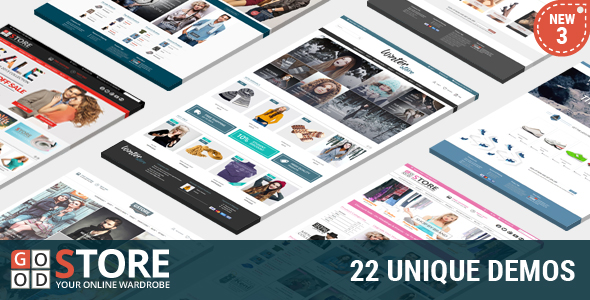 UPDATES HISTORY :
HOW TO UPDATE
2.97 – Updated: 03.07.2015
improve: New Facebook API
2.96 – Updated: 20.06.2015
2.95 – Updated: 15.06.2015
add: Show info about Facebook comment in meta
add: ads between products
improve: Social Widget – new API for YouTube
improve: Tab Posts Widget – popular from last 30 days
improve: Compatibility with WooCommerce 2.38+
improve: Isotope masonry effect
2.9.4 – Updated: 28.04.2015
new: social icons
add: support for link post format
add: banners on mobile devices
add: frontend styles for tinyMCE editor
add: posttypes for blog
improve: compatibility with geo directory plugin
improve: RTL
fix: XSS Vulnerability
fix: not conflict load of javascript
2.9.3 – Updated: 16.09.2014
add: es_ES translation
improve: support for WordPress 4.0
improve: support for WooCommerce 2.2
improve: Clickable images on mobile devices
improve: Management prettyPhoto on mobile devices
Version 2.9.2 – Updated: 02.06.2014
add: Filter by categories in blog
Version 2.9.1 – Updated: 06.05.2014
add: Compatibility with WordPress 3.9+
add: turn off build in SEO
fix: page font issue
Version 2.9 – Updated: 24.02.2014
add feature: Instagram in J&W social widget
add feature: change layout on each category
add feature: preview category colors in categories view
add Youtube videos to RSS feeds
add Layout for 404 page
add WooCommerce 2.1 compatibility
fix align image issue in editor
fix g+ button issue
fix responsive video shortcode
fix ignoring original WP video shortcode
fix prettyphoto on infinity pagination
fix accordion font
fix rating system
fix strict code warnings
Version 2.81 – Updated: 13.08.2013
new API for jwSocial widget
some improvements with portfolio
some improvements with gallery slider
fix RTL support
Version 2.8 – Updated: 02.08.2013
some improvements with Wordpress 3.6
some improvements with Google fonts
some improvements with JaW Social widget
some improvements with menu featured catefory
some improvements with portflio filtering
fix width of product shortcode
fix links in JaW Twitter widget
fix image align
fix og:description
fix include post in blog
format of contact form after sumbit
Version 2.7 – Updated: 25.06.2013
add images to RSS as attachment
add custom sorting
add featured menu post as last post from category
add changable length of titles in tab post widget
add function – global set Navigation Bar
add image caption to gallery slider
add image caption in lightbox
add possibilites: shortcode instead of ad
add possibility to hide breadcrums and sort on category page
add possibility to choose how much product will be showing in mix mode
some improvements with jwSocial widget
some improvements with blog quote post type
some improvements with image caption
some improvements with styles in woocommerce shortcode
new API for jwTwitter widget
fix adding shortcode to text widget
fix bug with Use Featured Image or Gallery or Video in post on old posts
fix category custom color in menu
fix aligment image with captions
fix showing shortcode in tabs
fix notice support for woocommerce
fix link target in slides
fix admin description with WPML
Version 2.6 – Updated: 17.04.2013
add sorting by category name
add comment antispam question
add WooCommerce tag layout
add portfolio pagination
improvements totop on mobile devices
improvements rating system
resolve problem with Google DFP ads
fix pagination style – none
fix option "Featured area on all site"
fix pagination on blog page as homepage
fix search page
Version 2.51 – Updated: 29.03.2013
To see what files have changed go
here
.
Version 2.5 – Updated: 29.03.2013
update rating system
add posibility: featured area on all web
fixed buttons colors
fix portfolio on IE
To see what files have changed go
here
.
Version 2.11 – Updated: 25.03.2013
To see changelog go
here
.
To see what files have changed go
here
.
Version 2.1 – Updated: 22.03.2013
To see changelog go
here
.
To see what files have changed go
here
.
Version 2.0 – Updated: 21.03.2013
To see changelog go
here
.
To see what files have changed go
here
.
Version 1.4 – Updated: 06.03.2013
To see changelog go
here
.
To see what files have changed go
here
.
Version 1.3 – Updated: 27.02.2013
To see changelog go
here
.
To see what files have changed go
here
.
Version 1.2 – Updated: 20.02.2013
To see changelog go
here
.
To see what files have changed go
here
.
Version 1.1 – Updated: 19.02.2013
To see changelog go
here
.
To see what files have changed go
here