Hairpress is a premium Wordpress Theme for hair salons, beauty salons, wellness centers or any similar local business website. It is very easy to setup and use.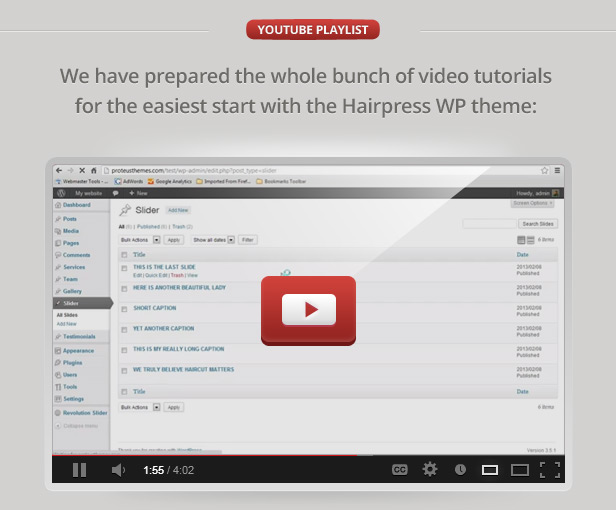 Main Features: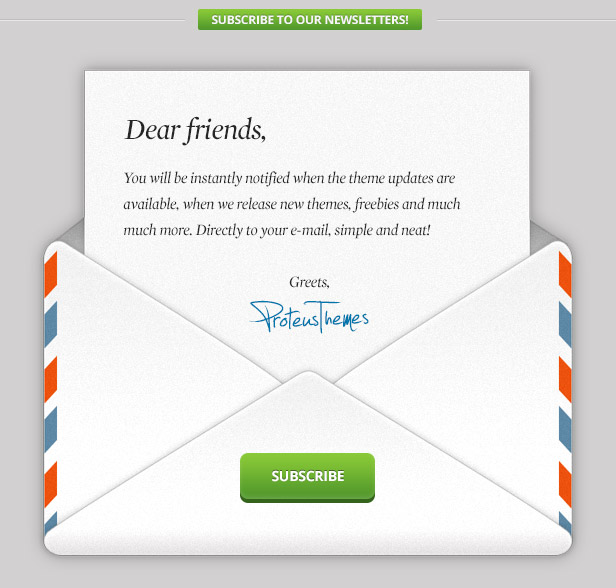 Our Customers Say
Hi , I would just like to say thanks to all your team, a great user friendly theme, but the great service post purchase is first class, don't think i will be looking anywhere else for future themes and content.

Thanks again
Visin hairdressing, Gee Cross
Great theme, perfect for any salon. Client loves it. Very good documentation and easy to use and setup.

By ypclarke
THANKS! I really appreciate the FAST service of Proteus! Really Really Happy with the theme and support! Thanks again.

By Timonvkl
Absolutely stunning theme, highly recommended; 5* – with generosity of help like no other. Coded really well, & would like to see more from this user in the near future – keep supporting!!

By thenewlayout
Do you enjoy our theme? We would be glad to publish what you have to say to others. Just drop us a message from our profile.
Page Layouts
Hairpress WP Theme includes many different page layouts, all customizable via administration:
Front Page layout
Blog Layout
Single Blogpost
Search Results
Galleries
Services
Contact Us
Make an Appointment
The theme comes with all 20 PSDs created by professional designer, so it is very easy to add some extra visual elements to the existing design.
Fonts Used
These two fonts are used in the template from the Google Fonts
Lobster – for the logo in the navbar
PT Sans – for headings and links
Build using SASS, Compass and Twitter Bootstrap
The theme is build on top of SASS Twitter Bootstrap front-end framework and uses Compass functions for creating sprite images (good for a performance).
Contact / Support
We are available for questions / suggestions / help at Ticksy Support
Changelog

version 1.6 (2013-05-02)
+ added: custom CSS field
+ added: buttons shortcode - added the attribute to open up in a new window
+ added: multi level custom menus in Menu Widget
# fixed: fatal errors in the galleries
# fixed: grid view of more than 4 services on the front page

version 1.5 (2013-04-20)
+ added: textarea for custom scrips in the footer added in Theme Options
+ added: custom favicons using theme customizer
+ added: custom Google Maps view (normal, satellite, terrain, hybrid)
+ added: 3-level drop-down menus support added
+ added: contact page template without sidebar
+ added: custom background settings for individual pages
+ added: date & time picker added to the appointment form
# fixed: social icons position on mobile phones
# fixed: removed the social icons when using regular Slider Revolution home page
# fixed: Tweet jQuery plugin, added support for Twitter API migration to v1.1

version 1.4.1 (2013-04-02)
# fixed: footer widget area - didn't expand on click

version 1.4
+ added: a lot of new social icons in slider and as shortcodes
+ added: social icons now above the slider rev front page template as well
# fixed: many translation bugs

version 1.3
+ added: pagination inside the posts
+ added: pricing table in documentations and YouTube video
# fixed: :focus state of the submenu items in the main menu
# fixed: new and better demo content

version 1.2
+ added: possible to remove the image of hair on large screens in Theme Options
+ added: possible to change the delay time between slides and transition
         effect on Front Page with Theme Slider
+ added: possible to change the color of the text in Theme Customizer
# fixed: Opening Time widget: correct timezone, starting day of the week
# fixed: Above Slider widget area now available using Front Page with 
         Revolution Slider template as well

version 1.1.2
# fixed [social_icon] shortcode
# fixed breadcrumbs links for custom post types

version 1.1.1
+ added video tutorials to the documentation
# fixed Contact Form 7 sample code in documentation

version 1.1
+ Added the option to change the background color of title area in subpages
+ Added the option to remove the Meet the Team on the front page in Theme Options
# Fixed the gallery widget - display max of 9 items at a time

version 1.0.2
# Fixed the Theme Options (OptionTree) settings problem

version 1.0.1
# Fixed the theme slider issue

version 1.0 
# first version of the Hairpress WP Theme