WordPress 3.9 quick fix (before theme update)
The theme's Shortcode Generator doesn't work with newest WordPress 3.9 release. If you've upgraded to this version of WordPress, please find the fix on http://support.webmandesign.eu/forums/topic/wordpress-3-9-shortcode-generator-issue-2/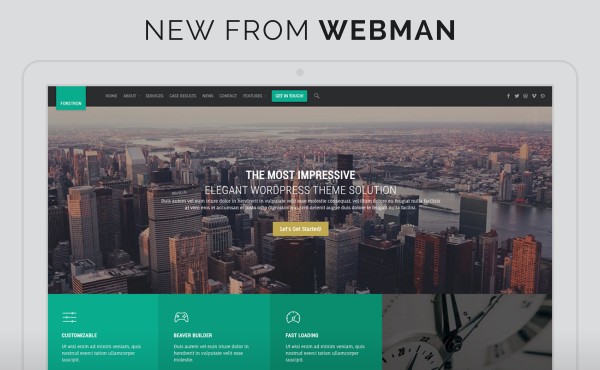 Jaguar is professional portfolio WordPress theme with clean,
modern design, suitable for any kind of business, creative individual
and portfolio websites.
Version 2.8 released – WordPress 3.8 ready
IMPORTANT: It is recommended to backup your theme settings before updating the theme.
Version 2.8.5 changelog – 15/12/2013
Added: WordPress 3.8 ready
Added: Custom CSS class attribute for [column] shortcode
Added: Fiter to add/modify contact infos in Contact widget
Updated: Update plugins (Envato WordPress Toolkit 1.6.1, Revolution Slider 4.1.2)
Version 2.8 changelog – 14/11/2013
Added: Support for "All In One Schema.org Rich Snippets" and "Schema Creator by Raven" Schema.org snippets plugins
Added: Option to display toggle shortcode open when page loads
Added: Option to display replies in Twitter Widget
Added: Compatibility with WP PageNavi plugin
Added: Option to disable sharing buttons per post basis
Updated: Admin area updates
Updated: Plugins and scripts updates (TGM Plugin Activation, Revolution Slider 4.0.4, Envato WordPress Toolkit 1.5)
Updated: Better shortcodes support with WordPress 3.6+
Updated: Improved code
Updated: Minor frontend styles updates
Fixed: Posts widget coding error
Fixed: Twitter Widget fixes
Fixed: Blog page pagination fix
Fixed: Portfolio subcategories filtering error
Jaguar's awesomeness
Jaguar uncovers suprisingly simple and creative way of editing WordPress websites. It is fun to work with and offers great flexibility both on front- and back-end side.
Each Page template has its own custom options displayed only if corresponding Page template is assigned to the Page. So you know exactly what settings are required to set.
Unique flexible horizontal widget area layout system makes it super easy to add up to 5 columns of widgets into one widget area. Yes, into ONE widget area. No more 5 widget areas for website footer or so!
Now trully WYSIWYG visual editor (watch it in action) can be used for adding a new content. The theme encourgages you to use as little shortcodes as possible, replacing them with styles. Thus you can see how your website will really look like when you publish the content.
Search engines will love your new website! Jaguar does really good job on field of Search Engine Optimization (SEO). And if you decide to use a specialized SEO plugin, just disable theme's SEO functionality and it will be 100% compatible with any SEO plugin you are using.
Theme integrates amazing Slider Revolution! Responsive WordPress Plugin (worth $15) which let's you create impressive slideshows for your pages using WYSIWYG editor!
What buyers say
This has to be about the best theme on ThemeForest – no, that I have ever seen, PERIOD. I have been developing WP sites for years, purchased countless themes, and never found one that was robust enough to do EVERYTHING I needed it to as this one is. My favorite part about it is having so many different page types, custom modules, and custom fields. Everything is so neat, organized, fast loading, intuitive, and user-friendly. Oliver's customer support is friendly, superb, and FAST. I can't think of one problem I've had that Oliver hasn't found a solution for and I probably will never change themes because of the customization options available in this one. Give it a shot! You won't be disappointed.
– candacenicole
Great theme, great tech support – Oliver is really responsive and thoughtful in helping you get this theme working. I'm super glad to have found it!
– lealoo
Awesome support- highly recommended!
– sfgelb
I want to say this is the best theme I have ever purchased and the support has been fabulous!! My clients are thrilled with the new site.
– kitchensetc
Highly satisfied with the theme. Level of support from Oliver is outstanding.
– rviteri
Great theme, works well, looks clean, and has plenty of customization options. I rated this theme 5 stars
– VinhSonNguyen
This is perhaps one of the best looking themes I've seen so far.
Additionally, Oliver, the author, replied within a day to my inquiries.
I highly recommend any prospective viewers purchase this themes. I will be looking forward to further themes from the author.
– SWCKeyMUN
@SWCKeyMUN I can concur on that, a legend in communication, as well as very giving on his own time to assist wherever possible.
– mcollins
Jaguar's Key Features
Wordpress 3.1+ Ready
Child themes support
Cross browser support (including Internet Explorer 7)
15+ shortcodes (not counting their variations ) – but replaceable with Styles! (WebMan Simple Shortcode Generator also included)
True WYSIWYG visual editor! (watch it in action)
(Up to) 7 predefined widget areas + infinite number of custom widget areas
7 custom widgets
Easy to use WebMan Admin Panel (can be branded/unbranded)
Easily skinable (5 predefined skins included)
Infinite colors and backgrounds (52 background patterns also included) with automatic text color calculation (any page or portfolio item can have its own background image)
Supports WordPress navigation menus (you can create multi level dropdown navigation that will work even when JavaScript's turned off)
Several different featured content presenters: Nivo slider, Roundabout slider, Kwicks accordion slider, Simple slider, Slider Revolution (plugin included with the theme), video and static image. You can set different presenter for each page and it can display slides from any Slides custom post category or even page's image gallery. Presenter (slider) height is customizable.
Preview image for video on video posts and video content presenter (slider)
Custom fonts
Great WordPress gallery improvements
Optimized CSS stylesheet and JavaScript files
SEO optimized valid HTML5 code
Full compatibility with SEO plugins
Customizable login screen
Custom print css stylesheet
Translation ready (with .PO files included). The theme separates translation into 4 sections for easy manipulation: front-end (the actual website), basic theme admin area extensions, contextual help translation and WebMan Admin Panel translation.
Graphics source files in vector SVG format!
Extensive documentation (online user manual) and hints and information built directly into WordPress contextual help
Color-coded widgets and widget areas in WordPress admin for better orientation
Selection of different icon packs included
Post formats support: Standard, Gallery, Link, Quote, Status, Video
Image, image slideshow, video or audio portfolio items
PrettyPhoto lightbox image previewing
100% unobtrusive jQuery effects which degrade gracefully when JavaScript is turned off
Demo content XML file included
What you will get in the package?
Detailed documentation
XML demo content with instructions on how to install
Graphic source files in vector SVG format
Jaguar WordPress theme
Slider Revolution plugin worth $15
Support forum
If you need support, feel free to to ask on dedicated support forum. I usually respond to support requests within 24 hours on weekdays, depending on the number of requests in the queue. Support request sent during weekends or holidays will be processed on the next business day.