Hi, please note that this is a legacy theme and soon will be removed from distribution. Please consider one of my newer themes. Thank you!
The theme is still being provided via ThemeForest for transition updates only. It will be removed from distribution on 1st June 2015. All the future updates will be provided via WebMan support forum and existing customers will retain access to this forum even after the theme is removed from distribution.
If you are a new customer, please consider choosing any of my newer themes at WebManDesign.eu. Thank you for understanding!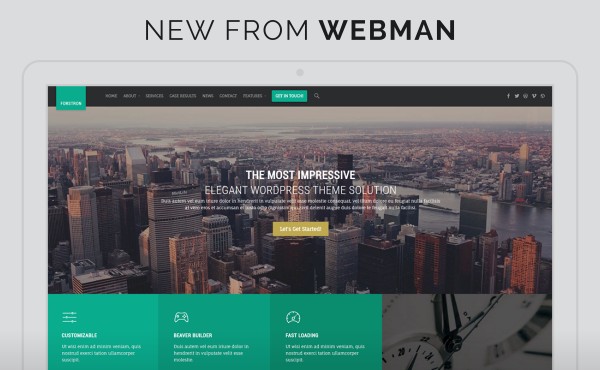 Version 3.0
Released (on May 2, 2015)
Version 3.0 changelog:
Added: Update message in admin
Added: Prepared for removing from distibution
Updated: Font Awesome 4.3
Updated: Tighten security
Updated: Using unpacked scripts
Updated: Removed obsolete theme options
Updated: Admin interface styles
Updated: Scripts: TGM Plugin Activation 2.4.1, jQuery FlexSlider 2.4.0, ImagesLoaded 3.1.8, Isotope 2.2.0
Updated: Plugins: RevSlider 4.6.92
Updated: Improved coding
Updated: Added filter hooks for sliders
Updated: Added and modified hooks for shortcodes
Updated: Improved shortcodes
Updated: Localization
Fixed: Rokkitt Google Font display issue
Fixed: Align left/right responsive styles
Fixed: HTML validation issues
Fixed: Issues with sliders