Don't forget to follow us
Changelog
1.1.0 – 20th October 2015 – Fixed FitVids responsive video not applying inside posts.
1.0.9 – 28th September 2015 – Fixed bug on iPad not showing the featured image in Post view.
1.0.8 – 26th August 2015 – Updated for Ghost 0.6 Prev/Next Post functionality. Updated for upcoming Ghost 0.7 release to include jQuery if no jQuery is present as Ghost is removing this from core. Updated documentation.
1.0.7 – 8th April 2015 – Updated homehero.hbs partial file to read from Blog title and Blog description Ghost settings. Fixed FitText sizing issue for latest Safari on Mac OSX Yosemite. Updated Documentation.
1.0.6 – 17th March 2015 – Updated for Ghost 0.5.9 Navigation helper. Please make sure you read the updated documentation.
1.0.5 – 16th February 2015 – Fixed resize issue on the wide insert image.
1.0.4 – 28th January 2015 – Added tag image and description support for Ghost 0.5.8. Updated documentation to explain tag image and description (see section 13).
1.0.3 – 5th January 2015 – Update for Post Image support for Ghost 0.5.2+. Updated Documentation.
1.0.2 – 18th November 2014 – Fix for incorrect titles showing on post social share.
1.0.1 – 15th August 2014 – Updated JavaScript function for fixed height posts on home/archive/tag/author. Updated JavaScript to fix homepage hero height on mobile.
1.0.0 – 15th August 2014 – Initial Release.
About JRNY
JRNY for Ghost is a conversion of our
JRNY WordPress Theme
. JRNY is a lightweight and simple yet big and bold blog theme.
Unique Touches
We're sure you'll love JRNY and here are a few extras you may not have noticed…
Full Height Homepage hero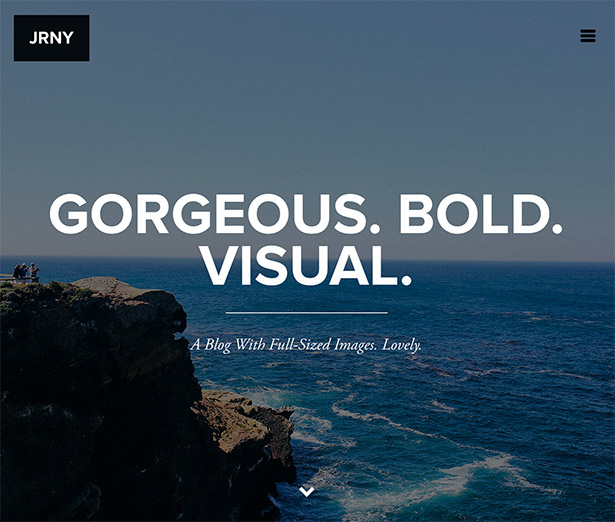 Sidebar Drawer Menu/Widget System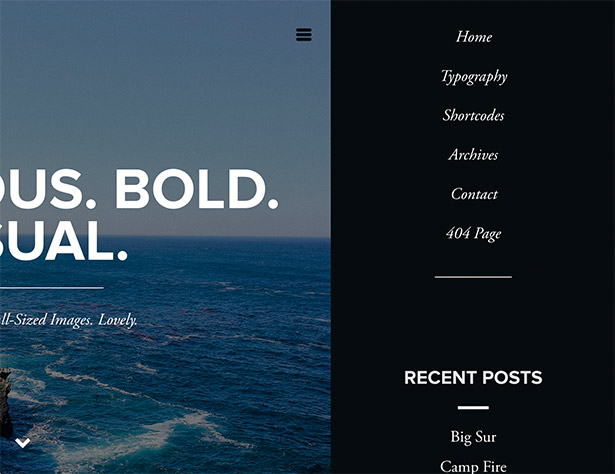 Expandable page/post header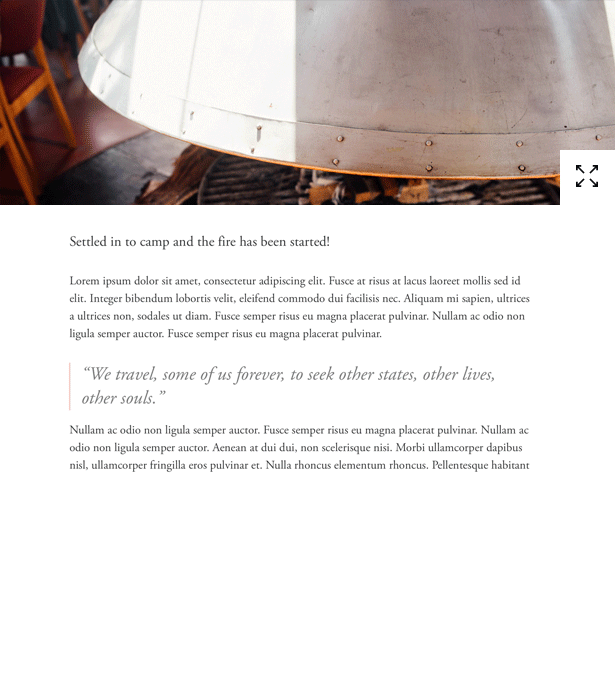 Plus…
Full Ghost 0.5 Support including Author template and Home template
Simple and clean navigation sidebar
Full width inline images using the wide insert (explained in documentation)
The images you see in the demo are not provided as part of the theme cost.