Without a doubt (and modesty), Kallyas is one of the most complete theme ever made! It's a premium, rich featured Multi-purpose WordPress Theme, built for today's websites.
We found our theme used for so many niches, it's incredible how flexible the theme is, whether for real estate, hotel, furniture shop, fitness, brico, interior, a school, university or agency, even church and nonprofit and so many other fields. It's an awesome adventure and we're thrilled when we see our work, used in so many domains and industries.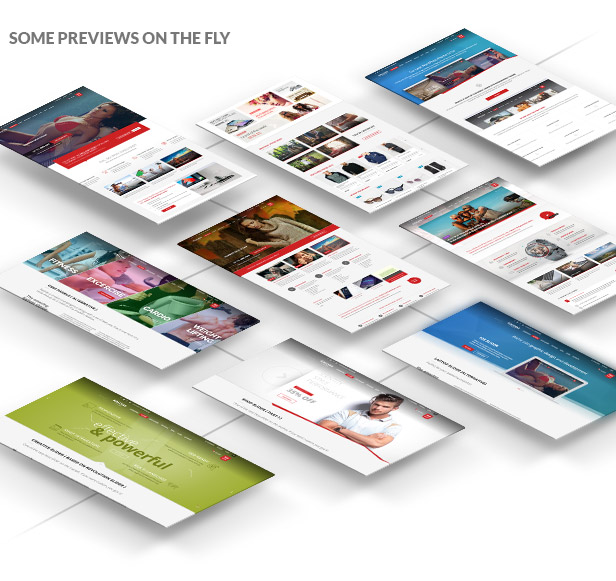 Creating a website is easier than ever. All this with our custom
built page builder and Kallyas, which is built around it.

It can make your work much more enjoyable and also time-saving!
Currently we're housing 12 unique combined homepages for lots of different purposes. Among them, we also remade the classic homepages which were crazy gorgeous and useful.

Bear with us as we're going to continuously add more homepages and custom pages. Any feedback is more than welcome, so if you have suggestions, please do share them!

                                      

Kallyas is ready as an eCommerce platform, having built-in styles for WooCommerce plugin, which at this moment empoweres ~30% of the world online stores!!

Currently inside Kallyas, we added 3 different store landing pages and refreshed the overall feel and layout, but we're planning to continuously release new niched demos and entirely new styles.

- Periodically try dropping a visit, you're more than welcome!

                                      
There's a huge variety of top page sliders, slideshows and hero scenes. Each one is more beautiful than the other.

They really look fantastic and we recommend browsing each one, while enjoying a tea or a coffee

                                      
Make your website as unique as possible, with almost endless combinations. It's almost like productive gaming!
9 HEADER STYLES & UNLIMITED SUB-HEADERS
That's right! 9 styles included at the moment and others to come, we'll wait for suggestions and feedback though.
MULTI-LANGUAGE / WPML READY
Kallyas is ready to be translated in any language possible. We payed fine attention to code detailes and left room for a great integration with WPML.
MULTIPLE PORTFOLIO LAYOUTS
Showcase your projects in style!
There are currently 3 portfolio layouts, and each one does the exact same thing, but with a different flavor, from a clean design to a slicker one.
MULTIPLE BLOG LAYOUTS
Do you blog? Awesome! We've prepared a few layouts to post your latest news, case studies or simply just opinions.
CUSTOM & UNIQUE AND COMBINED PAGES
Well, we haven't invented pages, but we sure did made them useful. They're friendly, practically designed to serve their purpose, of course, in big style!
OVER 100 ELEMENTS / COMPONENTS
This might seem just a number, but each element also contains a few custom styles. Just doing some quick math, there's a huge number of combinations. In fact this might be the power of Kallyas, right into these elements.
And many, many more !!
We could go on for days, but the fact is – simply put – Kallyas combines both power and good looks. Toghether they make a great product.
Try to visit the demo and get convinced!
Please remember, support is given through our Support Forums.
Full list of Features:
WordPress 4.3+ compatible
Bootstrap 3 Framework
Amazing frontend LIVE Page Builder containing over 100 elements
One – Click Data Install
Responsive layout
Smart Loader
SEO Ready
WPML Ready
Translation ready
Unlimited Sub-Headers
Unlimited Colors
WooCommerce Integration
DummyData Included
Unlimited Homepage variations
Functional NEWSLETTER – MailChimp integration and adaptation
Lots of different Kallyas premium features and plugins
Huge variety of sliders (also premium licensed ones):

iOS Slider
Creative Slider (based on Revolution Slider)
Shop Sliders (based on Revolution Slider)
Fixed Sliders

Style 1 (Simple Slider)
Style 2 (Nivo Slider)
Style 3 (Wow Slider)

3D Cute Slider
Fancy Slider
Circular Content & Circular Catalogue carousels
Static Content / Hero Scenes (huge variety)
Portfolio Slider Frames
Laptop Slider, multiple styles
iCarousel
CSS3 Panels

3 Portfolio Layouts

Category Layout
Sortable Layout
Carousels Layout

Custom pages designs:

FAQ
Process
Contact us
Offline / Coming soon
Historic / Timeline
Testimonials
Team
Portfolio Item
Blog Item
Product page
Services
Careers

Pricing tables
Photo Gallery
Bonus – Holiday page headers
Animated Header
Dynamic PHP Contact form
Built-in Magnific with autopopup & open from link functionality
HTML5 & CSS3 Ready
PSD Files included
Great social media support!
Lots of Built in styles
Good Documentation
& many others!!
Recent & Awesome reviews
Due to Envato's privacy policy we can't share our buyer's username and/or other info.
Many thanks to:

Update History
Note: After updating, please clear the browser's cache or hard reload the page ( for Win Ctrl+F5 or CMD+Shift+R on Macs), or simply try accessing the page with another browser that hasn't yet cached the website.
UPDATE 4.0.11.1 / 10 Feb. 2016 / Intermediary update

Fixed:
- Fixed search notices/warnings
- Fixed Shop Products Presentation not displaying items from Latest si Best-selling tabs
- escaped title in iosslider captions
- Images in Devices element, mobile view
- Columns in icon boxes grid, mobile view
- Notice Undefined index: title
- Some slugs in "help" type fields in general options
- Fixed position of search panel dropdown on mobile
- Fixed missing category in breadcrumb
- Fixed product main image on hover, issue with srcset
- Fixed sortable portfolio ordering issue
- Fixed Mini-cart panel's buttons text color
- Fixed portfolio slider glitch on mobiles

Improvement:
- Allow child theme to override the default login redirect url 
- Prevent server caching for zn_dynamic.css
- Contact Form - refresh page after sending a message
- Retina Favicon. In v4.0.12 we'll remove the Favicon option due to WordPress's built-in favicon system ( Customizer > Site identity > Site Icon ).

UPDATE 4.0.11 / 04 Feb. 2016

General overall code improvements and cleanup

Fixed:
- Bug caused by menu, conflicting with Page builder.
- Automatic updates notifications not being displayed
- Weather script in Static content Weather element
- Icon shortcode
- Bug preventing removal of subheader styles
- Cart Panel view on mobile
- Header components misalignment on Iphone 6 (IOS)
- Small fix to mega-menu's submenu when hovering
- Historic element date label position
- Show cart to visitors option
- Automatically re-center Google Map when changing from portrait to landscape view
- Default subheader is applied by default to Custom Subheader element
- Custom HTML bad formatting
- Header width (jumping to 1200 when viewport smaller than defined width)
- Modal image target bug
- Portfolio dynamic fields not being wrapped into list.

Improved:
- General improvements to string translations
- Compatibility with Sensei plugin from WooThemes
- Improved URLs code with zn_extract_link() ensuring proper title display to URLs
- Removed WPK folder from theme and improved code distribution inside the theme

Added:
- Multiple options dependencies for options (framework)
- Added Modal Inline Dynamic type, pass title attribute to field in contact form (Good solution for passing a link's title to a contact form. In a group of elements with links, one single modal form should be created and it'll receive the dynamic title value )
- Magnific popup, simple class for links called "mfp-image" for triggering modal images.

Updated:
- Theme translation files

UPDATE 4.0.10 / 27.01.2016

General overall code improvements and cleanup

Added:
- Options for search forms to search for WC products
- Header width option
- Header options available for all styles - Header position (relative/absolute), height, custom background styling, alpha-colored background
- Custom dynamic rows for portfolio items
- Extra options for Sortable portfolio - Load more button, show/hide toolbars or item description, sort type options
- Rgba support for colorpickers
- New Call To Action style - Custom all-styles-available & dynamic (up to 3 buttons)
- Icon support for tabs nav
- Option to debug contact form easily
- Option for Custom Subheader element to inherit Height & Padding from "Unlimited header" style
- All bottom masks for default subheader style and unlimited subh.
- Added and improved existing page options, with custom code (HTML, CSS and JS)
- Margin & padding options for custom container
- Custom styling for YITH Ajax navigation plugin
- Multiple columns display for blog posts (in blog post page)
- Language selector multiple styles
- Register button in header and other options 
- Very simple style of Team member element

Fixed:
- Content being added to Horizontal & Vertical tabs always going to Tab #1
- WooCommerce Archive element - 3 columns float problem
- One-page demo layout - All menu items have active class
- iCarousel display
- Search page sidebar problems
- Column options not visible in horizontal tabs element
- Prevent "division by 0" notice when there is no regular price set
- Content checks for Infocard (Logo)
- Modals in responsive menus
- Contact form small issues
- Subheader component fixes and improvements
- Sample data importing not working on PHP7
- Search query - now properly accepting portfolio items but also other post types added with or without page builder
- Fixed statistics element odd/even placement 
- Breadcrumb doesn't display SHOP nor BLOG
- Sliding top panel when scrolling page with sticky header 
- Flickr feed widget limit option
- Custom CSS saving issues
- Sale amount option problems
- Support for Youtube short url 
- Equalizator spacing padding for boxed layout
- Fixed light/dark colors for elements. 
- Sidebar titles if using "special characters" 

Improved:
- Refactored entire CSS, improved it and selectors quality.
- Re-built entire header part of the theme, now overridable and much more easier to customize in child-theme, through file override or hooks.
- Spelling errors
- Allowing the Flash Sale badge to be overridden in the child theme
- Cute Slider plugin, better resources management
- Kallyas Dashboard with Server data & recommendations
- Switched custom container's bg to alpha colorpicker 
- Set the modal ajax url to always use the framework variable
- Grid image gallery element to prevent isotope load on demand (adding "stop-isotope" custom class to element)
- SSL improvements and compatibility issues
- RTL layout improvements
- Improved page title customizability through filter in child theme
- Added max-height for Cart Pop-up to prevent scrolling issues with sticky header
- Code quality for Theme Check plugin

Updated 
- Google fonts list
- Updated EN language files
- Revolution Slider

Deprecated:
- Featured boxes page builder element (use icon boxes elements)
- Infobox page builder element (use custom section and buttons element)
- Services boxes page builder element (use Service box page builder element)
- Shop features page builder element (use section and icon boxes instead)
- Static content page builder element (use section with video background instead)
- "zn_active_item_classes" function

UPDATE 4.0.9 / 15.12.2015

General overall code improvements
Added: Kallyas Dashboard and new Setup tour, containing Dummy/Sample data import, Theme update setup and other features
Added: One Page Demo
Added: Better color management and dark skin styles for theme and individual page builder elements
Added: New element - Custom Menus, providing ability to add a menu anywhere
Added: New element - Custom HTML (accepting CSS and JS too)
Added: New element - Countdown
Added: options to hide the header and footer
Added: option to override Boxed layout
Improved: Multiple targets types (smooth scroll, modal image, modal iframe etc.) for all elements using a link anchor
Improved: WooCommerce products, new Option to hide sale badge
Improved: custom color for bottom masks
Improved: Print styles
Improved: Added embed iframe source for IosSlider element
Improved: Dynamic lists now have image previews on hover
Improved: Register/Forgot password system, now WooCommerce friendly
Improved: CSS3 Panels elements option to disable css flexbox
Improved: Login/Register panels UI and UX
Improved: Testimonials slider/fader now have autoplay options
Improved: New option to override Page's Title font-family options
Improved: New option to scroll pricing tables horizontally on responsive devices
Improved: added link anchor option to Steps boxes 4
Improved: More options and customisations for Shop Presentation element
Improved: Language files
Improved: CSS animation for Product Action buttons
Improved: Yoast SEO compatibility
Improved: Added option for menu depth (limit) to Side by Side Menu Widget
Improved: Page builder switched to Barebone for better performance and speed
Improved: Footer nav to accept 2nd level
Improved: Font icon archive uploading
Improved: Added hash url's for tabs
Improved: Added option to choose the re-captcha language
Improved: Contact form and re-captcha usability issues
Improved: Auto adding elements to newly created pages
Improved: autoplay option for Recent work carousel
Improved: Contact form new option - use sender's email address to reply (dynamic)
Improved: Google maps custom centering coordinates
Fixed: Search products not finding products
Fixed: function call throwing fatal error in coming soon page
Fixed: Safari gradients and mask bugs
Fixed: Page options override theme options
Fixed: Social icons in coming soon page
Fixed: Several bugs caused by the CSS calc() property
Fixed: Subheader default style when none is selected
Fixed: Nivoslider autoplay
Fixed: TinyMCE throws error when the user disables rich editing for his account
Fixed: Woocommerce columns on 768px
Fixed: Revolution slider not working when option title had spaces
Fixed: Twitter widget insecure content
Fixed: Flickr widget loading
Updated: Revolution Slider to 5.1.4

UPDATE 4.0.8.1 / 13.11.2015
(sorry for the short notice update, we felt 4.0.8 was a bit incomplete)

Added: "None" as option for several elements that are using Subheader Styles. ( Note: for those that had animated sparkles option in the Default subheader option, you will either have to select "None" in the element, or simply go to Kallyas options > General Options > Default subheader and disabled Animated sparkles )
Added: Shortcode for current year (for example to be used in copyright text, eg [ht_year] and it'll always display the current year )
Added: Styles for multi-level StepByStep menu in Footer
Updated: Revolution slider to latest 5.1.1
Fixed: horizontal tabs not saving content in certain circumstances
Fixed: Shop presentation element's navigation arrows were over the Sticky menu
Fixed: Misspelled words in the Kallyas options - options.

UPDATE 4.0.8 / 13.11.2015

General improvements, CSS tweaks and Translatable strings
Added: CSS Class field for all elements
Added: Scroll-spy functionality to assist one-page layout
Added: French translations
Added: Footer menu navigation (near copyright area)
Added: Display discount amount in sale badge in WooCommerce products
Added: HELP tabs for elements, that contain links to video tutorial and documentation
Added: HELP section in Kallyas options, that contain links to video tutorial and documentation
Added: Support for Section element to become a hidden modal window
Added: Multiple target options for Call to Action in header (can now link to a modal window)
Added: Multiple target options for other elements
Added: Newsletter Box element that displays a newsletter form in various styles
Added: Extra options for footer area and also visual improvements in options
Added: Social Icons (Group) Element (will display a list of social icons with various options and styles)
Added: More error messages to icon font option (for better debugging)
Added: Deprecated warnings for certain set of elements that will be removed in the future
Added: Autoplay & Timeout duration for Shop Products Presentation element
Added: Position option for Google map's direction box
Added: Skewed background option (color and image) for Section element
Added: Redirect to link after Contact form is sent
Added: Option to disable TopNav Dropdown (located in General options > Navigation options)
Improvement: RTL Styles
Improvement: Extended main menu to support modal magnific popups
Improvement: Added Unique ID for all elements (that didn't have)
Improvement: Page builder Drag Bar becomes bigger on hover
Improvements: Facebook integration
Improvement: Prettyfied alerts for Contact form element
Fixed: Sub-Headers fixes
Fixed: General validation fixes
Fixed: Page builder element saving, prevents refresh on enter key
Fixed: Saving content for saved templates
Fixed: Page Builder elements were not found in Search
Fixed: Anchors in main menu to also navigate between pages
Fixed: Single project button not being displayed
Fixed: Removed duplicate fb-root div
Fixed: WooCommerce catalogue mode also general improvements
Fixed: Registration form in "Static content - Text and register" element
Fixed: Header Style9 hovers correctly
Fixed: IosSlider's fixed width on small devices (added extra option to choose relative height)
Fixed: Portfolio Slider element's height
Fixed: Accordion, Vertical tabs and Horizontal tab issues with page builder

UPDATE 4.0.7 / 27.10.2015

Added: Subheader now has devices breakpoint options for Height and Top / Bottom padding
Added: Vertical Tabs now uses Page builder elements
Added: Accordion element now uses Page builder elements
Added option to disable dragging for Iosslider
Added: Extra checks for theme version check
Improved: PHP Code Element
Improved: Mega Menu compatibility with WP
Improved: Framework so we can add modules dynamically
Improved: The update system
Fixed: No Comments text translatable
Fixed: Social links URL's are now translatable trough string translation
Fixed: Problem with "Use first attached image" feature
Fixed: Blog archive element not showing posts properly
Fixed: Recent Work 2 was not showing category/s that were chosen
Fixed: Newsletter widget problem now showing correctly in the sidebar
Fixed Active item/category for portfolio sortable's menu
General small improvements and cleanups

UPDATE 4.0.6 / 23.10.2015

Added: Option to choose the background color for Steps Box Element
Added: Autoplay option for Partners element
Added: Page builder icons for all elements
Added: Multiple receivers for Page Builder Contact Form (split by comma)
Added: "Support" custom edit field in Kallyas options > Hidden panel
Added: HoverBox extra color options for both active and hover states
Added: Pricing table features column option
Added: Pricing table option with just 1 single column
Added: "Active" selectable button for Sortable portfolio's menu
Added: Option to have Horizontal Tabs with Page Builder elements inside their panes
Added: Print stylesheet
Added: RTL Stylesheet
General improvements and very small fixes
Improvement: Grouped elements on categories
Improvement: Smooth-scroll script
Improvement: Theme version is saved by theme id rather than name
Improved: Header options (in Kallyas option) restructured with now a separate sheet of options ( Call to action and Infocard )
Improvement: Theme Screenshot
Improved: Pricing table translatable "most popular" text
Improved: Smooth-scrolling for custom hash links and IOS Slider element
Improved: Passing a forced sidebar layout and ID
Fixed: Contact Form sending mails peculiarly
Fixed: Page Builder empty icon not displaying properly when editing an empty page
Fixed: Latest posts carousel element not showing the full images
Fixed: "Use first attached image" option
Fixed: Custom css saving to template saving
Fixed: Display of Alternative blog not having any posts
Fixed: Function call to be compatible to most servers
Fixed: Fixed page-subheader height sticked to default subheader style
Fixed: Error when the twitter widget was not displayed
Fixed: Google map element displays element id instead of the title
Fixed: Fatal error when adding the Product Item Content element
Fixed: Hoverbox center layout
Fixed: Styled "how many per page" select list in WooCommerce
Fixed: Scrolling Parallax image in section
Fixed: "Header over Slideshow" option was mis-used in combination with Header Style 7
Fixed: Static content - Text and Video element's infopop button styles
Fixed: Steps Box element multiple small problems (bg. color, custom height)
Fixed: Page options not saving the Hide Page Subheader option properly
Fixed: Problem with Shop page options that didn't override Theme options
Fixed: Issues with Recent Work element on Fixed-width or Full-width sections
Fixed: WooCommerce Layered Nav not displayed/working properly with the theme

UPDATE 4.0.5 / 08.10.2015

Added: Custom JS field in advanced options (use it wisely!)
Added: Save options button at the bottom of theme option page
Added: Custom fonts uploader in theme options
Added: Extra settings for Unlimited Subheaders (Custom height, Custom paddings, Advanced background image settings)
Added: Smooth scroll target links for buttons element and action box
Added: Section background-image scrolling parallax effect
Fixed: Prevent pages from showing empty HTML tags when no image is set …
Fixed: Twitter widget oAuth
Fixed: Custom css not writing the css file
Fixed: Custom height option for default subheader style
Fixed: Recent posts widget
Fixed: Style 9 Header Logo size issues
Fixed: Date format now uses the user options from DB
Fixed: Twitter widget carousel fader
Fixed: Page builder content is now hidden on password protected posts/pages
Fixed: Recent Work #3 is now properly showing items from the selected category
Fixed: Static Content Default display of empty infobox
Fixed: Captions are now visible for images gallery
Fixed: Improvement on Dummy Data Installation
Fixed: Contact form not working on certain server setup
Fixed: Product image change on hover
Fixed: Glyphicon library different type of using it, due to conflicts with other icon libraries (eg: FontAwesome)
Fixed: Checkout button display in cart panel
Fixed: Product description display for multiple paragraphs
Fixed: Small bug on group option items
Fixed: Removed empty whitespace when product is without description
Fixed: Display of a single item in limited shop carousel
Fixed: Page Builder layout shrinking issue
Improvement: Prevent resize function from manipulating gif images
Improvement: Data conversion general fixes ( Preserve social icons colors, blog archive content to excerpt, subheader display, prevent creation of empty icons )
Improvement: Use template include instead of template redirect
Improvement: General framework data handling
Improvement: General code cleanup
Improvement: Modified the entire Install/update/convert system
Improvement: Added extra check for coming soon social icons
Improvement: WooCommerce body classes usage (fully switched to simply .woocommerce)
Improvement: Stopped the image resize making the images bigger
Improved: VT resize now works when you move your uploads directory

UPDATE 4.0.4 / 29.09.2015

Added: "Set in theme options" value for the hide sub-header in page options
Added: Default template when editing the shop page for the first time with pagebuilder
Added: Ability to edit the blog archive page with pagebuilder
Added: Option to choose what type of content to display on blog archive pages
Added: Option to disable the compact style in portfolio single page
Added: Main-navigation submenus - prevention for exiting viewport
Added: Option to choose custom image sizes for recent works element
Added: Anchor Point Element for generating an empty element with an unique ID that can be used as an anchor point
Fixed: Sticky header + relative header and no subheaders
Fixed: Padding siteheader + site-content top padding
Fixed: WordPress Gallery displays in lightbox only the first row of images
Fixed: Error displayed on Addons page on older php versions
Fixed: Side by side menu widget not displaying proper menu
Fixed: WooCommerce "more" button appearing twice in certain scenario
Fixed: Portfolio PB element pagination not working on frontpage
Fixed: Chaser menu appearing always on pages with no sub-header
Fixed: Header navigation display on smaller devices and for classic header styles
Fixed: WooCommerce cart-widget displaying sidebar
Fixed: Refresh Page-builder data upon plugin deactivation
Fixed: Better functionality for WooCommerce product images hovering
Fixed: SSL compatibility for admin
Fixed: Social icons on coming soon hide not working
Fixed: Submenu placed under sub-header bottom mask
Fixed: Map can be dragged on Windows Surface Pro
Fixed: Firefox page-builder window problems
Fixed: Shop Archive element which resulted in an infinite loop in a normal page
Tweak: Hidden WooCommerce page-builder elements in WooCommerce is not installed
Tweak: Theme convert system to add WooCommerce archive element on shop pages
Tweak: Added extra checks for comments opened in pages
Tweak: Static content text and register: A notice appears to inform about the global user registration option
Tweak: Improved compatibility with W3 total cache plugin
Tweak: Portfolio sticky description
Tweak: Dummy data import process
Tweak: Image resize functionality improvements
Tweak: Google Maps element code checks
Tweak: General improvements and tweaks to Icon Manager
Updated: Cute slider to fix widget notice
Updated: Cute slider to resolve SSL errors and made it SSL-friendly

UPDATE 4.0.3.1 / 22.09.2015

Added: Dynamic css now regenerates after theme update;
Added: Responsive header (480px and lower) text color & background color options;
Fixed: Sticky Header in combination with Boxed Layout;
Fixed: Revolution slider update link;
Improved: Contained logo for all header styles to display properly;
Improved: plugin installed check

UPDATE 4.0.3 / 21.09.2015

Added: Ability to use the pagebuilder for the WooCommerce archive page
Added: Option to make an accordion element toggle
Added: Main image of a shop product is changed when you hover over it's thumbanils
Added: option to choose currency symbol for pricing tables
Added: Option to choose what sub-header style you want to use for pages, posts, products and portfolio items
Added: Option to show header above sub-header
Added: Tabs button alignment ( left, center or right )
Added: option for vertical image position in Ios Slider
Added: Option to disable the product second image on hover
Added: Autoplay option for Laptop slider
Added: option to select an icon font for features boxes 2
Added: Option to hide the related posts
Added: Info tooltips for pagebuilder group options
Added: Option to hide author info on single blog post
Added: options to show the portfolio extra content when using category 1 column
Updated: Revolution slider to latest version
Tweak: FitVids applied rules
Tweak: Added a padding for logo when using the contain in header option
Tweak: Small WooCommerce display tweaks in different languages
Tweak: Improved compatibility with nextgen gallery plugin
Tweak: Accordion element and shortcode
Tweak: Removed forced uppercase for menu items
Tweak: Latest posts 4: Will display all posts when no category is selected
Tweak: Latest posts 4 display
Tweak: Improved WPML compatibility
Tweak: Small improvements for Firefox browser
Tweak: Under the hood tweaks
Tweak: Improved WooCommerce shortcodes display in pagebuilder edit mode
Tweak: Added missing text to translation files
Tweak: Display style for "What you can read next" for posts without images
Tweak: Added warning message when older TGM version is installed on the server
Tweak: Replaced author name with the name selected in the user options for blog posts
Tweak: "Edit with pagebuilder" button will only display when you previously edited the page with pagebuilder
Fixed: Vertical tabs responsive style
Fixed: Top header navigation style
Fixed: Js error for Ios Slider update
Fixed: Laptop slider navigation arrows not displaying
Fixed: Last CSS3 panel not showing in responsive display
Fixed: Ios slider fixed position display
Fixed: Header display when using boxed layout

UPDATE 4.0.2 / 15.09.2015

Added: Button to refresh the pagebuilder cache files
Added: Option to choose the latest posts 4 - style 2 font size for titlte
Tweak: Small firefox related tweaks
Tweak: Improved main color not applying to several elements
Tweak: 404 page display
Tweak: Menu items don't have forced capitalization
Improved: Compatibility with Yoast plugin
Improved: Dummy data import compatibility with older PHP versions
Improved: Accordion shortcode
Improved: Twitter widget code
Improved: Latest posts 4 pagebuilder element
Updated: Revolution slider plugin
Fixed: Customizer link not working
Fixed: Left sidebar not working properly
Fixed: Users could register even if the option was set not to register
Fixed: Menu font not applying to submenus
Fixed: Portfolio archive Pagebuilder element not using the selected category
Fixed: Vertical tabs display on extra small viewport

UPDATE 4.0.1 / 11.09.2015

Added: Option to select the default Shop page sub-header
Added: Fitvids library
Improved: Recent work element display in Firefox
Fixed: Visual editor problems in Firefox
Fixed: Convert system stuck during conversion


UPDATE 4.0 / 09.09.2015
ADDED:

Added: Front-end pagebuilder: You can now edit all your pages directly from front-end. No more page reloading when creating your site page. View your changes directly.
Added: Font icons
Added: font icons uploader
Added: Frontend pagebuilder
Added: Selectbox for contact form fields
Added: Chekbox for contact form fields
Added: option to hide the add to cart buttons for visitors
Added: Mega menu
Added: new options for CSS3 panels element
Added: more options to Google maps element
Added: options for choosing the blog sidebar
Added: featured image for pages
Added: new responsive menu
Added: more details to header cart
Added: new header styles
Added: new styles for actual elements
Added: video background options for various elements
Added: new Google Re-captcha system to contact forms
Added: option for WooCommerce to show cart only for registered members
Added: option for WooCommerce to load images after the page loads ( Lazy load )

NEW ELEMENTS:

- Devices images
- Big social element
- Media Container
- Section element
- Column element
- Custom container element
- Grid Photo Gallery
- Icon Box
- Grid Icon Boxes
- Recent work 3
- Search Box
- Stage ImageBox
- Static content - Reservation Form
- Static content - Weather Box
- Statistics Boxes
- Steps Boxes 4
- Title Element
- Partners & Testimonials Element
- Spacer Element
- Custom container Element
- Page content
- Post content
- Product item content
- Portfolio item content
- Blog archive
- Portfolio archive

UPDATED:

- Updated to Bootstrap v3- Updated Revolution slider

TWEAKS:

- Estimated 90% of the existing code - touched and improved!
- Improved Dummy data install
- Replaced FlexSlider with FredCaorousel ( backend change )
- Combined Google maps elements into a single element
- Improved WooCommerce compatibility
- Optimized sidebars globally
- Optimized portfolio code
- Improved theme addons admin page
- Improved Shop Product presentation element
- Improved Shop Limited offers element
- Improved CSS3 Panels element
- Improved sub-header sparckles system
- Improved Google Fonts setup options
- Improved Sidebar options from admin panel
- Improved Dummy data import system
- Improved Custom CSS advanced option
- Improved Page/post options

FIXES:

- All known bugs 

REMOVED:

- Removed enable page comments option
- Removed portfolio carousel, portfolio sortable and portfolio category PageBuilder elements

UPDATE 3.6.10 / 25.06.2015

Fixed/Updated PrettyPhoto to latest version due to security vulnerability
Fixed a bug with custom header
Fixed menu when there's the WP-admin bar (or user logged-in)
Better WP 4.2+ compatibility