About NEW Millenium Theme

Millenium is an elegant and clean responsive theme designed for a fashion stores. However you can use it with a clothes, lingerie and also watches, sports store.
Theme is SEO friendly and compatible with all major browsers and devices.
Millenium was recoded in last days – now it is based on Twitter Bootstrap 3 framework.

Theme Features

Single column home page, product page and checkout
2-column product list page
Cool rollover image – check the demo page!
New products with carousel mode
Viewed products with carousel mode
Google Rich Snippets
BLOG module
Revolution Slider module
Product comments section on the homepage
Products from the same category with carousel mode
Product accessories with carousel mode
Detailed documentation for theme installation
Totaly redesigned product page with sliding tabs.
Quick support
Compatibility
Millenium theme is compatible with Prestashop from 1.5.4 to 1.6.x
There are no modification in core files.
Future updates will be provided.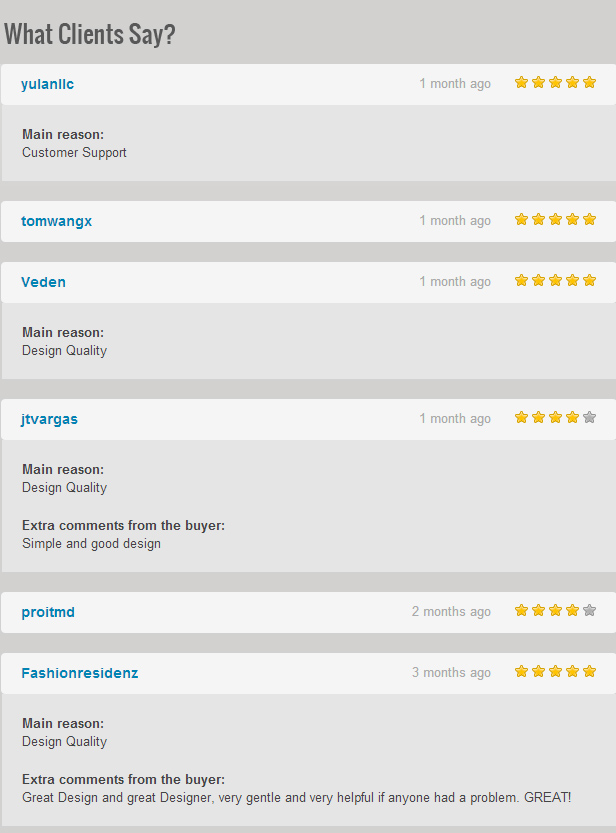 UPDATES (detailed information in changelog.txt delivered with theme):
3.2
(17.04.2014)
Compatibility with Prestashop 1.6.x
Fully new framework – Bootstrap 3 – recoded whole theme + modules
BLOG module added
Revolution Slider module added
Manufacturers Carousel module added
Simplified installation process – now via Theme import/export module – no need to do it manually
3.1
(19.11.2013)
Fixed product comments on product page for PS 1.5.6
3.0
(03.11.2013)
Fixed menu visibility on iPad (issue from v2.9).
2.9
(21.10.2013)
Only a few files added (mostly GIFs), not neccessary for theme working, only stopped creating some errors in server log file.
2.8
(23.09.2013)
improved responsiveness for iPhone
fixed visible subcategories (menu) while page reload
fixed few translation bugs
2.7
(05.07.2013)
fixed unupdating TOTAL price in shopping cart
added missing translation variable in footer block newslettert
2.6
(26.05.2013)
fixed doubled currency sign in Google Rich Snippets (one file update)
2.5
(18.05.2013)
fixed Wishlist management
fixed some issues with tables width on Firefox
enlarged product images
Google Rich Snippets added
2.4
(9.05.2013)
updated 5 files (mostly css) causing problems on Safari browsers (desktop)
2.3
(2.05.2013)
added ROLLOVER images with nice transition – now you can see the second product picture
now installation is much easier and faster
2.2
(11.04.2013)
fix for HomeContentbox module (update only for Prestashop 1.5.4)
fix for BannerManagermodule (update only for Prestashop 1.5.4)
2.1
(31.03.2013)
fix for video slider (AnythingSlider is now responsive)
small bug fixes in header.tpl (ssl)
2.0
(18.03.2013)
1.3
(17.02.2013)
Fixed crashing footer in empty shopping cart (file: order-opc.tpl in themes/millenium)
Fixed missing product links in New Products module (file: blocknewproducts.tpl in modules/blocknewproducts)
Added 2nd level menu in Top Horizontal Menu module (files: blocktopmenu.php, superfish-modified.css, arr_more.gif in modules/blocktopmenu (/css & /img))
1.2
(12.02.2013)
New module added Polcoder AnythingSlider for the homepage – slides images and video content from youtube, vimeo, etc.
1.1
(28.01.2013)
GRID / LIST view
More social icons in footer
New social module on product page (AddThis)
Add to cart button showing on hoover in Featured Products, New Products & Product List
If you have any problems with theme installation or you just want to contact me please go to the FAQ (Support) tab at first.
Thanks so much!