Update 1.2 is almost ready. Lots of new beautiful features! Stay tuned!
Newave is the perfect one page parallax WordPress theme for corporate, agency, photography or general business.
5 Home Sections, Background Video Support, Parallax Slider, Fullscreen slider, Ultra-responsive, 4 Navigation styles, customizable backgrounds(colors,images or patterns), Font Awesome icons and many more super-awesome features to keep you busy & satisfied.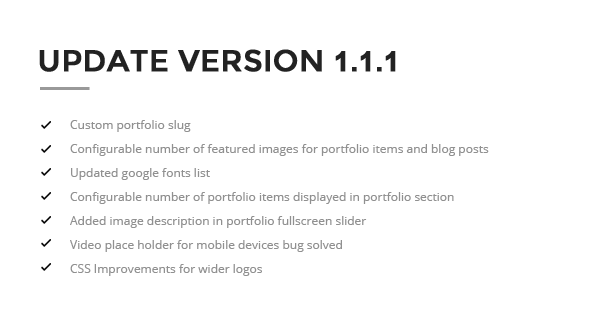 Endless possibilites – With the advanced styling customization features, you can create endless possibilities by changing navigation styles, backgrounds for each section with colors, images or patterns.


Ultra Responsive – Newave is 100% responsive, each and every element including the awesome slider are fully responsive.


Parallax Sections – Newave is built using Parallax javascript. This enables to make your site more appealing and creative. It's also very easy to use.


Custom Backgrounds – Newave allows you to set a custom background for each section. A super-quick way to get creative with your site. Parallax sections makes your page more beautiful.


5 Color Skins – Newave includes 5 color skin verisons. You can create new one very easy in admin theme option


4 Header versions – Newave includes 4 header verisons. You can customize each of them very easy.


5 Home Section versions – Home section with background pattern and text slider, Home section with fullscreen slider and animated captions, Amazing Home section with parallax slider and animated captions, Home section with parallax image and text slider, Home section with background video and text slider


Isotope Portfolio – We create a fullwidth 4 colums portfolio, that never breaks rows. Always display properly. We guarantee this!


Project Ajax Normal Expander – Includes a slider and HTML content. It also supportss media like youtube, vimeo, etc.


Project Ajax FullScreen Expander – Include a fullscreen slider with slide captions. Very nice for photography


Working Contact Form – The elements of the contact form is perfectly styled and very easy to customize it.


Font Awesome Integration – We include over 240+ Icon font integration. You can use these icons via shortcodes in any page. You can customize the size,color,type of the icon.


Browser Compatability – This template supports all the major browsers including IE9+, Chrome, Safari, Firefox.


Clean Code – The code is well written using the best resources available and also all the files are well commented to make your work much easier.


Documentation – We include the detailed documentation on how to use the theme and it's features. Plus you can always submit a ticket at our help desk if you have any queries.
v. 1.1.1 – 24 February 2014

------------NEW FEATURES------------
- Custom portfolio slug
- Configurable number of featured images for portfolio items and blog posts
- Updated google fonts list
- Configurable number of portfolio items displayed in portfolio section
- Added image description in portfolio fullscreen slider

------------BUG FIXES------------
- Video place holder for mobile devices
- CSS Improvements for wider logos
- Minor CSS fixes

------------MODIFIED FILES------------
newave-theme/admin/functions/functions.options.php
newave-theme/admin/functions/functions.php
newave-theme/blog-post-format/blog-post-gallery.php
newave-theme/blog-post-format/single-gallery.php
newave-theme/functions.php
newave-theme/include/util_functions.php
newave-theme/js/jquery.mb.YTPlayer.js
newave-theme/sections/portfolio_item_full_screen.php
newave-theme/sections/portfolio_item_slider.php
newave-theme/sections/portfolio_section.phpnewave-theme/css/navigation-style-2.css
newave-theme/sections/menu_section.php
newave-theme/components/shortcodes/shortcode_definitions.php
newave-theme/footer.php
newave-theme/images/instagram.png
newave-theme/js/scripts.js
newave-theme/css/navigation-style-3.css
newave-theme/css/navigation-style-4.css
newave-theme/style.css

v. 1.1 – 17 February 2014
------------NEW FEATURES------------
- New home section with moving background image
- New portfolio options allowing setting the numbar of portfolio items columns (3,4,5)
- External portfolio page template
- Smooth scrolling improvement

------------BUG FIXES------------
- Fixed Upload and Remove image in Admin -> Home Settings -> Parallax and Full Slider
- Minor CSS fixes

------------MODIFIED FILES------------
newave-theme/admin/assets/js/options.js
newave-theme/admin/classes/class.options_machine.php
newave-theme/admin/functions/functions.options.php
newave-theme/functions.php
newave-theme/images/collage.jpg
newave-theme/images/scroll_arrows.png
newave-theme/images/scroll_arrows_black.png
newave-theme/js/scripts.js
newave-theme/portfolio-page.php
newave-theme/sections/home_section.php
newave-theme/sections/home_section_moving_background.php
newave-theme/sections/menu_section.php
newave-theme/sections/portfolio_section.php
newave-theme/style.css

v. 1.0 – 13 February 2014
- Initial Release