NiceTheme is the ultimate crisp and professional WordPress shopping theme built for WooCommerce. NiceTheme can be customized to your specific needs with incredible ease. You will truly find this end-user focused coding & design the 'icing on the cake' of this wordpress shopping theme that fits on almost all kind of products and services. Using Ajax techniques for product loading and filtering, NiceTheme Theme offers your visitors an extremely smooth shopping experience. Options to style shop pages for 2,3,4 or 5 columns, you can thoroughly customize the look & feel of your eCommerce website.
Key Points about NiceTheme
Demo
Awesome eye-pleasing look Demo
Very well documented Check docs before you buy
Ajax Product loading, Ajax product filtering
Dedicated Multi-tier Support
Replicate demo website within minutes (Please check 'Notes' on bottom)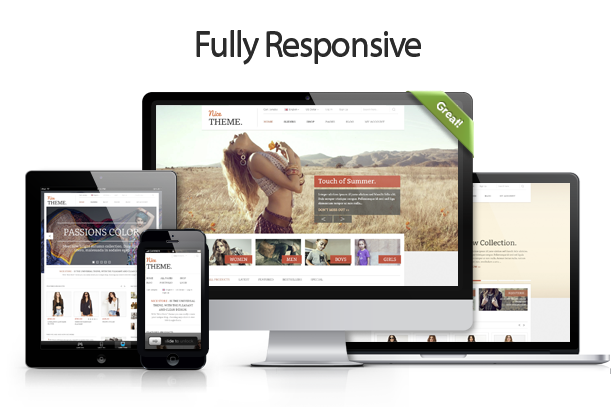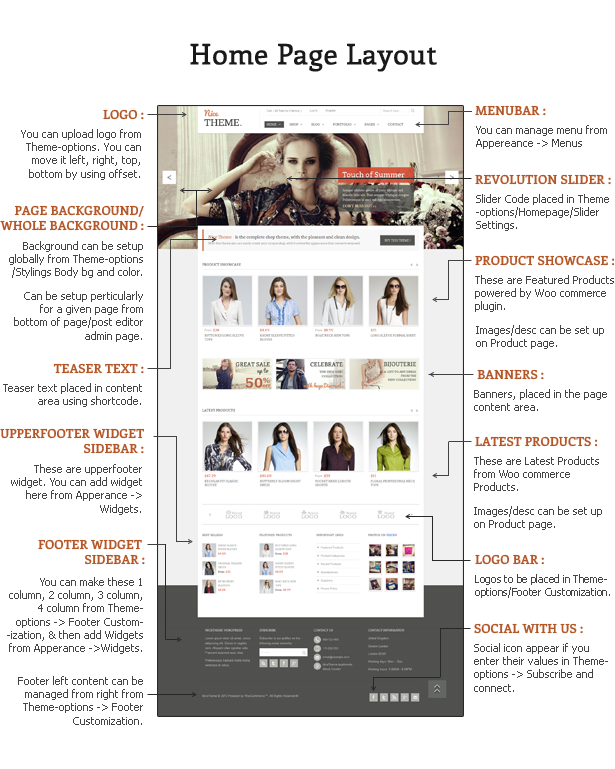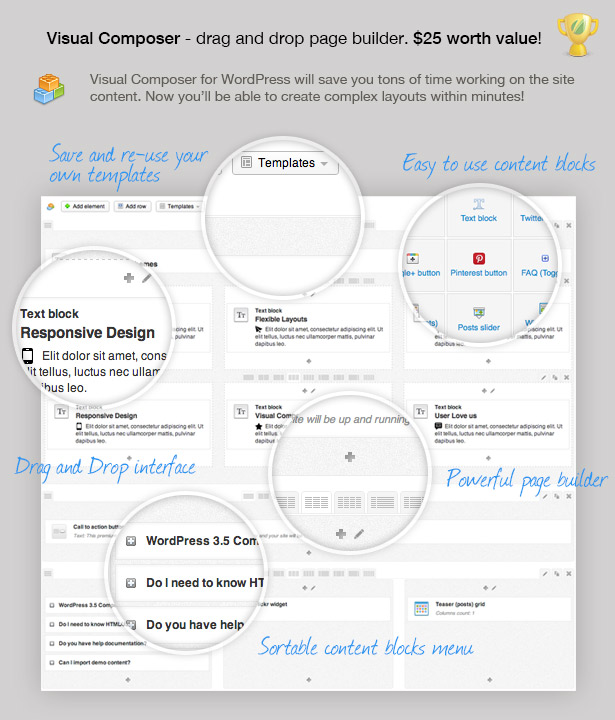 Real Experiences from Real Buyers/Users
Are you hesitating because you are not sure if this purchase will suit your needs and any other issue will not arise down the road ?
You dont need to worry as we provide extensive documentation and one to one support. You can see the image below to see unedited comments from previous buyers about quality/support of theme. You are also welcome to click on Comments on rightbar of this page and note the response time and quality of comments.
Bottom line is that we'll not leave you alone with your issue, thats a promise. ( Provided that issue should be related to theme, ofcourse. If you get stuck, we even setup your website exactly as the demo website within a day. )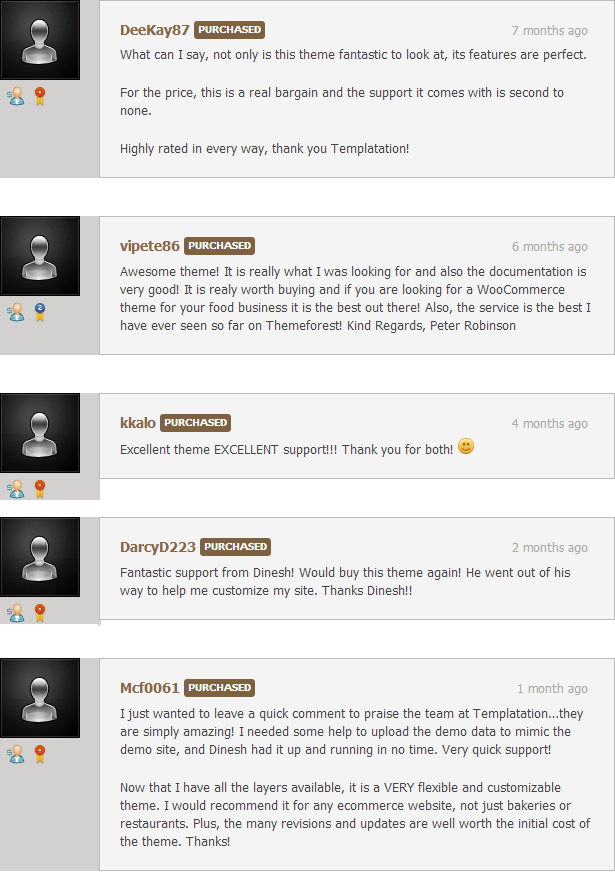 Optimized for Visibility in Google & Bing.
The theme is compliant with the most recent On-Page SEO techniques, by usage of proper Heading Tags, Clean HTML, Correct Meta Tags and Intelligent Schema.org integration. This enables the display of Star Ratings and other relevant information in the Google search results, which translates to a higher CTR and conversion rate for visitors originating from search engines.
This theme is designed and coded solely with your perspective in mind. As the end-user of this theme you'll thoroughly enjoy the features of naturally responsiveness, powerful and intuitive admin panel and also the customizable styling of 2,3,4 or 5 columns for the Shop pages.


NiceTheme has a 'Works Perfectly' compatibility given by WPML.org and also has .PO and .MO files included for easy translation to your choice of language.


The ultimate slider package called Revolution Slider, worth $15 is included free with this theme. With this smart combination, you can create any kind of slider in a few minutes. Help/Documentation is included as well.

NiceTheme comes with an easy to understand and robust theme options panel. Nearly all features of the website can be configured or modified with just a few mouse clicks. We've also thought ahead: in the case you want to auto-update or migrate your website, the theme options panel includes an import/export of theme settings.


NiceTheme is a Wordpress theme primarily built for WooCommerce, one of the best eCommerce / online shopping solutions out there. The theme-plugin integration is very tight and provides flexibility for your product specific layout needs with 2 to 5 columns to choose from and even the option for a 'call for price' store!


To keep a clear overview of your website's content, NiceTheme contains useful custom post types. These help you to create and maintain content clearly separated from other content types. Nicetheme has custom post types for Team, Testimonial, Portfolio in addition to products created by woocommerce plugin.


This theme comes packed with many default shortcodes, as well as a javascript based shortcode editor. Don't worry about memorizing these codes from the documentation, the CMS provides a point-and-click solution!


Organic search traffic can be a cornerstone of your business. Therefore it is important that the theme you use is coded in a Search Engine Friendly way: Proper use of heading tags, clean HTML, proper meta-tags and most importantly: compatibility with extremely popular Yoast's SEO plugin for WordPress. NiceTheme has it all.


One of the great features of the NiceTheme theme is its integration of intelligent Schema.org of the products pages. This simply means that the short snippet about product that is displayed in Google search results really stands out from the competition, by having star ratings and other info displayed directly. The result is that you'll get more interested visitors and maybe even a higher conversion rate!

Description
NiceTheme comes with 4 different layouts of homepage. Layouts are very easy to switch from Theme Options-> Layout. You can check the layouts in demo, all look awesome
NiceTheme Wordpress Theme Full Features List:
Beautiful Design
4 Awesome Layouts
Neat n'clean minimalist color scheme
Fully Responsive
Revolution Slider included ($15 value)
Highly Customizable Homepage
White label admin panel
Powerful admin panel Demo image
13 Custom Page Templates

Archive
Blog
Contact us
Custom Homepage
Image Gallery
Full Width
Portfolio One col
Portfolio Two col
Portfolio Three col
Portfolio Four col
Sitemap
Tags
Timeline

SEO Friendly
Custom Widgets

Adspace
Flickr
Blog Author Info
Subscribe/Connect
Testimonials
Twitter

Custom post types implementation

Portfolio
Testimonials
Teamshere

Filterable Portfolio section
AJAX Auto loading of products (can also be turned off)
Font awesome integration
Sliding Testimonials
500+ Google fonts integration with theme styler (change font/color of any text you want)
Preview/change all fonts from admin
Filterable Portfolio section
Many Shortcodes with visual shortcode interface

Buttons
Teaser text
Info Boxes
Related Posts
Rule/divider
Columns
Quote
Icon Link
Custom Lists
Typography
Tabs
Content Toggle
Social Icons
Contact Form
Twitter buttons
Other Social buttons
... and many more.

Theme settings backup import/export
Demo content included
Translation Ready (.PO/.mo files included)/ Ready made translations coming soon.
Clean/well commented Coding
Threaded Comments
Third level menu
Automatic native image resizing
Custom Headline and headling text for each page/post/product. Hightlight any text you want.
Inbuilt contact us form with validations/gmap integration
PSD included of important pages
Frequent updates
Well Documented
Dedicated Support
And much more…
Download zip contains:
NiceTheme wordpress theme
Ready-made demo data files for wordpress, theme options, slider export file
Detailed Documentation (for theme and slider)
Blank child theme
PSDs are not included at this time( PSDs are around 500MB in size and most people do not need them ). If you need them please contact me and I will share the Dropbox link.
Notes:
New features are added on regular basis, please check back regularly.
Page Templates are very well supported, if you have any question, feel free to contact using profile page form.
Images used in demo were bought from Fotolia, depositphotos etc. Demo xml contains images too, but those images are different from demo website images and from Flickr creative commons, credits to original author of those images included in demo xml as well.
Release History:
v3.0 Date: 29 April 2015

- Made compatible with WP 4.2.1 
- Made compatible with Woocommerce 2.3.8. 
- Updated plugins to their latest version. 
- Updated TGM class.

v2.9 Date: 11 Mar 2015

- Improved WC 2.3 compatibility 
- Added a feature to disable hover product image slide. 
- Fixed wc 2.3 quantity change buttons on products single page. 
- Enhanced Yoast SEO breadcrumb and Breadcrumb navxt plugin support. 
- Fixed search page display to match with nicetheme style 

v2.8 Date: 17 Nov 2014

- Made WC 2.2 compatible 
- Made wp4.0 compatible 
- Fixed bug in custom.css loading 
- Fixed woocommerce sorting dropdown on shop page
- Fixed a gmap scroll wheel bug occurs on contact page. 
- Fixed submitter name bug on contact form submission.
- Updated attached plugins to their latest version.

v2.7 Date: 9 June 2014

- Fixed category block width on iPad. 
- Fixed 404 error of preloader.gif and custom.css. 
- Fixed po not found bug occuring on some hosting. 
- Fixed lightbox opening on first click on product thumb on product single page. 
- Portfolio page title now can be managed from admin. - Fixed some php notices.
- Fixed list/grid setting not saving, occured since wc 2.x update. 
- Improved WPML integration. 
- Updated attached plugins to their latest version.

v2.65.6 Date: 5 May 2014

- Updated plugins to their latest version.
- Fixed a bug on cart page caused by new WC version.

v2.65.4 Date: 18 Feb 2014

- Improved woocommerce template files to better comply with WooCommerce v2.1.1 major changes. 
- Fixed brands bar inconsistency.

v2.65.2 Date: 11 Feb 2014

- Made woocommerce 2.1 compatible.
- Fixed Minor glitch in AJAX navigation widgets.

v2.65 Date: 7 Feb 2014

- Fixed the problem that occurred in wp 3.8.1 for Ajax navigation widgets.
- Fixed IE11 preloader image problem.

v2.64 Date: 21 Jan 2014

- Fixed : Headline bug in Products single page.

v2.63 Date: 19 Jan 2014

- Fixed : Contact page template headline issue if the map is chosen to be inside the container. 
- Fixed : An issue with Headline section when woocommerce is activated. 
- Improved : Products single pages headlines. 
- Improved :  Minor Visual composer.

v2.62 Date: 14 Jan 2014

- Fixed : A bug that Visual composer triggered on theme activation.

v2.61 Date: 11 Jan 2014

- Fixed : Title problem in Featured Product and Latest Product Visual composer plugin. 
- Improved : Updated revolution slider to its latest version. 
- Improved : Updated Visual composer to its latest version. 
- Improved : Updated documentation, fixed few broken images and added documentation for recently added stuff like Megamenu Wishlist etc.

v2.6 Date: 6 Jan 2014

- Fixed : Wishlist shortcode bug on product boxes.
- Improved : wp 3.8 compatibility.
- Added : Wide screen mode.

v2.5 Date: 24 Dec 2013

- Fixed : Double tap problem on menu in Android devices. 
- Improved : Logo positioning. 
- Improved : WPML integration. 
- Other Very Minor improvements.

v2.4 Date: 20 Dec 2013

Improved : Single-product pages title.
Improved : Blog Masonry template.
Improved : Wishlist styles.
Improved : Tagcloud appearance.
Improved : Navigation slidedown JS
Fixed : Bug when item is removed from wishlist list.

v2.3 Date: 18 Dec 2013

 - Added : Blog Masonry. 
 - Added : Compatibility with Add to Wishlist plugin by YITH. 
 - Added : Unique slider in Alt Home 1.
 - Fixed : Bug in languages dropdown in small screen.
 - Fixed : Navigation scrolling problem in small screen.
 - Fixed : Some other minor problems.

v2.2 Date: 11 Dec 2013

- Added: Sticky Navigation.
- Added: WPML dropdown in header top navigation.
- Added: Standard headline option. That means you can achieve plain typical white background top to bottom. (By default headline area is transparent in order to make background image visible.)
- Added: A blank homepage template in case you want to craft your own homepage using pagebuilder.

- Improved : Archive pages structure.
- Improved : Contact us page structure.
- Improved : Search page structure.
- Improved : Portfolio single pages structure.
- Improved : Made headlines of pages look consistent everywhere.
- Improved : Added a possibility to increase height of headline section to make the background image visible.
- Improved : Added a possibility to add top pading to headline title. (To make it vertically aligned incase you need it.)
- Improved : Added a possibility to remove breadcrumb from single page.
- Improved : Added a possibility to change headline color scheme to dark(incase you use light color headline background).
- Improved : List icons.
- Improved : Page builder styles.
- Improved : Updated Revolution slider to its latest version.

- Fixed: Bug on Shop page when there is only 1 product to display.
- Fixed: Bug in product blocks, when used HTML tags in product description.


v2.0 Date: 18 Nov 2013

 - Added Megamenu. 
 - Added Page Builder (visual composer). 
 - Fixed the brand logo lines appearing even when there is no logo. 
 - Fixed title bug ( if not saved title was not appearing earlier in preview mode.)