Orca is a minimal, yet feature full theme for the Ghost blogging platform. Ideal for personal web blogs, magazines and web application blogs. Equipped with the latest web technologies such as responsive Layout, Orca looks perfect on all devices and resolutions, from Mobile to the latest 4K monitors. Orca extends upon the original functionality of the Ghost platform, with a range of 3 post styles, a covered feature post page, extended tag support, multi depth navigation options and post comments. Supports the latest features added in the latest Ghost 0.4.2 release and includes compatibility support for future versions.



Features
Fully Responsive
Designed for Mobile, Tablets, Notebooks, and Desktop Devices. Orca will dynamically adjust to any devices viewport.
Resize the width of your browser window on the live preview for a demonstration.
High Resolution Support
CSS3 elements & SVG icons scale perfectly on all resolutions, including high resolution devices such mobile phones, retina displays, and 4K monitors.
Custom Post Types
Orca comes included with three custom post styles, easily edit the look of your post titles by adding a unique tag.
Page Layouts
Easily switch between left aligned sidebar, or right aligned sidebar without needing to edit any code.
Customization Options
Enable/disable theme features by editing a simple configuration file.
Featured Posts
Feature posts have a full page title design with customizable image header. Make your articles and guides stand out. (Preview)
Code Syntax Highlighting
Posts containing code are styled and highlighted with the Rainbow plugin. (Preview)
Social Profiles
Author description includes editable social profile links for major platforms. (Preview)
Disqus & Google+ Comments
Allows user comments and administration on individual posts via Disqus and Google+.
High Performance
Optimized for fast page load times, completely imageless layout, javascript degrading, and CSS3 styling. Google Speed Test score of 94.
Simple Install & Detailed Documentation
Installation takes just a few minutes. Email support is available.
Simple Install & Detailed Documentation
Installation takes just a few minutes. Email support is available.
Major Browser Support
Fully tested & confirmed working on all major browsers. IE9+, Firefox, Chrome, Safari and Opera.
Compatibility Updates
Orca will be updated regularly to ensure it is compatible with future versions of Ghost. This theme has currently been tested in version 0.3.3, 0.0.4 and the latest 0.4.2 build.
Grunt Setup
Orca has been built with Grunt and SASS. It includes a Gruntfile and SASS source files for developers to easily edit theme code.
Customer Reviews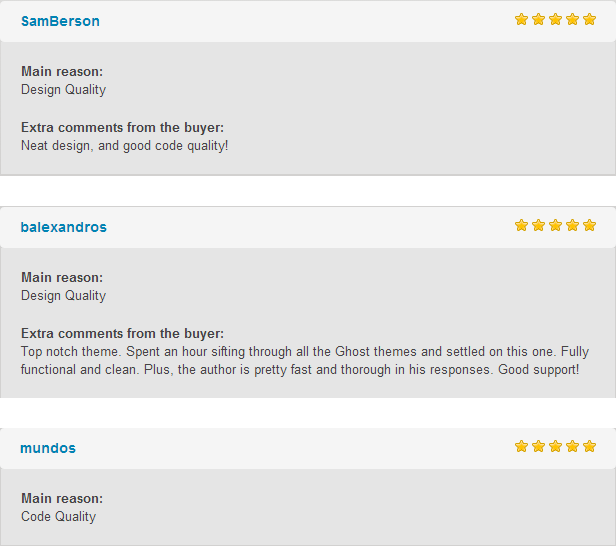 Changelog

v2.3.0 - 16/04/2015
- Fixed Responsive Nav Bug

v2.2.1 - 17/03/2015
+ Updated FontAwesome CDN
- Fixed HTTP(S) Font Assets

v2.2.0 - 16/03/2015
+ Added Ghost 0.5.10 Navigation Support
+ Updated Documentation
- Various Minor Bug Fixes

v2.1.1 - 10/11/2014
- Fixed Tag Display Bug
- Fixed Excerpt Bug

v2.0.2 - 06/10/2014
- Fixed 'Banner' & 'Featured' Post Image Bug 

v2.0.1 - 04/10/2014
- Fixed 'Feature Post Bug' Introduced in v2.0

v2.0 - 28/09/2014
+ Added Author Page
+ Improved Multi-Author Support
+ Added 'Post Image' Setting Support
+ Updated Documentation

v1.0 - 20/04/2014
+ Initial Release
Support

The documentation included provides all the information needed to get the theme installed and customized. However, if you have any questions you can email support@ecko.me, and we will be happy to help.
If you have any bug reports, or feature requests, please let us know!