PurePhotoPress is proffesional WordPress theme for photographers. Creating your photo gallery website has never been so easy!
current version: 2.1
Features
Slider Manager, where you can create and manage slides on home page easily.
Unique horizontal gallery view
Support for password protected galleries – great solution for wedding photographers
Dynamic thumbnails creation – all needed thumbs are created by theme itself
Bulk image upload using Media uploader
WordPress 3.0 ready!, support for new menu system and background changer
It comes in 3 colour variations: Bright, Dark and Brown
15 types of background plus unlimited colour variations
3 types of slider – Orbit Slider, Nivo Slider, Looped Slider
TimThumb and WordPress Thumbnails support
Shortcodes with shortocde generator

jQuery tabs, accordion, columns, boxes, buttons and lists.

Dropdown menu
Detailed Help file – installation guide
Advanced Options Panel
Create your own color scheme with Options Panel
Cross browser compatible.
How does it works?
Every Post you create, can be a normal post like in normal blog, or special
Gallery Post
. Check
Live preview
to see how it looks. Adding photos doesn't require any special plugins or custom fields. You just add photos to post using Wordpress Media Uploader. Then all magic happens, first photo you've added became thumbnail of the post, using TimThumb script. You can also set up you're own Thumbnail using "Set Thumbnail" in WordPress.
The most important is that it's as simple as it could be
So you can focus on your photography, not on your website.
What can you do with Theme's Options Panel
Upload your logo. Theme will check size of logo image
Show/hide blog description
Show/hide post meta like Date, Author, Categories, Tags, Comments – mulitple choice
Set thumbs size on front page (with 4 predefinied)
Create your own slides for Featured Slider
Set gallery height
Enable/disable theme sections – Featured area and Bottom widget ready area
Choose category for Featured section
Decide if you want to remove featured category from all blog posts
Show links to social media
Swith to one of 3 colour shemes, and paste your custom CSS
Change colour of 8 main elements – menu, background, header colours, links, footer
Theme uses a lot of CSS3 features, like shadows, so users of older browsers like ie6 or ie7 won't see all effects, but it still looks nice and clean for them.
Videos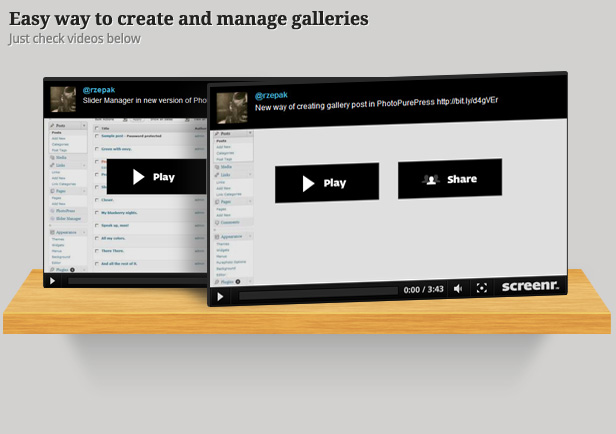 Testimonials
Smartiesmarts says
I am still setting up my blog, but I wanted to let you know that I am really glad I purchased your template.
It's exactly what I was looking for (for a long time). Thanks!

spencernash says
Great Wordpress theme. Been searching for ages for an image gallery and by far this was the easiest and most impressive to
use.

inavratil says I bought this theme for the clean design and for its simplicity. Great design to show a Photo portfolio and very easy to
upload. I found it easy to upload my photos but had a minor problem with the new Slider Manager in the latest update. I have
to say that the author was extremely helpfull and responsive, he answered my emails immediately and even corrected some of my
mistakes. That is what I call service! Great theme with a great and helpfull author.
kandelman says Photopurepress was so easy to work with and the customer support was exceptional. I could not have been more pleased with the
final results. My website looks great and features exactly what I want it to, my pictures. Whether you are a beginner like me
or an experienced web designer you cannot go wrong with Photopurepress.
Showcase
some sites which use PhotoPurePress:
Tested on all main browsers, and works great!
Credits:
<a href=" ">http://code.google.com/p/timthumb/
<a href=" ">http://gsgd.co.uk/sandbox/jquery/easing/
<a href=" ">http://plugins.jquery.com/project/ScrollTo
"http://nathansearles.com/loopedslider/">http://nathansearles.com/loopedslider/
<a href=" ">http://sajja.deviantart.com/art/6-Paper-Textures-

85728689
Check also my second WordPress photography theme – PhotoPassion: