The StereoClub is a premium and modern WordPress Theme ideal for NightCLubs, Music & Events, Bands, DJs, NightClubs and other music related websites.
The responsive design makes it easily usable with any device (Desktop, tablet, mobile phone…), without removing any content!
Support is offered exclusively on our Dedicated Support Section and not here in the comments section.
What our customers say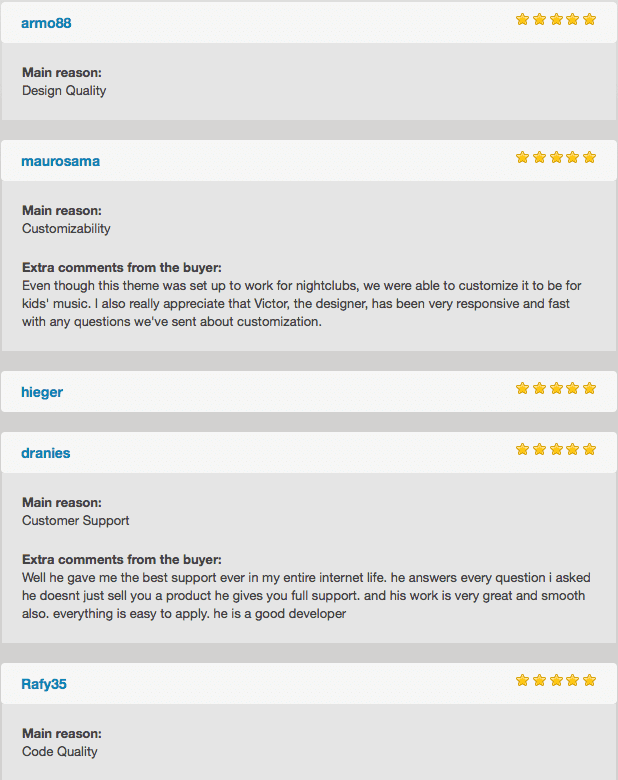 Theme Features:
Responsive design (Mobile first);
Unlimited Color Schemes;
Full HTML5 and CSS3;
mp3 Player with playlists;
PSD Included;
HTML files Included;
Comaptibility with Revolution Slider (Revolution Slider is not Included)
Custom Background;
Custom Logo;
Custom Favicon;
Custom Posts Type:

Events;
Videos;
Galleries;
DJ;
CD;

FlexSlider;
Custom Widgets:

Widget Address;
Widget CD;
Widget DJ;
Widget Events;
Widget Events Home page;
Widget Flickr;
WIdget Latest Videos;
Widget Playlist;
Widget Post Home;
Widget Quote;
Widget Social;
Widget Gallery;

Multiple widget Areas;
Social icons;
Share Buttons;
Featured images are displayed in the Feed
Internationalized & localization;
Drop-down Menu;
Frequent theme upgrades;
WordPress APIs respected;
Clean Code;
Microformats;
Cross-browser compatibility;
Threaded Comments;
Gravatar ready;
Custom thumbnail images;

Version 1.0.4 - 4 March 2014
ADDED - New version for Option Tree
ADDED - New Settings for Theme Option and metabox
ADDED - Date Picker for Events
ADDED - Possibility to add horizontal flyer 
FIXED - Other minor Issues

Version 1.0.3 - 28 December 2013
ADDED - Compatibility with WordPress 3.8
ADDED - Instagram Icon for Social widget and for toolbar
ADDED - Default header image
ADDED - The full icomoon icon set
ADDED - Compatibility with Post Type Order plugin
FIXED - The translation for Event's date
FIXED - Multilevel menu
FIXED - The category archive for events
FIXED - Other minor fixing

Version 1.0.2 - 7 November 2013
FIXED - Background border
FIXED - Social Widget Margin
FIXED - Dubble icon on ie 9,10
FIXED - Other minor fixe
ADDED - LinkedIn icon to social widget 
ADDED - Gallery Widget!
ADDED - Compatibility to IOS Devices
ADDED - Compatibility with WordPress 3.7

Version 1.0.1 - 17 September 2013
ADDED - Compatibility with Revolution Slider (Revolution Slider is not Included)
ADDED - Images in the feed
ADDED - Open Graph
ADDED - Share buttons for, posts, events, causes
ADDED - Tour Dates / Gigs
ADDED - Tour Dates / Gigs - widget
ADDED - Menu for languages
ADDED - Social Widget
IMPROVED - The icon set
FIXED - The latest widget post margin

Version 1.0.0 - 11 September 2013
First release!