We advise using Sent for Mac to sent out Newsletters. About Sent for Mac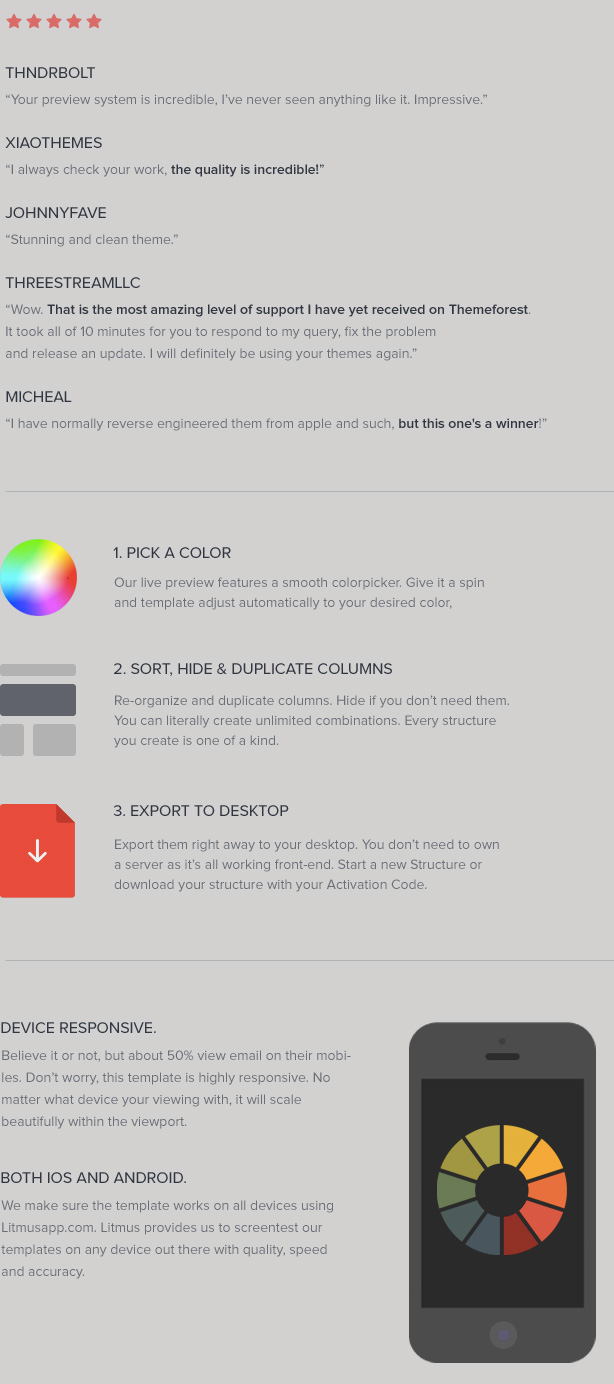 Version 2.5
Recoded template from scratch. Reduced 50% code.
Version 2.1
Version 2.0
Update for the new generator system
Version 1.5
Eliminated Gmail bug.
Eliminated Outlook bug.
Version 1.4
Version 1.3
all Images got a height of auto. Increases flexibility.
Eliminated CSS bug.
Version 1.2
Optimized and adjusted code for MailChimp.
Version 1.1
Optimized and adjusted code for Campaign Monitor.
Version 1.0
Features
Mobile Responsive
Responsive and Non Responsive templates included. You're free to choose.
Valid HTML
Premium Design
MailChimp Compatible
Campaign Monitor Compatible
iContact Compatible
Inline CSS
PSD Attached
Commented Code
Lightweight as possible
Modern techniques used.
Works on every major e-mail client.
Easily duplicate or hide modules
Support
Browser Compatible:
Android
AOL Mail Chrome
AOL Mail Explorer
AOL Mail Firefox
Apple Mail
Eudora
Foxmail
GMail
Hotmail
IncrediMail
iPad
iPhone 1, 2, 3, 4 and 5
KMail
Lotus Notus 8
Lotus Notus 8.5
Mozilla Thunderbird
Opera Mail
Outlook 2000
Outlook 2002
Outlook 2003
Outlook 2007
Outlook 2010
Outlook 2011
Outlook 2013
Sparrow
Spicebird
Yahoo Mail
Support:
We love what we do and we do this 24/7. If you experience any issues or have no clue how it works, we'd like to help you out. You can contact us by e-mail – support@stampready.net.
You can hire us
Designer/ Coder/ CO founder StampReady
Coding Live Preview/ Coder E-mail Templates/ CO founder StampReady