Wordpress Woocommerce GoMarket, a truly light-weighted solution for all electronic / digital suppliers. It has such a neat and clean layout to emphasize massive product details without making it messy and annoying to all visitors. Besides, modern design plus eye-catchy visual effects impress visitors at the first sight.
Combination of Vertical Menu and Main Mega Menu helps customers to have better tool for their shopping. Getting more excited with what they will see in the menu – links / images / video. One thing you shouldn't miss out is Web Responsive Design that automatically changes its width according to screen resolution. No need extra versions for customers who surf on smartphone or tablet. All in one template is enough.
Go Market, a worthy to buy Wordpress interface, don't miss out.
Compatibility
Wordpress version 4.2.x
Wordpress version 4.1.x
Wordpress version 4.0.x
Wordpress version 3.9.x
WooCommerce 2.1.x
WooCommerce 2.2.x
100% Fully Responsive
Design is optimized for all the most popular screen resolutions. When screen is resized, design elements are transformed smoothly on each breakpoint (from 240 to 1680 pixels) in order to adapt to the current resolution. Breakpoints at: 320px, 480px, 768px, 1024px, 1200px.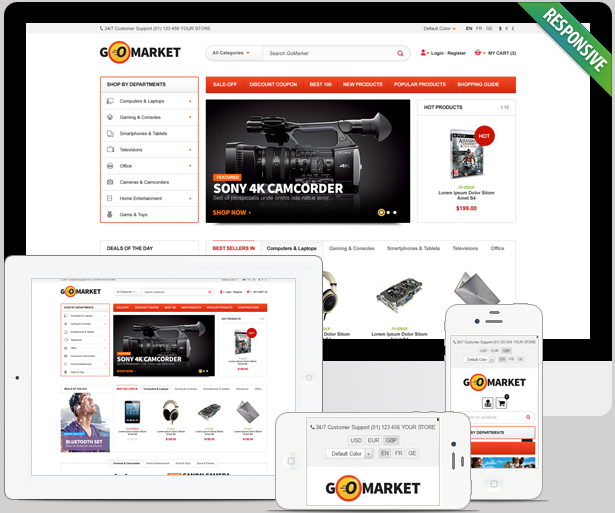 Mega Menu
Built-in Mega menu manager for WP, using with shortcodes and widgets. 5 pre-designed mega menu styles. In addition, it supports:
Icon Menu: Let you insert icon on menu
Color Menu: Set color for certain menu
Column Menu: 2,3,4,5 columns
The Gomarket Theme includes 2 Menu: Horizontal Menu and Vertical Menu. Vertical menu toggle can enable/disable.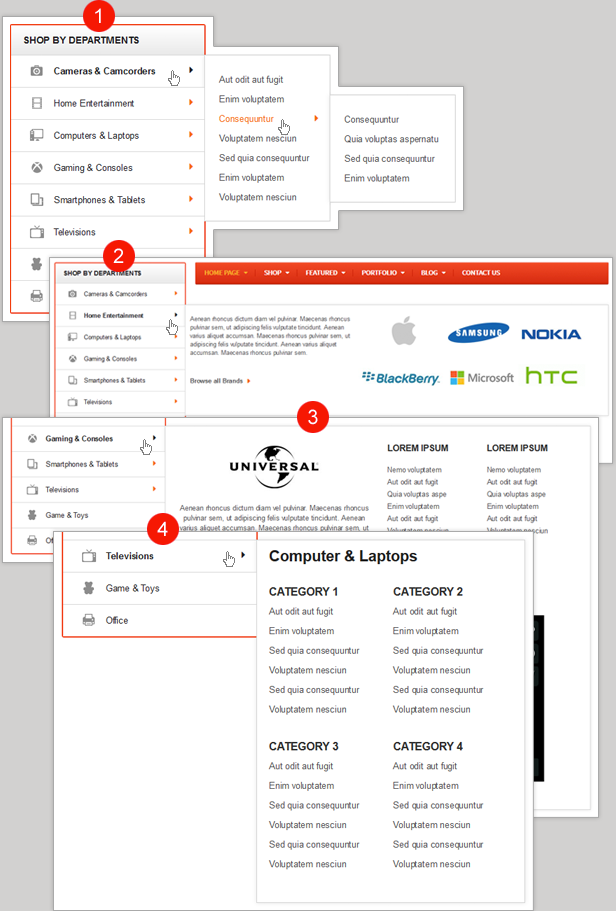 Pre-Defined 7 Stores and many Homepages
We provides 7 stores and many different eye-catchy homepage to use on your site. All pages are conveniently created using shortcode combinations for maximizing the theme's flexibility. Here is a list a all the pre-defined templates and custom pages available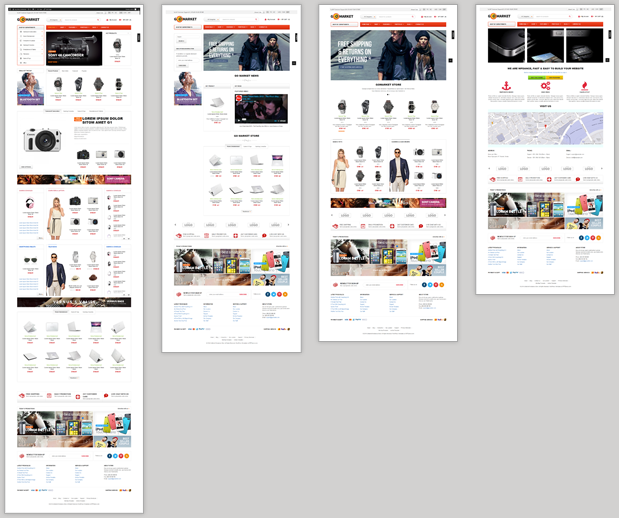 WooCommerce
Catalog Mod
Quickshop:

Showing icon Quick Shop for each product in the home page, category page, search page…
Help customer quickly view product details, select options and Add to cart

Dropdown Cart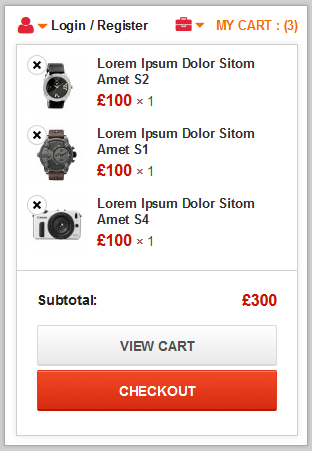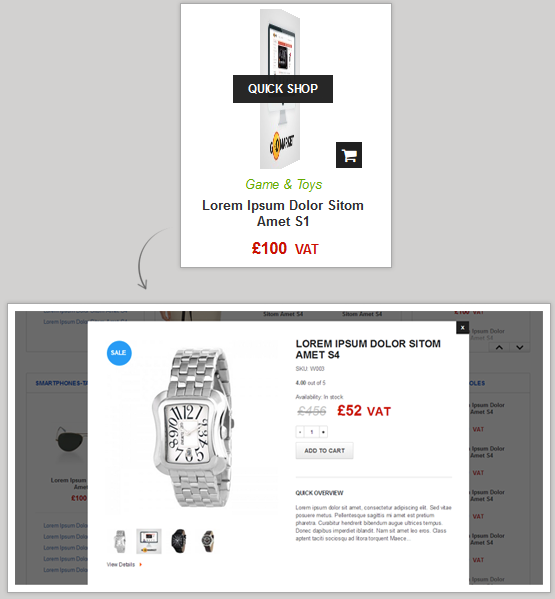 Theme Setting Panel
General Settings : Config logo,favor icon,post per page,sidebar contact form and copyright.
Styling Options : Config color
Typography : Config font
Mega Menu : Manager Mega Menu
Integration : Using to insert your custom html/js code.
Product Category : Config Product Category page.
Product Details : Config Product Single page.
Blog Page: Config Blog Category Page.
Blog Details : Config Blog Detail page.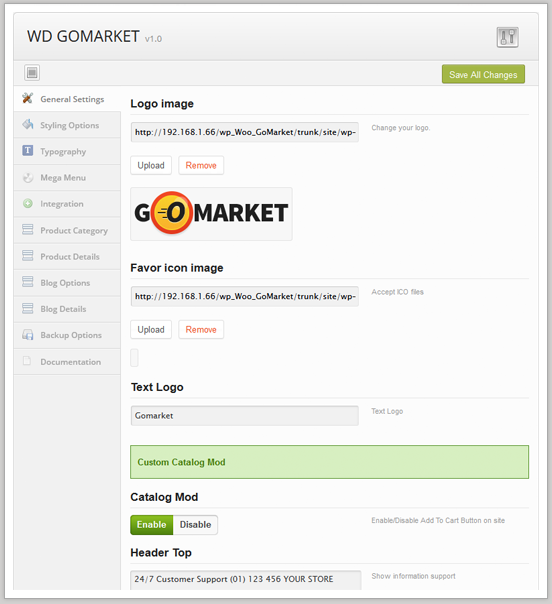 Custom Layout (No sidebar,Left,Right or both left&right sidebar)
Show or hide sidebar, left, right column or full with on any appropriated page, product or product category.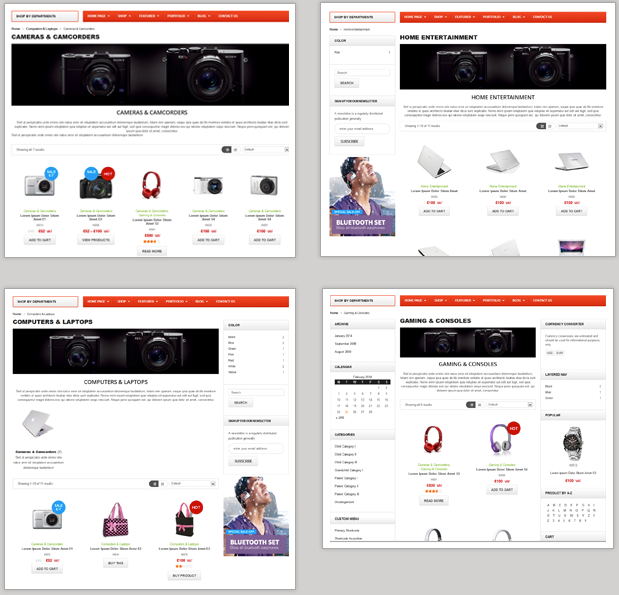 Portfolio Shortcode
Custom Columns
2 styles display.
Filter or non-filter.
Use Images, Slider & Video in post-type admin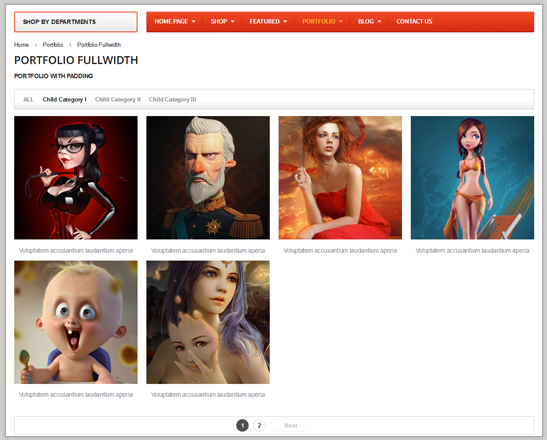 Other Features
Nivo Slider with new style
Boxed & wide layout
Translation Ready
Over 30 shortcode
Font Awesome Icon
500+ font with google font
Unlimited Sidebar
Load of custom widget
Google Maps Integration
Multi widget (included 15 widget)

Advertisment Widget
Color Layered Nav
Feedburner Subscriptions
Recent Posts
And Other Widgets

Easy Shortcodes Generator.
Feature ans Testimonial shortcode.
Team member shortcode
Extensive documentation
WooCommerce 2.1.+ compatible
Fully Customizable Homepage
Cloud Zoom ready
One Page Custom Checkout
Product rotate image
Custom Category Page
Custom Product Page
Changelog

Version 1.1.7 - 2015-06-29 - Reversion 326:
- PrettyPhoto xss fix
- Update WD quickshop plugin
- Update WD portfolio plugin
- Update WooCommerce 2.3.11

Version 1.1.6 - 2015-05-29 - Reversion 324:
- Update Revolution Slider plugin
- Fix social translation

Version 1.1.5 - 2015-04-27 - Reversion 323:
- Support WordPress 4.2
- Support WooComerce 2.3.8
- Update TGM plugin Activation
- Update add_query_arg() and remove_query_arg() fuction

Version 1.1.4 - 2015-03-13 - Reversion 322:
- Fix bug on the breadcrumb
- Fix some minor bugs

Version 1.1.3 - 2015-02-27 - Reversion 321:
- Support WordPress 4.1.1
- Update WooCommerce 2.3.5

Version 1.1.2 - 2014-11-25 - Reversion 318:
- Support WordPress 4.0.1
- Update WooCommerce 2.2.8

Version 1.1.1 - 2014-09-16 - Reversion 317:
- update WooCommerce 2.2

Version 1.1.0 - 2014-09-08 - Reversion 313:
- Update Revolution Slider plugin
- Fix bug load Google Font in preview panel

Version 1.0.9 - 2014-07-10 - Reversion 311:
- Add new store with flat style
- fix bug on IE 8,9

Version 1.0.8 - 2014-06-09 - Reversion 302:
- add "Custom CSS" option in admin panel

Version 1.0.7 - 2014-05-23 - Reversion 301:
- Update document
- Update xml sample data file
- Fix Catalog Mode
- Fix bug PHP notice

Version 1.0.6 - 2014-05-07 - Reversion 300:
- Support Woocommercw 2.1.8

Version 1.0.5 - 2014-05-05 - Reversion 299:
- Fix bug wide/box
- Update documentation

Version 1.0.4 - 2014-04-28 - Reversion 296:
- Support Wordpress 3.9

Version 1.0.3 - 2014-04-23 - Reversion 290:
- Fix bug woocommerce 2.1.7
- Fix translation
- Fix valid html

Version 1.0.2 - 2014-03-13:
- Fix responsie for product slider
- Fix small error in product page.

Version 1.0.1 - 2014-03-07:
- Fix menu on mobile device.

Version 1.0.0 - 2014-03-05:
- Initial Release.

Look for different styles:
Check out our other templates.