An introduction to support on Envato Market
Envato staff look over every item before it can be sold on Envato Market.
Technical items contain help files to introduce you to the item and its components.
Authors can choose to support their items but this is optional and may vary.
Author support for this item
The author of this item, Astoundify, will respond to buyers' questions and provide limited support through their own support system.
Additional information from Astoundify:
Hey there! We provide friendly one-to-one e-mail based support, through our dedicated support system. You must register for an account at our site in order to send a support request.
In order to register, please have your purchase code handy. We do our best to respond to your concerns within 24 hours whenever possible (except for the weekends).
If you got a quick pre-sale or any general question, send us a tweet!
Thanks, Astoundify.
Go to item support
Common WordPress Installation Issues
Missing style sheet error when installing the theme
A common issue that can occur with users new to installing WordPress themes is a "Broken theme and/or stylesheets missing" error message being displayed when trying to upload or activate the theme. This error message does not mean that the theme you have purchased is broken, it simply means it has been uploaded incorrectly. Luckily, there is a very easy fix.
Frequently Asked Questions
How do I know if this is right for me?
If you want to build a job board website, you're going to need two things. You'll need a plugin that adds the job board features to your website. And you'll need a theme that makes your site look good as a job board.
This product, for sale, is the theme that makes it look good. It doesn't come with the plugin for the job board features. You still have to download those.
Wait, don't you include all the plugins?
I know some of you have purchased themes before that came with all sorts of plugins bundled with the theme.
This is NOT the case with Jobify. We only sell the theme.
You have to download the plugin separately. We do this because it's someone else's plugin, and if you want to purchase any additional extensions or support, you need your own relationship with that plugin developer.
Why don't you include all the plugins?
We are theme developers. We have created a theme for you that will let you create a job board to compete with job boards out there that others have spent hundreds of thousands or millions on.
We focus on making your site look good.
A different developer focuses on giving your site all the features. He wrote the Job Board plugin that we integrate with.
You wouldn't ask the guy painting your house to wire up your electricity, would you? We didn't think so. That's why we focus on what we do best, and we let Mike, the developer, focus on what he does best.
You know who wins? You.
What will it cost to get an amazing job board?
Let's get honest for a second here. If you're trying to compete with the job boards you see online, you should first recognize that the average job board costs between $60-120,000k. That's a lot of money.
So you may not want to compare yourself with them if you don't have that kind of budget.
But the good news is that WordPress has made lots of things a lot less expensive. So if you were to get all the paid extensions from premium plugin providers, you might spend up to $200.
It can feel like a lot, until you realize that an investment of $200 can get you competing with someone who spent 300 times more than you did to get their job board running.
How to find your Item Purchase Code?
The Purchase Code can be found in your ThemeForest account under the Downloads section.
It's hidden under the Download button, once you click it, a drop-down menu will show up and lead you to the "License certificate & purchase code".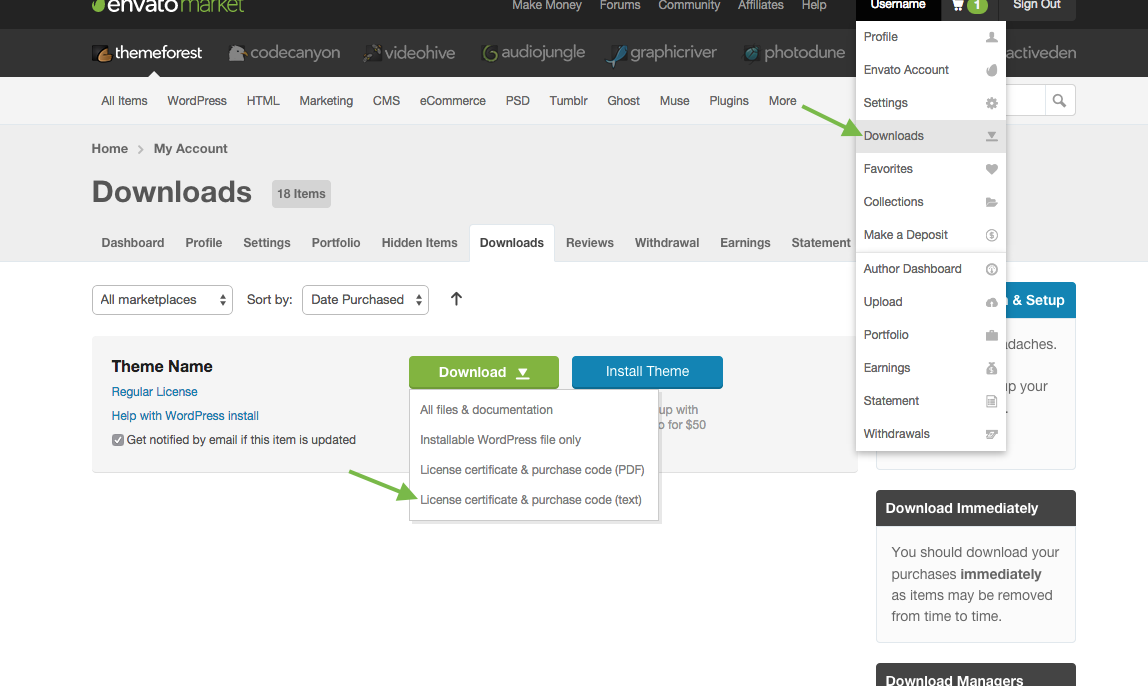 When to contact Help Team
Authors are experts on their own items, but if you're having trouble using Envato Market you should come straight to Help Team.