WordPress Themes Coded In Style
If you believe in good taste and sense of aesthetics, you are one of us. We do not manufacture WordPress themes, we design and build digital experiences that enrich your content, your brand and your business.
And all of it by following strict WordPress and W3C standards, so that your website is accessible and well indexable by search engines, and your content easy to edit and export. These themes you are savoring have been carefully cooked to provide a balanced, classy and attractive view on any device, from large screens to tiny smartphones. Enjoy them!
Coming soon: Kurbik, A modular rationalist responsive theme
Kurbik is a responsive modular WordPress theme, with a clean and rationalist design full of elegant effects and interactions. It includes all templates and content elements to create an amazing portfolio, an awesome magazine or a business website that will leave your visitors open-mouthed.
Kurbik is built on the new Keeval framework, which includes a visual and intuitive modular content builder with which you can create amazing pages in one minute.
Subscribe to our RSS feed to keep posted ›
Nerea: WordPress Classy Responsive Theme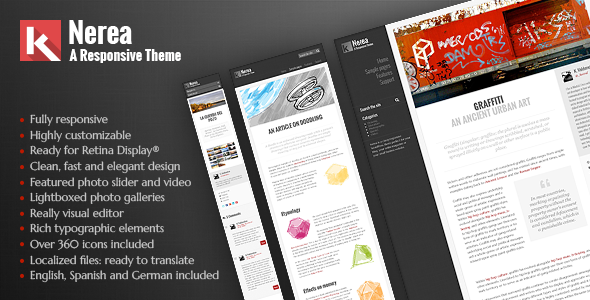 Nerea is a responsive classy WordPress theme, perfect for sharing articles, photos, videos, songs, quotes, and thoughts. Use it as your personal blog or online magazine, as an elegant portfolio or to build your small business web site.
Testimonials from our users
«Thank you so much. If I had this level of service with every vendor, I would be incredibly happy. Thanks for going over the top and answering questions that have nothing to do with your theme».
Doug Burrier
«We wanted a theme that not only takes advantage of a wide variety of screen sizes, but has great visual impact all while still putting an emphasis on content. Nerea does just that and does it with a stylish and eye-catching design. It gives our writers the ability to express themselves creatively in a way that other themes simply cannot match».
Amy Frame – Open Thread Media
«Thanks for going above and beyond. I'll reply on the public thread so people understand how helpful you are in your support of Nerea – fantastic».
Keving Jeong
«You are a real master. At some point I felt guilty to ask for your assistance, but you showed enduring patience and kept striving for perfection. My respect for your solution and help ».
Helène Mulder
«I am in love with this Theme. I encourage anyone sitting on the fence, thinking about buying it, to jump in. This Theme should be selling more licenses than it is!»
Dean Ramsden
«Keeval, this started out being a fabulous theme, and has gotten better with all the continued improvements. Keep up the good work.»
lshiva
«OMG you are a GEM! Thank you so much. It is such a beautiful theme and i'm excited to really dive in and explore it's full capabilities. Kudos for it's amazing responsiveness in varying sizes.»
suhseal