Portfolio of Tommy King
Thank you for your interest and please follow!
Some FAQ section
Are you available for freelance work?
No, I'm currently unavailable for freelance work. Right now I'm focusing my attention on the projects of the company I work for, my presence here is purely for fun and my own name branding
Do you offer any support or modifications on your files?
Yes, I do and would be certainly happy to discuss on any modifications. Just fill out the form to the right of my profile page with your question and I should get back to you within 1-2 business days (EET).
Whats the easiest way to reach you?
Regarding an Envato file: The form at the right on my profile page

Where to follow?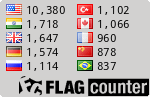 Public Collections
View All Collections