We make Apps for who loves Apps
We're going on vacation until Jan 2nd, we'll be still able to respond to comments but not to code. Happy Christmas to everyone!

We are a young and passionate iOS developer team.
We love simplicity, as we like to provide easy-to-use iOS App Templates and Custom Controls in order for XCode beginner developers to be able to do a great job with the products we offer.

Stop by us sometimes: FV iMAGINATION website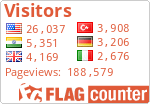 Thanks, and happy coding!
Public Collections
View All Collections