Howdy!
Greetings! Glad you ventured to my site! I am a part-time musician, freelancer composer and guitar player from Finland.
The tracks in this portfolio are exclusive to Audiojungle and only sold here! Feel free to browse through my portfolio and purchase audio! The tracks can also be customised if needed, just send me a message!
Check out my portfolio on Audio Jungle radio! My Radio Channel
And please remember to rate tracks after purchase! Thank you!
VideoHive authors! I am more than happy to collaborate with you, contact me if you use my music in your projects so we can promote each other!
Videohive projects using my music!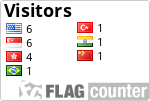 Public Collections
View All Collections