10 Top Sold Admin Skin Templates
Bestsellers, bestsellers, bestsellers! The list of the top selling admin dashboard templates of all times. A great way to boost Your project with these awesome products! Warning: Top-notch support included!
Metronic – Responsive Admin Dashboard Template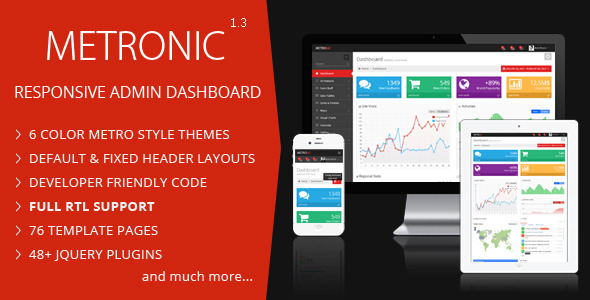 Metronic is a responsive admin dashboard template powered with Twitter Bootstrap Framework for admin and backend applications. Metronic has a clean and intuitive metro style design which makes your next project look awesome and yet user friendly. Metronic comes with a huge collection of plugins and UI components and it works in all major web browsers, tablets and phones.
White Label – A Full Featured Admin Skin
A full featured skinable and responsive CMS /Admin Panel with custom plugins, widgets, forms, validations, charts, galleries and much more.
Developr – Fully Responsive Admin Skin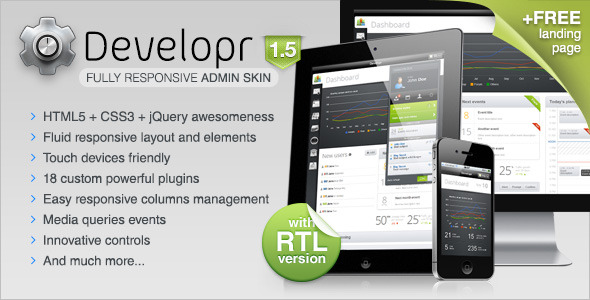 Building a web app for desktop and mobile devices? Developr is for you. Write your code once, and let it handle the magic of responsive webdesign. Developr Admin skin is a flexible responsive HTML5/CSS3 template, built on the mobile-first principle and based on the solid fundations of HTML5 Boilerplate and 320andUp, which provides a rich set of styles and features for all your needs.
Adminica – The Professional Admin Template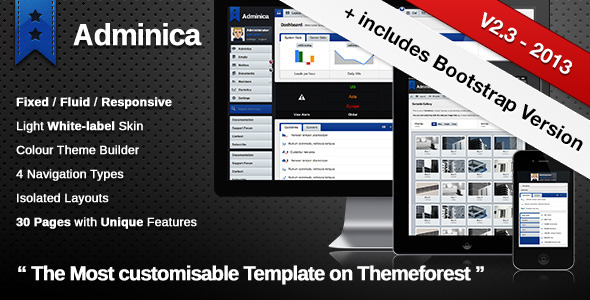 Adminica is a cleanly coded, beautifully styled, easily customisable, cross-browser compatible Admin Template and Web Application Interface by Tricycle Labs. It is one of the best selling, highest rated templates on Themeforest and has been supported and updated constantly since it was launched 2011.
Adminica is packed full of features, allowing you unlimited combinations of layouts, controls and styles to ensure you have a completely unique app. Adminica has a dark and white skin which can be combined with the 7 colour skins (easily tweaked to your company branding).
It's Brain – Premium Admin Theme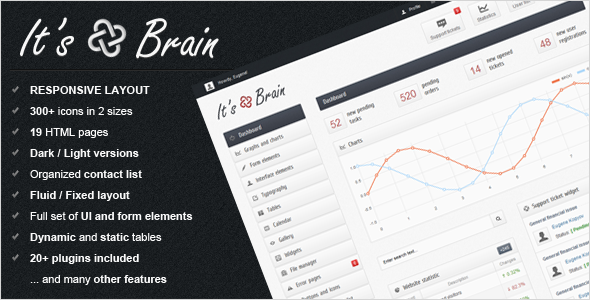 Its Brain – new premium admin theme with lots of different features…
Gebo Admin Responsive Template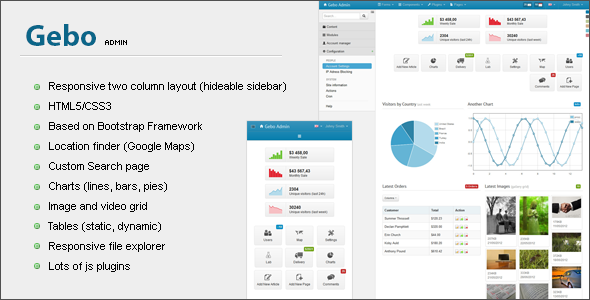 Gebo Admin is full featured, two column responsive template based on Bootstrap Framework from Twitter. It has lots of js plugins: charts, filterable/searchable list, calendar, multiselect, location finder, file manager, gallery grid, datatables, sticky messages, WYSIWG editor and many more.
Aquincum – Premium Responsive Admin Template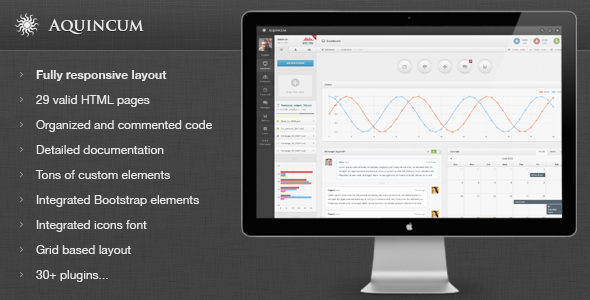 Aquincum – a new premium admin skin with lots of custom elements, 35+ plugins and very flexible content structure. It has 3 columns liquid structure with 3 level navigation and 2 level sidebar. Available 10 main backgrounds, compatible with Bootstrap 2.0.3 and latest jquery versions. Integrated bootstrap plugins add an extra easy to use components to custom stuff like buttons, dropdown menus, different button sizes and many other features.
Aquincum is a responsive template, which means it is compatible with mobile devices such as iPhone and iPad. 12 columns grid for main content and widgets makes the whole template very flexible for different type of data and content. Just check out the live preview, and don't forget to click on all tabs in the sidebar and hover on login pic.
Adminus – Beautiful Admin Panel Interface
Adminus is a stylish admin panel template, ready to be implemented as the back-end interface of your application. The template uses smart jQuery scripts and effects, which degrades perfectly.
Adminus comes in 3 premade skins – Blue, Green and Red and with the included PSDs, you can style it in any colors.
MWS Admin – Full Featured Admin Template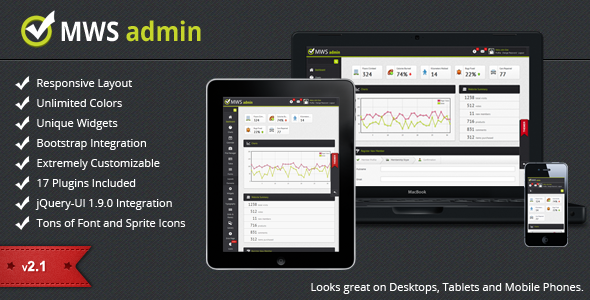 MWS Admin is a responsive admin template build exclusively for sale at ThemeForest, and it aims to be full featured while keeping everything simple and straight forward.
Crown – Premium Responsive Admin Theme
Crown admin theme – a new premium admin panel template with lots of integrated features, plugins and custom elements. It could be useful for any type of web application, custom administration panels, any backend system etc. With integrated charts and statistics stuff, Crown will be very useful for developers who build their own graphs and charts, the design is ready to go!
Template has a full set of form and interface elements, wizards, tables, custom widgets and other stuff. Crown theme is ready for mobile devices and tablets. Just a small note – there was a solution for responsive layout for tables with horizontal scrollbar and fixed headers, but Android OS doesn't support scroll inside blocks, so tables were based on usual percentage layout.
Also there are 2 types of user panel: top navigation with fixed position and sidebar info block with dropdown menu, so now you have a choice for displaying that menu. Below you'll find a full list of features, but i'd suggest to test it online.
---
1451 Sales $14

2494 Sales $14

3177 Sales $18

2809 Sales $14

85774 Sales $35