Comprehensive list of professional looking best non profit WordPress themes, charity, or organization.
The Cause – Non-Profit WordPress Theme
The Cause is a clean and elegant non-profit WordPress theme that can be used for a variety of purposes and causes. From standard non-profit, charity and activism websites, to religious and political organizations The Cause is a must have theme.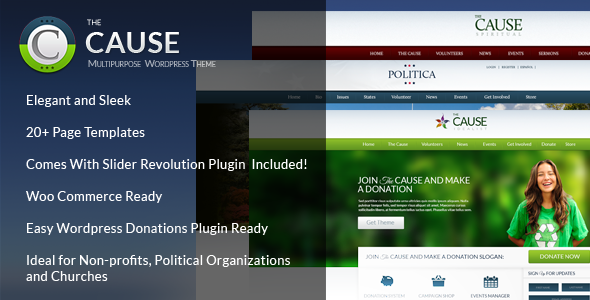 ---
2771 Sales $24

2483 Sales $24

2782 Sales $43

2557 Sales $35

1206 Sales $49

3459 Sales $59

310 Sales $49

1657 Sales $49

744 Sales $39

8300 Sales $49

2365 Sales $29

1331 Sales $49

1684 Sales $20

282 Sales $20

1969 Sales $22

952 Sales $65

2065 Sales $49

1019 Sales $27

2509 Sales $56

424 Sales $29