Top 10 Best Admin Portal Dashboard Template Bestsellers
This list of collection Best top selling admin panel dashboard theme templates build on Bootstrap 3. we picked only the best admin skins with good documentation that fit in a successful front-end/backend web applications works.
Neon – Bootstrap Admin Theme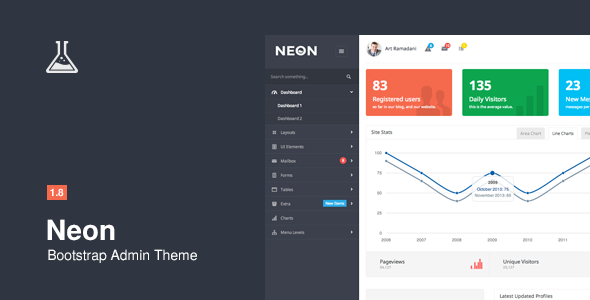 Neon build on latest Bootstrap 3 version flat template for multipurpose use. It offers a beautiful design for your admin cms theme. It comes with more than 112 HTML files, included front-end template, integrated chat api javascript, profile page plus timeline and lots of other amazing features to attract your royal customers.
Urban – Responsive Admin Template + Customizer Access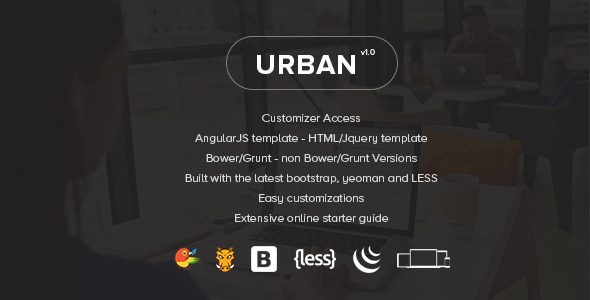 A stunning admin end template for web application, based on bootstrap 3 premium theme. Urban offers you to present your CRM, CMS, dashboard to your clients with a very professional and modern look. It is packed with a myriad of different layouts, pre-built skins for Sidebar & Header, angularJS and HTML versions, Grunt and Bower build processes and a host of other options.
Pleasure – Material Design Responsive Admin Panel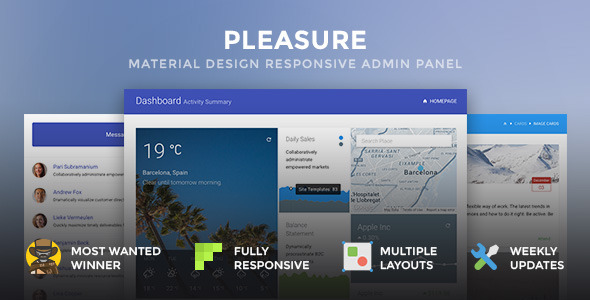 If you are looking typographic colorful clean responsive admin panel theme for your next dashboard designs web application, the Pleasure is great choice for you. This well documented easy to customize theme framework template easily integrate in existing projects. Pleasure is responsive dashboard panel theme build on Bootstrap, its functionful and colourful includes over sixty plus pages and lots of plugins and layouts options, it can be used for any CRM, CMS web projects.
Materialism – Angular Bootstrap Admin Template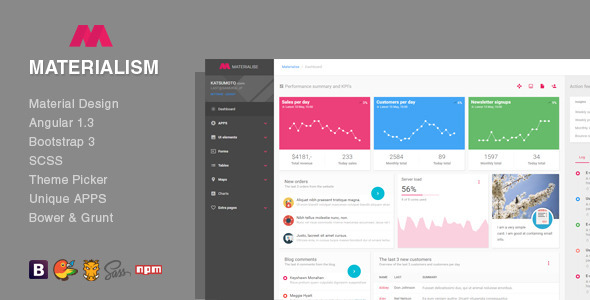 Materialism is a perfect combination of plugins and modules template based on Angular JS with Bootstrap 3. This is well written the CSS in SASS which is a great way of organizing your CSS code in a structured manner. With the supplied Gruntfile.js the developers easily make changes to build their own code version with using the Grunt and Bower tools. Developer friendly CSS written in SASS to allow to organizing code in structured manner to boost productivity.
first – Mobile First Web App Theme
first is a mobile first web app / admin dashboard theme with flat ui based on Bootstrap 3, it's lightweight but with many components suit to your need. it's fully responsive, the widgets and components are mobile first.
Pages – Responsive Admin Dashboard Template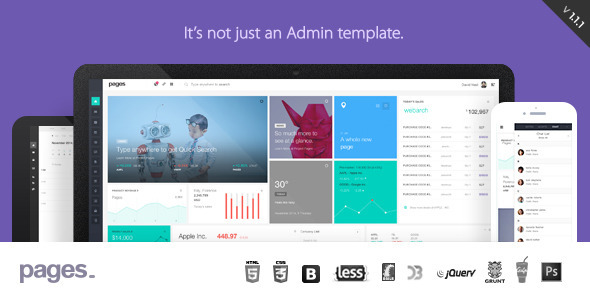 Pages is a kick-start your admin project. It is now comes with built in feature to generate boilerplates for expressjs, sailJs and Ruby on Rails. Pages included layered Photoshop PSD files, Timeline, highly customizable Gallery, Enhancements performance tunning, Bug Fixes Diagnosed and fixed, Email compose, Date Picker and more. Its not just a dashboard – It is a multi-purpose, carefully designed UI Framework for anyone in the world. Crafed specially, giving attention to detail, this is a celebration of creativity with guaranteed smoothness in UI/UX.
Bucket Admin Bootstrap 3 Responsive Flat Dashboard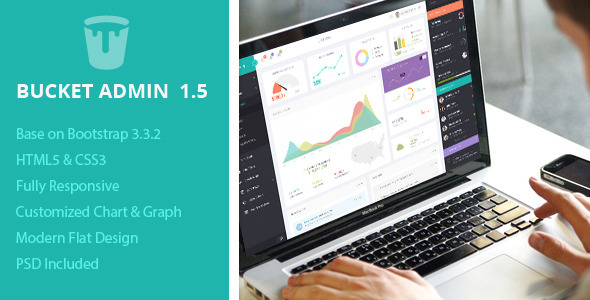 Bucket Admin is a flat design concept premium dashboard template. It is Easy to customize and developer friendly code, fully responsive dashboard template built with Bootstrap 3+ Framework, HTML5 and CSS3, Media query, touch friendly and very much adaptive with any size viewport including iPhone, iPad, android phone and tablet. As well as packed with huge collection of reusable UI components and integrated with latest jQuery plugins. It can be used for all type of web applications like custom admin panel, project management system, application backend, CMS, CRM.
todo – Web Application and Admin Panel Template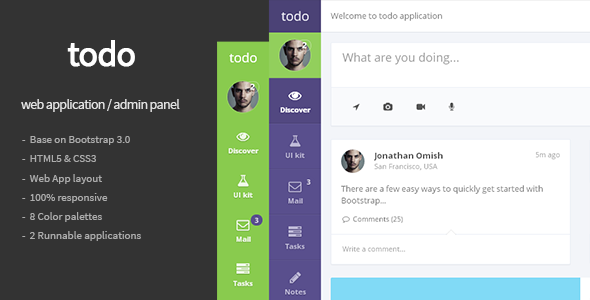 todo is a fully responsive web app / admin dashboard template based on Bootstrap 3 with clean style Flat UI, Html5 & CSS3, it can be use for any type of web application admin, todo comes with eight default color palettes and many components.
Simpla – Flexible & User Friendly Admin skin
Simpla Admin is a professional template with a beautiful and user friendly interface. With various smart and intuitive jQuery functions, navigating the interface is a breeze. It is included 3 Colour schemes: Green, Blue and Red included – See the screenshots (new colour schemes can easily be created with the included .psd file), Closable Notifications with smooth animation, Smart content box: tabbed content and minimizable header (click the box title to minimize) and Accordion Main Menu.
The template utilizes very few plugin scripts (most functions are hand coded) so the code is very lightweight and easy to manage/modify. For the demo just click the above image to get more in detail.
Bracket Responsive Bootstrap 3 Admin Template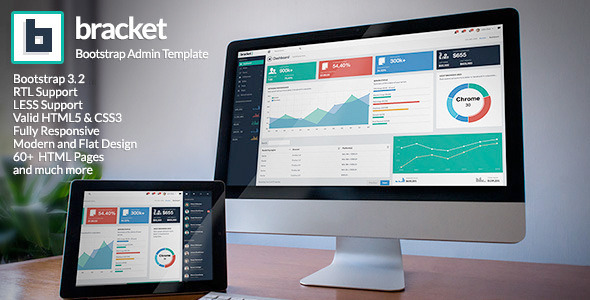 Bracket is yet another New Bootstrap 3 Admin Template with jQuery plugins that is perfect for your next projects. It provides an easy to use modern and flat user interface design and a fully responsive layout that is compatible with handheld devices such as phones and tablets. If you like Bracket, please don't forget to check its full detail to click just above screenshot.
Angulr – Bootstrap Admin Web App with AngularJS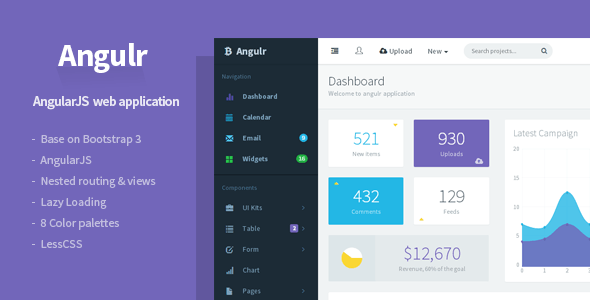 This one is not as visually striking but if simplicity and fairly straightforward with a nice features that make it manageable to create a fastest and simple to the point new interface for web application for your potential clients – they like their time on the look. Angulr admin theme also happens to come sold with a ton of great features, such as responsive design, Powerful AngularUI, Bower dependency management, Lazy loading, Multiple Layout options, Bootstrap 3, AngularJS and more!
---
2686 Sales $16

4061 Sales $22

2569 Sales $20

3057 Sales $24

10724 Sales $24

1228 Sales $22

848 Sales $24

829 Sales $12

4899 Sales $25

7720 Sales $20