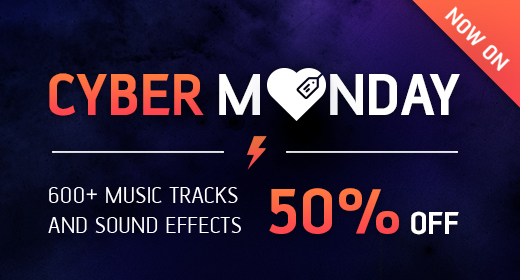 Create your sound for 50% off. Choose from professional tracks & sounds from our community of musicians and sound engineers.
From 2pm Nov 24 – 2pm Dec 1 2016 AEDT.
All items are already listed at the reduced price for this promotional period, full price retrieved as of 27 October 2016.
50% off is across the standard and extended licences in AudioJungle for the items in this promotion.
Check out all of our items from GraphicRiver, VideoHive, CodeCanyon and ThemeForest too!
---
346 Sales $4

189 Sales $24

77 Sales $35

14 Sales $52

51 Sales $39

232 Sales $35

104 Sales $3

168 Sales $3

70 Sales $52

71 Sales $2

25 Sales $59

103 Sales $20

82 Sales $2

29 Sales $2

43 Sales $3

53 Sales $49

56 Sales $2

45 Sales $28

16 Sales $58

84 Sales $2