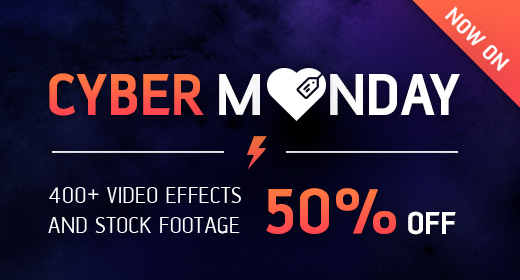 Create high end video productions with 50% off a range of quality video files and effects.
From 2pm Nov 24 – 2pm Dec 1 2016 AEDT.
All items are already listed at the reduced price for this promotional period, full price retrieved as of 27 October 2016.
50% off is across the standard and extended licences in AudioJungle for the items in this promotion.
Check out all of our items from AudioJungle, GraphicRiver, ThemeForest and CodeCanyon too!
---
507 Sales $20

772 Sales $40

416 Sales $11

126 Sales $22

845 Sales $8

140 Sales $50

102 Sales $29

327 Sales $20

378 Sales $24

245 Sales $48

299 Sales $35

649 Sales $20

408 Sales $48

829 Sales $10

663 Sales $20

76 Sales $15

345 Sales $34

568 Sales $36

233 Sales $45

268 Sales $37