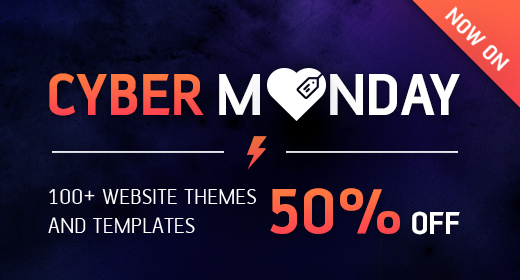 Beautiful templates picked by us for all your website needs. Whatever your project, get a new template for 50% off.
From 2pm Nov 24 – 2pm Dec 1 2016 AEDT.
All items are already listed at the reduced price for this promotional period, full price retrieved as of 27 October 2016.
If you have item specific enquiries or requests, kindly contact the authors themselves.
Check out all our items from CodeCanyon, VideoHive, GraphicRiver and AudioJungle too!
---
1033 Sales $49

551 Sales $59

838 Sales $59

2484 Sales $35

3152 Sales $18

1474 Sales $19

889 Sales $24

269 Sales $50

1554 Sales $49

5963 Sales $15

180 Sales $56

669 Sales $59

1014 Sales $17

165 Sales $58

4558 Sales $59

66 Sales $47

136 Sales $25

461 Sales $59

817 Sales $65

354 Sales $12