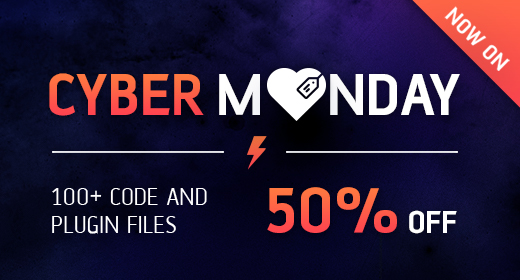 Increase your site functionality at 50% off. Quality code and plugins from our community of developers.
From 2pm Nov 24 – 2pm Dec 1 2016 AEDT.
If you have item specific enquiries or requests, kindly contact the authors themselves.
All items are already listed at the reduced price for this promotional period, full price retrieved as of 27 October 2016.
Check out all of our items from ThemeForest, VideoHive, GraphicRiver, AudioJungle too!
---
274 Sales $33

273 Sales $13

244 Sales $21

126 Sales $10

1193 Sales $24

241 Sales $22

143 Sales $16

151 Sales $14

667 Sales $48

308 Sales $49

509 Sales $11

432 Sales $10

260 Sales $37

614 Sales $15

829 Sales $15

481 Sales $5

692 Sales $30

392 Sales $3

312 Sales $10

437 Sales $55