CURRENT VERSION 2.8 (see Change log at the bottom of this page)
For those financial companies who wish to establish reputation of trust with their clients, we crafted Adviser WordPress Theme based on clean business design that will perfecftly match their brand. The theme is perfect for firms who provide financial, investment, tax-related or legal help. The layout offers comprehensive staff presentation and full service description. Along with that, we have build a recruitment page containing latest hiring announcements, where potential employees may send their applications right away. And for your clients' comfort, we've integrated lease calculator they can use before making an appointment. WooCommerce ready, full shortcodes and widgets pack, numbers of plugins compatibility – the comfortable and user-friendly functionality will be appreciated not only by the website's visitors, but also by the company's owners, since the business operation becomes so much easier with Adviser!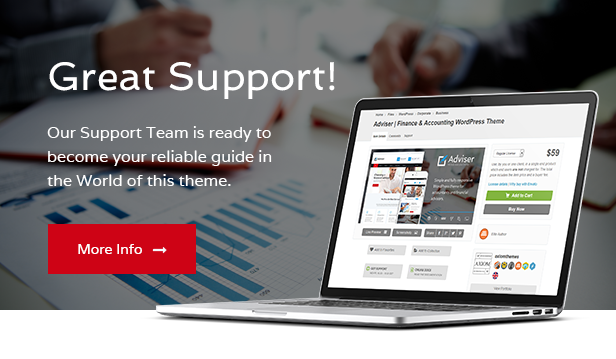 Clipart:
http://www.depositphotos.com
Jorgen Grotdal – a wonderful graphic artist!

All images are copyrighted to their respective owners. Images used in live preview are not included in the template.
PLEASE, NOTE! The theme is designed for free WordPress version downloaded at wordpress.org only. We do not guarantee the theme's full compatibility with installations on Wordpress.com, due to limitations in website control and theme customization.
Change log
18.10.2017 Version 2.8 – Update
- Support of WooCommerce 3.0+ is added; 
- Compatibility with PHP7 is added; 
- Plugins are updated.
01.08.2016 Version 2.7 – Update
- Emailer is fixed (send email to subscribers); 
- Compatibility with VC's latest versions is improved (vc theme setup updated)
12.07.2016 Version 2.6 – Update
- Google Map updated
21.06.2016 Version 2.5 – Update
- Revslider plugins updated;
- Theme compatibility with new version of RevSlider is improved;
- Visual Composer is updated.
25.04.2016 Version 2.4 – Update
-  WordPress 4.5 ready;
-  All plugins updated
18.04.2016 Version 2.3 – Update
- Layout of shortcode [trx_gap] is fixed; 
- Visual Composer is updated to its latest version
23.03.2016 Version 2.2 – Update
- Share buttons fixed 
- Visual Composer plugin is updated
26.02.2016 Version 2.1 – Update
- Background predefined pattern - minor fixes
08.02.2016 Version 2.0 – Update
- User menu area fixed
03.01.2016 Version 1.9 – Update
- minor fixes in shortcodes;
-  minor fixes in theme customizer
07.10.2015 Version 1.8.1 – Update
- Visual Composer is updated to its latest version (4.7.4)
30.09.2015 Version 1.8 – Update
- Compatibility with Visual Composer 4.7 is improved
24.09.2015 Version 1.7 – Update
- The bug with the change of theme settings is fixed (at which all theme settings used to reset)
21.09.2015 Version 1.6.1 – Update
- Version in style.css file of the theme is changed
11.09.2015 Version 1.6 – Update
- Compatibility with Visual Composer's latest version is improved
- Visual Composer is updated to its latest version
10.09.2015 Version 1.5 – Update
- Demo data import update
- Compatibility with Visual Composer 4.7 is improved
- WP Instagram Widget plugin is updated
03.09.2015 Version 1.4 – Update
-  Visual composer is updated to v.4.7
12.08.2015 Version 1.3 – Update
-  Bug causing the change within the structure of header's elements is fixed.
-  few minor fixes
20.07.2015 Version 1.2 – Update
-  a bug when adding the shortcode of color selection in the post is fixed
-  a few small fixes
14.07.2015 Version 1.1 – Update
-  Fullscreen version of some pages is changed into boxed
-  Calculator's functioning in Firefox is fixed
-  Visual Composer is updated to 4.6.1
12.07.2015 Version 1.0 – Release