!!! SUPER SALE – LIMITED TIME !!!
The BIGGEST sale of the year is here! Aerious – Superlight Multipurpose WordPress Theme priced at $59 is ON SALE for just $29! This offer is for LIMITED TIME, so act now to not miss this amazing opportunity.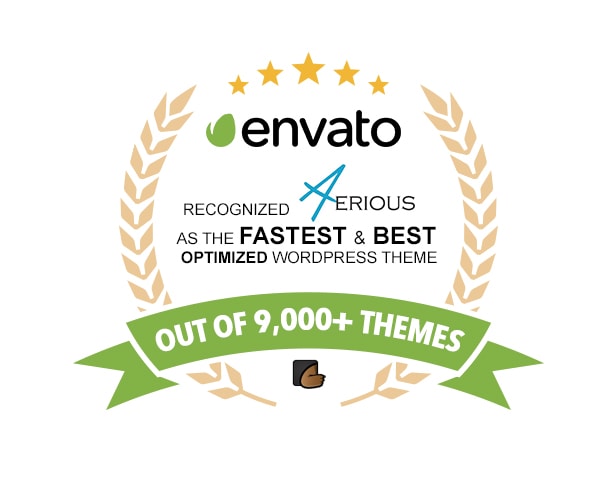 !!! Real People – Real Reviews – They Love Us !!!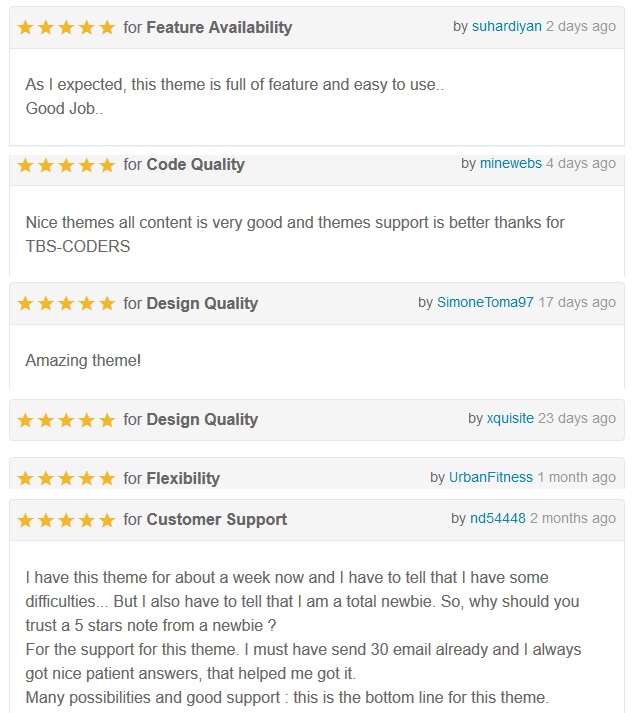 AERIOUS – SUPER LIGHT MULTIPURPOSE WORDPRESS THEME
Aerious
is a
one-stop multipurpose theme
that possesses the essential and additional elements that a super classic multipurpose theme normally has but what makes Aerious better than other themes is its
LIMITLESS OPTIONS
,
SPEED, and EASIEST INTERFACE. Aerious
is just not limited to that but more fruits of it include
40+ readymade Sliders, coming soon pages, maintenance mode pages, multiple post formats, built-in SEO options, readymade portfolio templates, testimonials templates, client templates, RTL language support along with multilingual properties, retina ready, fully responsive, online support, powerful theme panel, Drag & Drop page builder, limitless customization, fluid layout, megamenu, contact forms
, and much more!
The aim kept in mind while developing this
amazing responsive multipurpose theme
was to make it in such a way that
anyone from any field of life can make the most out of it
, be it a doctor, engineer, artist, coach, trainer, consultant, athlete, business owner, individual or group or company, or restaurant owner, clubs, travel agencies, freelancers, schools/colleges/universities, and all other fields of life.
Last but not the least, making it
SUPER LIGHT, EASY TO USE, LIMITLESS CUSTOMIZATION
was also included in the priority list.
To make it easier for you to know what are the amazing qualities that make Aerious better than all other multipurpose themes, we've built up a list below:
40+ READYMADE SLIDERS
Aerious comes loaded with 40+ readymade sliders for you to pick anyone for your website or build one of your own choice instantly.
All sliders built with No. 1 Preimum Slider plugin Slider Revolution (worth $19)
You get this plugin for FREE
PRE-MADE CONTENT
Aerious Fashion – Full Site
Coming Soon Pages
Maintenance Mode Pages
Testimonials templates
Clients templates
Portfolio templates
BUILT-IN SEO OPTIONS
Easy and built-in SEO options
No need to do much for SEO when you have Aerious, just use built-in SEO options
Super compatible with top SEO plugins like YOAST, ALL IN ONE SEO PACK
Custom Elements
Tons of Custom Elements to give you limitless options for making your website unique yet conversion-friendly
Buttons
Typographies
Inforgraphics
Charts
Custom Content Elements & Loops
Message and other boxes
LIMITLESS CUSTOMIZATION
Aerious is fully customizable with EASE & NO LIMIT
Super easy to customize with Visual Composer
ONE-CLICK DEMO IMPORT
Import demo content easily from our super easy theme panel
Quickest Importing
DRAG & DROP PAGE BUILDER
Don't know codes? No worries.
Use our Drag & Drop page builder and design pages the way you want!
Becoming a web designer has never been this easy!
GOOGLE REMARKETING TAG
Apply Google Remarketing Tag easily
Inset tag into your any page for showing ads to your website visitors
ALL MAJOR WORDPRESS PLUGINS SUPPORTED
Aerious is fully compatible with major WordPress plugins
Make the most of it with using your favorite WordPress plugin without a doubt
FLUID LAYOUT
Aerious possess a 100% fluid layout
Makes it easier to load the pages according to the size of your device
Doesn't matter if it's iPad or iPhone
MULTIPLE POST FORMATS
Modern user-friendly way of creating blog posts having any of the following:
Galleries
Images
Audios
Videos
Quotes
Links
MULTIPLE SHOP LAYOUTS
Display your products in the way YOU want
Custom or pre-made multiple layouts included in Aerious
Modern shopping websites concept considered
MULTIPLE PORTFOLIO LAYOUTS
Showcase your projects in different styles
Premade multiple layouts
Easy customization if needed
Limitless Sidebars
Create as many sidebars as you want with unique option of inserting separate sidebars on each page.
Each page can has its own sidebar
Sidebar alignment adjustable to any side of the page or even dual
UNIQUE CUSTOMIZABLE HEADERS
Style your header the way you want with your favorite:
Design & Layout (Logo centered, left aligned, right aligned, or menu positioning to any side of the screen, etc.)
Font-family
Font-size
Font-style
Font color
CREATE UNLIMITED HOME VERSIONS
Choose out of our pre-made multiple home versions
Nevertheless, build your own with our simple Drag & Drop Builder to fulfill your requirements
POWERFUL THEME PANEL
User-friendly and Self-explanatory powerful theme panel with lots of options:
Layout options
Functionality options
Design options
Best of all, without having knowledge of codes!
Cross-browser Compatible
Aerious works seamlessly with any major browser
Top browsers like Chrome, Safari, Firefox, or any other!
Social Sharing
Fully loaded with Social Sharing options such as
Icons
Buttons
Front-display social sharing icons/buttons
Click-display social sharing icons/buttons
WPML RTL
Multiple languages supported
Even if it's a Right to Left language
Google Fonts
Insert nice and classic Google Fonts of your choice with just a few clicks!
Aerious is pre-loaded with Google Fonts although you are free to install new ones as well
Font Awesome
Fantastic and attractive iconic fonts with just a few clicks
Fully supported
1-6 Columns
Insert as many as 6 columns to your website or less
Easy insertion to any page without coding mess
BuddyPress
Fully supported
Easy converting your website into a social network
WooCommerce
Ecommerce website can now be built within a few mintues
Aerious comes pre-loaded with WooCommerce and premade multiple shop layouts
AMAZING FOOTERS
Plenty of layout and design options for you to create your own footer easily.
Three-column, Two-column, or any other column variations
Background color and images
Widgets
WOW ANIMATIONS
Eye-catching WOW animations for various sections
You can add one by yourself within a few seconds
bbPress
Fully supported
Easily add a forum to your website
BEST SUPPORT
Experts eager to help you with your queries instantly
Fastest and most helpful communication
Contact Form 7
Fully compatible with Contact Form 7
DETAILED ONLINE DOCUMENTATION
Full-fledged online documentation
Separate sections for each topic
Screenshots included
VIDEO TUTORIALS
Comprehensive video tutorials
Covering major matters
LIFETIME FREE UPDATES
Buy Aerious for once and enjoy latest updates for free
Latest additions would be given for FREE
Best of all, it's LIFETIME
Pinch Zoom
Pinch your mobile screen to get zooming to the part you want instantly.
Control Site Width
Feel free to limit the width of your website to make it the way you want
Boxed width
Full width
Custom width
Limitless Colors
Aerious comes with fantastic option of applying/inserting unlimited colors
Be it through hex code or our simplest color picking option
BACKGROUND PERSONALIZATION
Custom background images
Custom background colors
BUILT-IN MEGAMENU
Create stylish menu with
Different images
Widgets
Text
Design
Color
RETINA READY
High Resolution
Sharpness and Clarity
Aerious WordPress Theme Changelog
25th March 2019 – version 1.1.6
* Click(), .bind(), .hover(), .load(), .ready() are changed to .on() method 
* Revolution Slider plugin updated.
* Woocommerce Templates updated 
07th March 2019 – version 1.1.5
* All libraries are separately enqueued
05th March 2019 – version 1.1.4
* Envato market all  WARNING, RECOMMENDED and INFO notices are resolved.
* Server variable issue fixed.
* All define variables are now in Capital words.
* Added version to all third party scripts. 
* Login/ register function is moved to aerious core plugin
22nd Febuary 2019 – version 1.1.3
* WPBakery Visual Composer plugin updated
* Revolution Slider plugin updated
* Woo-commerce templates updated
* Improved loading performance and coding 
23rd November 2018 – version 1.1.2
* WPBakery Visual Composer plugin updated
* Woo-commerce templates updated
* Improved loading performance and coding 
3rd September 2018 – version 1.1.1
* Page option bugs fixes 
* Full width css fix 
08th August 2018 – version 1.1
* Aerious core plugin updated - 1.0.7
* Slider Revolution Plugin updated
* WPBakery Visual Composer plugin updated
* Woo-commerce templates updated
* Improved loading performance and coding 
18th April 2018 – version 1.0.9
* Aerious core plugin updated - 1.0.6
* Slider Revolution Plugin updated
* WPBakery Visual Composer plugin updated
* Woo-commerce templates updated
* Improved loading performance
* Theme Panel New Functions added
   a. Mobile menu color option added
   b. Demo Import page css updated 
16th Janaury 2018 – version 1.0.8
* Aerious core plugin updated - 1.0.5
* Slider Revolution Plugin updated
* WPBakery Visual Composer plugin updated
* Woo-commerce templates updated
* Improved loading performance
* Theme Functions updates
   a. All meta functionality moved to aerious core plugin
   b. Custom theme functionality moved to aerious core plugin
   c. Floating issue fixed.
1st September 2017 – version 1.0.7
* WPBakery Visual Composer plugin updated
* Woo-commerce templates updated
* Improved loading performance
14th July 2017 – version 1.0.6
 * Slider Revolution Plugin updated
* WPBakery Visual Composer plugin updated
* Aerious core plugin updated - 1.0.4
* Woo-commerce templates updated
* Improved loading performance
17th May 2017 – version 1.0.5
 * Slider Revolution Plugin updated
* WPBakery Visual Composer plugin updated
* Google Map https bug fixed
* Woo-commerce templates updated
* Improved loading performance
15th March 2017 – version 1.0.4
 * Updated Aerious Core plugin to version 1.0.3
* Slider Revolution Plugin updated
* WPBakery Visual Composer plugin updated
* Seperate Custom CSS Option added to Theme Panel
* Updated & Fixed - Few Theme Panel Options.
* Updated & Fixed - Sidebar generator.
* Minor CSS bug fixes
* Improved loading performance
28th Jan 2017 – version 1.0.3
 * Update Aerious Core plugin to version 1.0.2
* Two new demos Added - Corporate And App Landing Page
* Added "Top" option into icon position drop down under Aerious menu
* Added "Widget Area" option to first level menu
* Theme Options: Added "Content Typography" option for pricing table style 1 and style 2
* Theme Options: Added "Menu & Header Background Image" option in Theme Option
* Fixed - Theme Panel : Sticky Header Border Option.
* Fixed visual composer full width row issue in RTL.
* Minor CSS bug fixes
* Improved loading performance
27th Dec 2016 – version 1.0.2
 * New Aerious - Fashion Demo Added
* Compatible with WordPress 4.7
* Update Aerious Core plugin to version 1.0.1
* Update Visual Composer to version 5.0.1
* Update Revolution Slider to version 5.3.1.5
* Update Aerious Framework v1.0.2
* Fix floating bar - left side
* Minor CSS bug fixes
* Improved loading performance
8th Dec 2016 – version 1.0.1
 * Minor bugs fixes - themepanel
1st Dec 2016 – version 1.0
 * Initial release