Latest Version 1.2.2 – November 23, 2018
WordPress 4.9.8 Ready
Almet is really amazing theme and for all those who want to create any type of page. Only your imagination can inhibit you from creating something wonderful with this theme. What interesing you can find here? The most amazing things are Revolution Slider (with this slider you can build any slide you want), Content Builder (over 20 items will help you to create any page in really easy way by just few clicks), Theme Options Panel (in just few seconds you can change fonts, colors, make translations and much more), Responsive Design that is working on most available devices like smartphones or tablets (can be turned on/off by click just one button) and much more… It is not possible to describe all options of this theme – you just need to try it.
This WordPress theme is also SEO ready. It means that you can set up things like title, description or keywords for each page. You can turn on/off this option in Theme Options Panel. It depends if you want to use our built-in SEO options or maybe use any external plugin like All in One SEO or WordPress SEO by Yoast. It is really useful to have control over all tags/titles/metas on your site to fight with all black & white animals like Panda or Penguin.
We also added over 200 vector icons for this theme. You can place them anywhere you want on page. This icons has been also used for our Featured boxes on homepage (all you need to change these icons is copy name of icon from http://themes.muffingroup.com/almet/shortcodes/icons and paste it into Content Builder, it takes just few seconds).
Furthermore really amazing thing is that with Almet theme you can create different slides for different pages. Also you can upload any images you want into header for subpages. You should to give a try for this really flexible and amazing theme.
Showcase
http://nahrep.org/dc2013/
http://www.crkgolf.dk
http://bwfiresecurity.com
To view more pages built on Almet theme please check our showcase
Responsive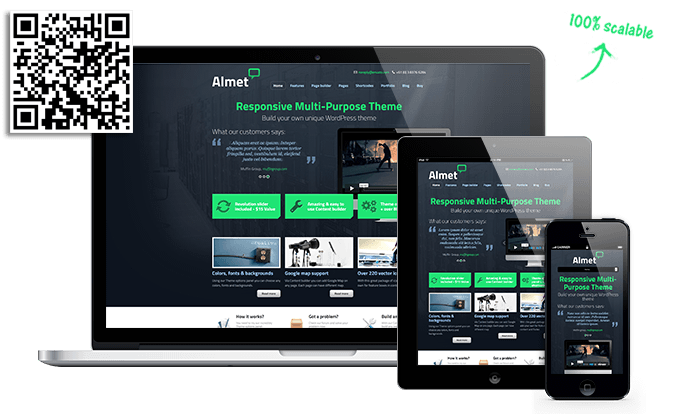 Revolution Slider! Responsive WordPress Plugin included – $15 value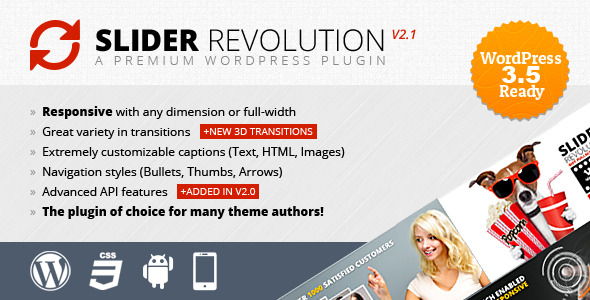 Theme Options Panel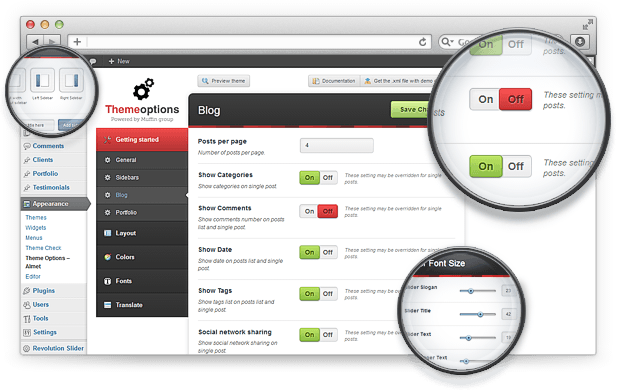 Content Builder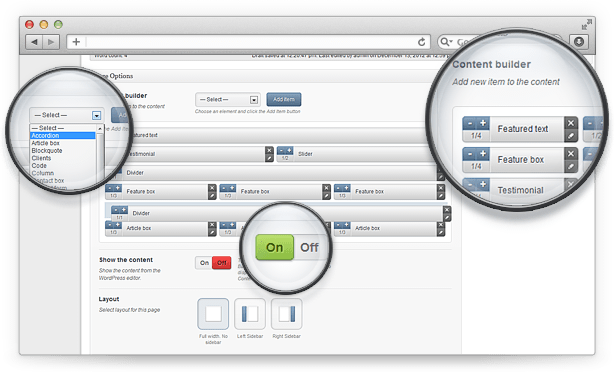 Built-in Translator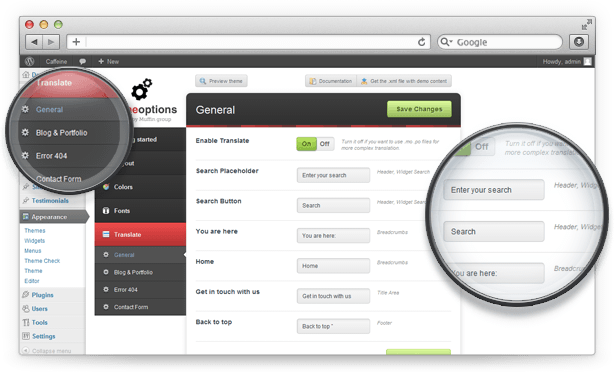 Colors Options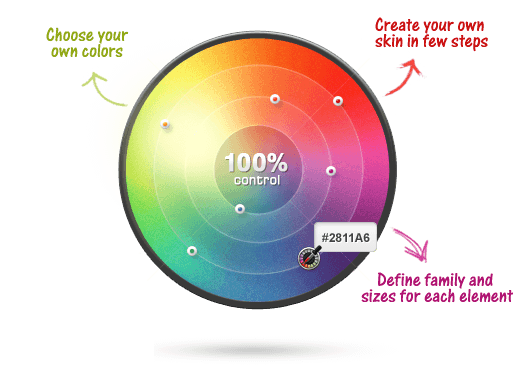 500+ Google Fonts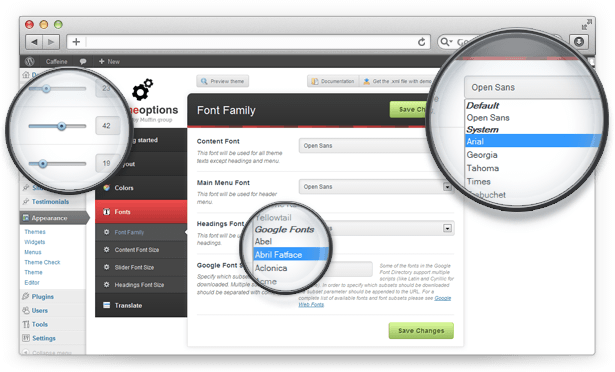 Easy XML Downloader – get your .xml with demo content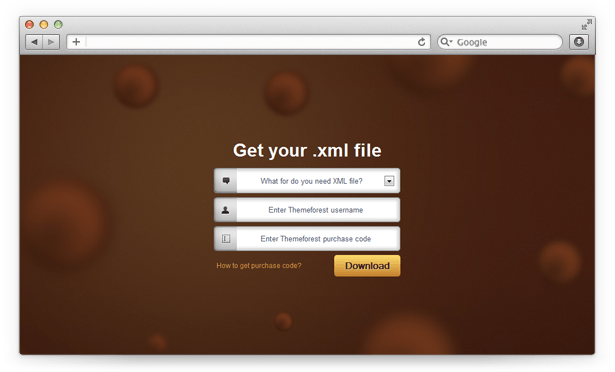 Features
Translation ready
Over 200 vector icons included
Easy to use for any type of website
Amazing Content Builder – in just few clicks built your own page
Fully Responsive Design (included sliders, images and much more)
80+ shortcodes with Shortcode Generator
500+ Google Fonts
SEO ready
Different versions of header (image/images, video/videos, flying objects and whatever you can imagine)
Custom logo support
Dedicated subpages
Three levels of navigation
Ajax contact form + google maps
Grid Based Layout
Social media icons
Built-in breadcrumbs
HTML5 / CSS3
Cross browser compatible
Clean commented code
Full compatible with Wordpress 3.4 and 3.5+
Full documentation included
XML file with dummy content
Resources used
For this theme we used some images & icons available on the web.
Icons (Fugue Icons), which we used in this template are from
http://p.yusukekamiyamane.com/
Vectors in illustrations has been used from
http://www.pixeden.com/
Some images has been also used from
http://www.flickr.com/photos/markjsebastian/
&
http://www.premiumpixels.com/
Images used for blog:
http://www.flickr.com/photos/josvanzetten/4160910624/
http://www.flickr.com/photos/markjsebastian/4865257762/
http://www.flickr.com/photos/astragony/6689741705/
http://www.flickr.com/photos/markjsebastian/3940366013/
http://www.flickr.com/photos/lululemonathletica/7888846712/
http://www.flickr.com/photos/aztlek/8189936874/
Images used for Our team page:
http://www.flickr.com/photos/bigd2112/5025638486/in/photostream/
http://www.flickr.com/photos/bigd2112/5025666458/in/photostream/
http://www.flickr.com/photos/bigd2112/5025686582/in/photostream/
http://www.flickr.com/photos/bigd2112/5028522377/in/photostream/
Please note: Images and icons used in our demo site are not included to the theme package.
Support
To help all our customers we already started with the support forum. It`s main advantage is the ability to easily search all the content and adding attachments. Before add a post on forum you need to register (Item Purchase Code is necessary).
We offer support for our customers Mon-Fri 8:00am-6:00pm (GMT +1) – we are located in Europe. We reply on all questions within 24 hours (forums, tickets, private messages).
If you have any problems with registration please use contact form in right bottom section of our profile. We inform also that we`re not replying on support question in comments.
Support forum: http://forum.muffingroup.com/almet

Updates & Changelog
Version 1.2.2

* Added: WordPress 5.0 Compatibility - Tested with the Beta 5 version
* Improved: SSL support
* Updated plugins: 
  Revolution Slider 5.4.8

- functions.php
- style.css
- functions/css/mfn.builder.css
- functions/meta-functions.php
- functions/theme-functions.php
- functions/theme-head.php
- functions/theme-shortcodes.php
- muffin-options/css/options.css
- muffin-options/options.php
- plugins/revslider.zip

Version 1.2.1

* Fixed: Contact Form - Minor vulnerability
  (please enter Contact Email in Theme Options after update)

- functions.php
- style.css
- functions/meta-functions.php
- functions/theme-mail.php
- functions/theme-shortcodes.php
- muffin-options/theme-options.php

Version 1.2

* Added: Google Maps - API Key (optional)
* Added: Bundled Plugins - Update Notification & Auto Update (TGM Plugin Activation)
* Fixed: Minor PHP notices
* Updated plugins: 
  Revolution Slider 5.2.6
  TGM Plugin Activation 2.6.1

- functions.php
- style.css
- functions/class-tgm-plugin-activation.php
- functions/theme-functions.php
- functions/theme-shortcodes.php
- muffin-options/theme-options.php
- plugins/revslider.zip
- plugins/dropdown-menu.php


Version 1.1.4

* Added: WordPress 4.3 Compatibility
* Updated plugins:
  Revolution Slider 5.0.4.1

Version 1.1.3

* Fixed: Builder Items - Textarea - Google Chrome 43.0.2357.65
* Updated: Revolution Slider 4.6.93

Version 1.1.2

* Fixed: SECURITY XSS vulnerability
* Fixed: WPML Compatibility - Portfolio
* Updated plugins:
  TGM Plugin Activation 2.4.1
  Revolution Slider 4.6.9

Version 1.1.1

* Fixed: Contact Form Security Fix

Version 1.1

* Updated: Minor code cleanup
* Updated: Slider Revolution - now included as a separate plugin
* Updated: Revolution Slider - version 4.6

Version 1.0.5

* Updated: WordPress 3.9 Support

Version 1.0.4

* Fixed: Twitter OAuth Class

Version 1.0.3

* Added: New WP Media Manager in Theme Options & Content Builder
* Fixed: Twitter Widget - update to the newest API 1.1

Version 1.0.2

* Updated: Slider Revolution - version 2.3.91

Version 1.0.1

* Updated: Slider Revolution - version 2.3

Version 1.0.0

* First release