Gutenberg Disclaimer
Artmag is Gutenberg Ready but Visual Composer still doesn't support Gutenberg. We hope they will publish an update for gutenberg. We will give latest version of Visual Composer ASAP when the update is live.
Please don't update your WordPress for now. We will give information in this page also in comment.
If you disable Visual Composer, you will see Artmag support and properly styled for gutenberg(Except Full screen medias).
Latest Update :
NEW POST SHORTCODE ADDED! 13 August 2018 (v1.8.3)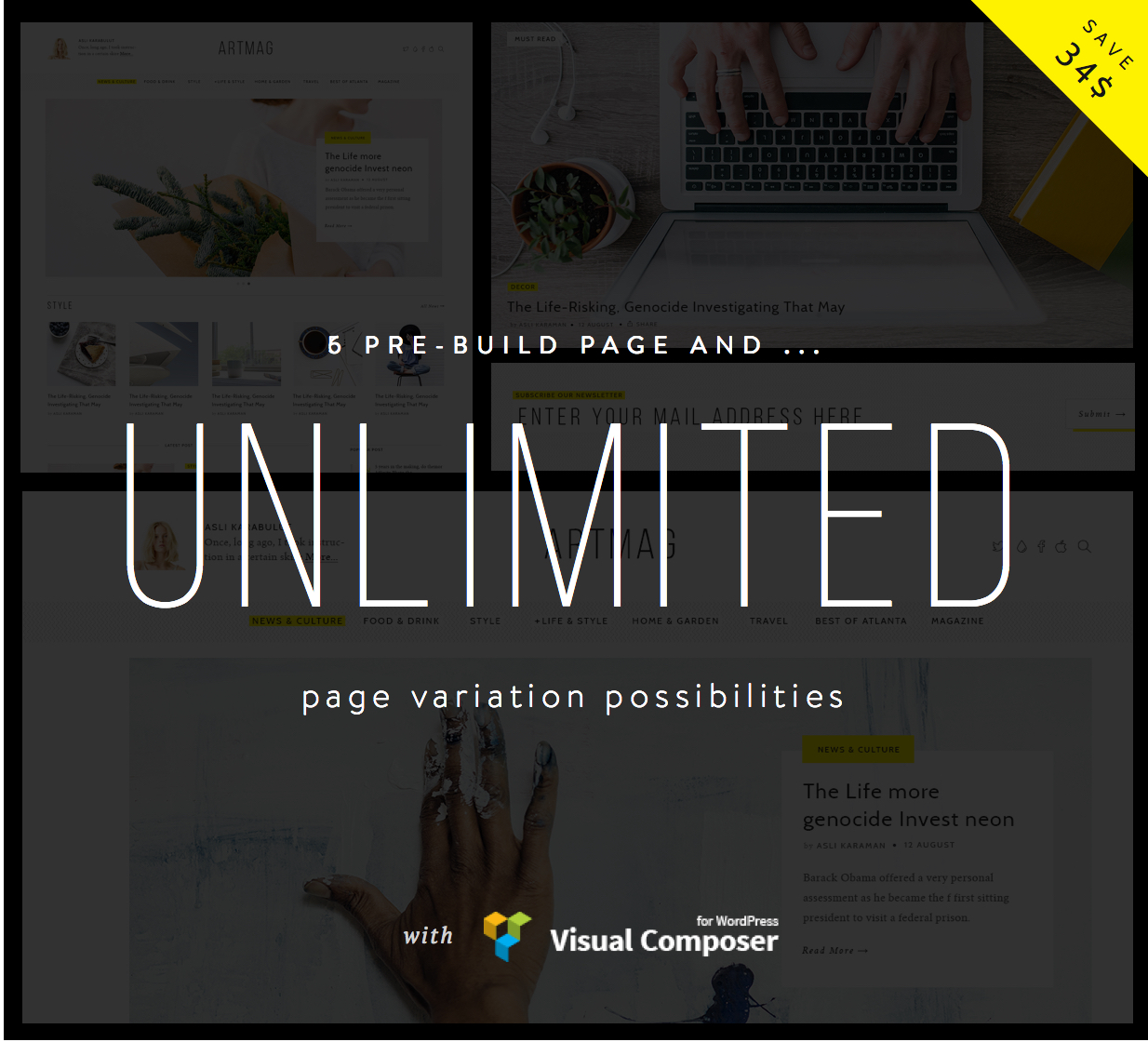 All Features
Fully Responsive Design
Modern and functional design
5 pre-build Home Page Design
7 Post block

Include Visual Composer (Save 34$)
Include Mega Menu (Save 18$)
One Click Import
WPML Support
Envato Wordpress Toolkit Support
Unlimited Sidebar
Newsletter (Mailchimp Integration)
6 Header Options

Colored Header Background
Video Header Background
Image Header Background

6 Custom Widget

Author Widget
Instagram Widget
Popular Post Widget
Recent Post Widget
Pinterest Widget
Social Media Widget

Support 5 Post Format (audio, gallery, link, quote, video)
Advanced Admin Panel
Translate Ready. (.po and .mo files)
Speed Loading
Retina Ready
Documentation with videos
Unlimited color
SEO Ready
Css & Fonts
Javascript
All images used in the preview are just for demonstration purposes and not included in the Theme.
Version 1.8.3.1 (17 October 2018)

UPDATED: WpBakery Page Builder (Formerly Visual Composer)
UPDATED: Documentation(Mailchimp Newsletter Video Tutorial added)

Changed Files : 
inc/tgm/js_composer.zip
documentation.zip

Version 1.8.2 (2 August 2018)

ADDED: Big Text Featured Shortcode Added
UPDATED: WpBakery Page Builder (Formerly Visual Composer)

Changed Files : 
framework/admin/blog-config.php
inc/shortcodes.php
inc/customcss.php
wpbakery/extend-vc.php
functions.php
style.css


Version 1.8.1 (17 July 2018)

FIXED: Featured Image + Right Thumbnails layout issue has been fixed.

Changed Files : 
artmag/inc/shortcodes.php
style.css


Version 1.8 (12 July 2018)

ADDED: About Me page template added (Import from Themeforest Download Package > Demo-Data Folder)
ADDED: Contact Form 7 Support
IMPROVE:Remove quote icon if featured image doesn't exist
FIXED: Windows Quote Icon issue has been solved

Changed Files : 
Download Package > Demo_Folder
artmag/inc/shortcodes.php
style.css


Version 1.7.9.8 (1 June 2018)

UPDATE: WordPress Comments GDPR Ready anymore.

Changed Files : 
functions.php


Version 1.7.9 (17 March 2018)

FIXED : Instagram API issue has been solved.
UPDATE: Visual Composer updated to latest version.

Changed Files : 
inc/tgm/js_composer.js
inc/custom-widgets/instagram.php


Version 1.7.9.5 (3 January 2018)

Updated : Visual Composer

Changed Files:
artmag/wpbakery/extend-Visual Composer.php

Version 1.7.9.4 (4 October 2017)

ADDED : Category hide option added in Slider Shortcode
Updated : Visual Composer

Changed Files:
artmag/inc/shortcodes.php
artmag/wpbakery/extend-Visual Composer.php

Version 1.7.9.3 (3 August 2017)

IMPROVE: Post Author has a yellow badge.
IMPROVE : Demo data changed, now user import demo data easier then before.
FIXED : Mega Menu Link Button appear problem has been fixed.

Changed Files:
artmag/inc/custom-widgets/tabs.php
artmag/framework/admin/ReduxCore/inc/extensions/wbc_importer/demo-data
Download Folder/Demo_Data


Version 1.7.9.2 (30 June 2017)

ADDED : Added option for hiding mega menu category button
IMPROVE : Visual Composer Front-end editor opened
IMPROVE : Artmag support PHP 7

Changed Files : 

artmag/inc/custom-widgets/tabs.php
artmag/wpbakery/extend-vc.php

<p><strong>Version 1.7.9.1 (2 June 2017)</strong></p>

<pre>
FIXED : Page Pagination Bullet issue has been fixed.
UPDATE : Documentation (How to udpate theme video added)

Changed Files : 

artmag/style.css
Documentation/index.html

</pre>

<p><strong>Version 1.7.9 (28 April 2017)</strong></p>

<pre>
IMPROVE : Visual Composer Updated to 5.1.1
IMPROVE : PHP 7 Compatible
FIXED : Recent Post Excerpt Issue

Changed Files : 

artmag/inc/tgm/js_composer.zip
artmag/wpbakery/extend-vc.php
artmag/inc/custom-widgets/author.php
artmag/inc/custom-widgets/most-popular.php
artmag/inc/custom-widgets/pinterest.php
artmag/inc/custom-widgets/social-media.php

</pre>

<p><strong>Version 1.7.8 (5 April 2017)</strong></p>

<pre>
FIXED : Bloglovin Icon issue has been fixed in in Social Widget
FIXED : Article Page Link Background issue has been fixed

Changed Files : 
artmag/inc/custom-widgets/social-media.php
artmag/inc/customcss.php

</pre>

<p><strong>Version 1.7.7 (13 March 2017)</strong></p>

<pre>
FIXED : Post link background issue has been fixed
IMPROVED : Instagram Mobile alignment issue has been improved
IMPROVED : Awaiting Moderation Comment has been improved
UPDATED : Visual Composer updated [to 5.1]

Changed Files : 
/inc/customcss.php
/js/main.js
/css/artmag-responsive.css
style.css

</pre>

<p><strong>Version 1.7.6 (19 January 2017)</strong></p>

<pre>
ADDED : Now, Slider Title & Slider Text can changed by Artmag Options anymore
ADDED : h1,h2,h3,h4,h5,h6 where Single Post can changed by Artmag Options anymore
IMPROVED : add padding for Mobile Logo for vertical align.
FIXED : Full Width Image Issue with RTL
FIXED : Post Element Issue with RTL
FIXED : Mobile Search Hover Issue
FIXED : Menu Hover Top Color Issue fixed
FIXED : the author link of the Related Post issue fixed
FIXED : Pinterest Rows and Cols issue fixed

Changed Files : 
/css/artmag-rtl.css
/css/artmag-responsive.css
/js/main.js
/inc/customcss.php
/inc/custom-widgets/pinterest.php
/inc/shortcodes.php
/framework/blog-config.php
/fonts/
style.css
single.php
</pre>

<p><strong>Version 1.7.6.1 (27 February 2017)</strong></p>

<pre>
FIXED : Caption With Image has been fixed

Changed Files : 
style.css
</pre>

<p><strong>Version 1.7.5 (12 January 2017)</strong></p>

<pre>
ADDED :  snapchat icon added
UPDATED : Redux Framework
IMPROVE : Mobile Landscape Image Quality improved
FIXED :  Navigation Color issue fixed
FIXED : Search page category issue

Changed Files : 
/admin folder moved to /framework
header.php
/admin/blog/blog-config.php
/fonts/
/inc/content.php
/inc/customcss.php
/inc/custom-widgets/social-link.php
/css/artmag-responsive.css
shortcodes.php
functions.php
single.php
style.css
</pre>

<p><strong>Version 1.7.3 (13 December 2016)</strong></p>

<pre>
UPDATED : Visual Composer Updated to 5.0.1
FIXED : Styling page heading and list style
FIXED : Read More overlapping Category Title
FIXED : Equal Height disabled on Mobile Phones

Changed Files : 
inc/tgm/js_composer.zip
style.css
js/main.js
</pre>

<p><strong>Version 1.7.2 (30 October 2016)</strong></p>

<pre>
ADDED : Sticky Bar Added
ADDED : Now, User can manage Slider Title and Slider Text Lenght, Slider Title Style and Font Size from Artmag Options.
IMPROVE : New Google Fonts Added
IMPROVE : Theme Check Plugin Issues fixed
FIX : Instagram Issue Fixed 

Changed Files : 
/admin/ReduxCore/
/admin/blog/blog-config.php
inc/custom-widgets/instagram.php
inc/shortcodes.php
inc/meta-box/
js/main.js
style.css 
header.php
</pre>

<p><strong>Version 1.7.1 (18 October 2016)</strong></p>

<pre>
FIXED : Latest Post Read More Button Issue Fixed
IMPROVED : Single Author Show All Post by Default.
IMPROVED : Header Slider Images centered in Tablet
UPDATED : Visual Compsoer updated [4.12]

Changed Files : 
inc/shortcodes.php
inc/tgm/js_composer.zip
css/artmag-responsive.css
single.php
</pre>

<p><strong>Version 1.7 (27 September 2016)</strong></p>

<pre>
IMPROVE : Child Category show up after Parent Category for All Post Types & Shortcodes
IMPROVE : You Can Style Categories. We added special class for each Category.
IMPROVE : Google Data Structure Issues Fixed.
FIXED : Instagram Double Slash Issue Fixed

Changed Files : 
inc/content.php
inc/shortcodes.php
category.php
single.php
inc/custom-widgets/instagram.php
</pre>

<p><strong>Version 1.6.4 (22 August 2016)</strong></p>

<pre>
Fixed : Specific Post Sidebar Bug
Fixed : Instagram Url Issue On IOS

Changed Files : 
artmag/inc/metabox.php
artmag/inc/custom-widgets/instagram.php
</pre>

<p><strong>Version 1.6.3 (09 August 2016)</strong></p>
<pre>
ADDED : Sidebar Option Added for Only Single Posts
ADDED : Sidebar Position can change for specific post
ADDED : Author Box can change for specific post
ADDED : Featured image can change for specific post
UPDATED : Visual Composer Latest Version added [ v 4.12]

Changed Files : 
/admin/blog/blog-config.php
single.php
/inc/metabox.php
</pre>

<p><strong>Version 1.6.2.3 (11 July 2016)</strong></p>

<pre>
Changed Files : 
/inc/shortcodes.php
</pre>

<p><strong>Version 1.6.2.2 (2 July 2016)</strong></p>
<pre>
Fixed : Single Share URL issue

Changed Files : 
/inc/shortcodes.php
/wpbakery/extend-vc.php
</pre>

<p><strong>Version 1.6.2.1 (29 June 2016)</strong></p>
<pre>
Fixed : Recent Post Crop Issue

Changed Files : 
/inc/shortcodes.php
/wpbakery/extend-vc.php
</pre>

<p><strong>Version 1.6.2 (24 June 2016)</strong></p>
<pre>
ADDED : Bloglovin & RSS Feed added in Header & Social Widget.
Updated : Artmag Icon Font
Updated : Visual Composer Plugin

Changed Files : 
/admin/blog/blog-config.php
/inc/tgm/js_composer.zip
/fonts
style.css
header.php
</pre>

<p><strong>Version 1.6.1 (8 June 2016)</strong></p>
<pre>
FIXED : Single Gallery Images Issue fixed
FIXED : Mega Menu button link fixed
FIXED : Related Post & Mega Menu button text domain fixed
UPDATED : Language Files

Changed Files : 
single.php
inc/custom/wid

</pre>

<p><strong>Version 1.6 (18 May 2016)</strong></p>
<pre>
ADDED : Single Post Sticky Sidebar Option
ADDED : Telegram Icon Added
UPDATE : Medium & Instagram Icon Updated
UPDATE : Visual Composer Updated
UPDATE : Languages File Updated
FIX : Author Box Css Issue On Tablet

Changed Files : 
header.php
inc/pagination.php
single.php
inc/custom-widgets/tabs.php
inc/megamenu/js/admin.js
inc/megamenu/css/admin/menus.css
inc/megamenu/classes/nav-menus.class.php
</pre>

<p><strong>Version 1.5.9 (02 May 2016)</strong></p>
<pre>
IMPROVE: Wordpress 4.5.1 Ready
IMPROVE: If Author Info & Social Header disabled by user, logo area will wider
IMPROVE: Alternate Tag added in Featured Image
FIX : Next Page & Previous Page Button Text added .po files.
FIX : Related Post Image Crop Issue Fixed
FIX : Mega Menu Button Align Issue Fixed
FIX : Mega Menu conflict with WordPress 4.5 Issue Fixed 

Changed Files : 
header.php
inc/pagination.php
single.php
inc/custom-widgets/tabs.php
inc/megamenu/js/admin.js
inc/megamenu/css/admin/menus.css
inc/megamenu/classes/nav-menus.class.php
</pre>

<p><strong>Version 1.5.8 (20 April 2016)</strong></p>
<pre>
Add : Author Show/Hide option for Recent Post
Add : All Post Button For Mega Menu Section
Add : Language bar show up in Responsive
Update : Visual composer updated
Fix :Tab PHP Conflict
Fix : Category Image Crop Issue
Fix : Redux Top Menu Condition issue

Changed Files : 
artmag/inc/tag/js_composer.zip
artmag/inc/custom-widgets/tabs.php
artmag/inc/content.php
artmag/inc/shotcodes.php
artmag/header.php
artmag/admin/blog/blog-config.php
</pre>

<p><strong>Version 1.5.6 (18 March 2016)</strong></p>
<pre>
Fixed : Slider Issue Fixed

Changed Files : 
inc/customjs.php
</pre>

<p><strong>Version 1.5.5 (17 March 2016)</strong></p>
<pre>
Added : You can control Slider Speed in Artmag Options
Updated : Visual Composer 
Improve : Short Url for Single Post Sharing
Improve : Added Web Site Twitter Account for Single Post Sharing
Fixed : WPML Css Issue
Fixed : When Author Box hiding on desktop. it will also hide for mobile.
Fixed : Single Sidebar Position Issue

Changed Files : 
single.php
admin/blog/blog-config.php
header.php
main.js
inc/customjs.php
</pre>

<p><strong>Version 1.5.1 (1 March 2016)</strong></p>
<pre>
Fixed : Sidebar Position Issue

Changed Files : 
single.php
</pre>

<p><strong>Version 1.5 (1 March 2016)</strong></p>
<pre>
Added : Sticky Sidebar
Added : Related Posts
Improve : Force Facebook share for the choose right image
Improve : ".." replaced with "…"
Improve : Header Custom Image count Increased [Now we support 6 custom images]
Fixed : Single Sticky Share Position Issue
Fixed : Newsletter Sign Up Position Issue
Fixed : Image Crop Issue

Changed Files : 
header.php
inc/shortcodes.php
admin/blog/blog-config.php
css/artmag-responsive.css
single.php
js/main.js
functions.php

Added Files : 
vc_templates/vc_column.php
js/theia-sticky-sidebar.js
</pre>

<p><strong>Version 1.4.1 (11 February 2016)</strong></p>
<pre>
Added : WPML Support
Added : Envato Wordpress Toolkit Support
Updated : .po & .pot files updated
Updated : Visual Composer v4.10

Changed Files : 
admin/blog/blog-config.php
inc/tgm folder
/languages
single.php
style.css
</pre>

<p><strong>Version 1.4 (9 February 2016)</strong></p>
<pre>
Added : New Post Block  (Modern List)
Added : Each Social Share Element Show/Hide Option
Added : Footer Background Background Color Option
Added : Video Tuts in Documentation
Updated : .po & .pot files updated
Fixed :  Newsletter Title Color Issue
Fixed :  Slider Button Hover Color Issue
Fixed :  Share Hover Issue

Changed Files : 
/languages
/inc/customcss.php
style.css
functions.php
css/artmag-responsive.css
single.php
</pre>

<p><strong>Version 1.3.1 (29 January 2016)</strong></p>
<pre>
- Added : Custom Font Options
- Fixed : Visual Composer Elements Support
- Fixed : RTL Support
- Fixed : Minor Bugs

Changed Files : 
inc/shortcodes.php
inc/customcss.php
css/artmag-rtl.css
style.css
</pre>
<p><strong>Version 1.3 (21 January 2016)</strong></p>
<pre>
- Added : Image Header, Video Header & Colored Header
- Added : Show Post View Count Option
- Changed : Instagram Widget
- Fixed : Slider Shortcode Post Categories Spacing
- Fixed : Header & Footer Logo Options
- Fixed : Minor Bugs

Changed Files : 
inc/custom-widgets/instagram.php
inc/customcss.php
inc/shortcodes.php
css/artmag-responsive.css
fonts/all-artmag-icon-fonts
js/main.js
js/jquery.videobg.js
footer.php
functions.php
header.php
single.php
style.css
</pre>
<p><strong>Version 1.2 (18 January 2016)</strong></p>
<pre>
- Added : <a href="http://www.2035themes.com/artmag/rtl/">RTL Support</a>
- Added : Header & Footer Logo Option
- Added : Dropdown Menu Second Level Support
- Added : Light Demo Import Option
- Added : Top Menu Dropdown Support
- Fixed : Slider Shortcode Post Categories Spacing
- Fixed : Gallery & Video Post Format
- Fixed : Minor Bugs
- Updated : Visual Composer 4.9.2

Changed Files : 
single.php
style.css
header.php
shortcodes.php
single.php
footer.php
pagination.php
functions.php
css/artmag-responsive.css
js/main.js
inc/shortcodes.php
</pre>
<p><strong>Version 1.1 (12 January 2016)</strong></p>
<pre>
- Added : Header Top Menu
- Added : Full Screen Width Featured Image
- Added : Most Viewed Filter in Post Blocks
- Added : Linkedin Share
- Fixed : Custom Pagination
- Fixed : Post Pagination
- Fixed : Minor Bugs

Changed Files : 
page.php
style.css
functions.php
single.php
css/artmag-responsive.css
js/main.js
inc/shortcodes.php
</pre> 
<p><strong>Version 1.0</strong></p>
<pre>- Initial release
</pre>