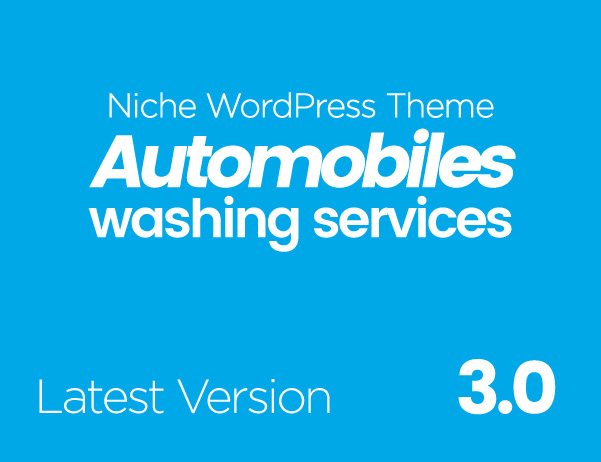 Autowash is a powerful and responsive Car Wash, Car Services, Car AMC and other Automobiles services related WordPress Theme ever with pretty much-advanced features for specially Washing & Servicing. It has all the features what you need for a Auto Detail Servicing.
Sliders
Flex Slider
Owl Slider
Static Image
Custom Slider ? for Third Party Sliders Like Revolutions, Master Slider and Layered Slider etc. You just need to put the generated shortcode in the custom slider area.
Theme Features
6 Header Styles including Fixed Header
Unlimited Sidebars for any page
Latest Fontawesome Icons
Left Sidebar option
Right Sidebar option
Full width page option
Assign Slider on any page.
Disable breadcrumb for any page you wish
Add Subheader background color for any page
3 Subheader Alignments Left, Right and Center.
501+ Google Web Fonts
Sticky Bar on top
Business Hours Pro Plugin – Worth $15
Custom Subheader Image for pages and posts
Custom Subheader Text for pages and posts
Custom Subheader Height for pages.
Testimonials List Shortcode
Testimonials Carousel Shortcode
Widgetized Footer
Unlimited Color Skinning Options
Multi Threaded Comments
9 Post Formats (Standard, Aside, Audio, Link, Image, Gallery, Quote, Status, Video)
Built in Shortcodes Generator.
Advanced Options Panel (Import or Export for options settings.)
Blog Page Template
Shortcodes for VC Addons
- 3 Blog Posts Styles
- Counter
- Gallery
- Instagram
- Location
- Milestone
- Partial Section
Shortcodes
Accordion
Alert Boxes
Info box
Alert box
Success box
Light Gray box
Dark box
Custom alert box
Block Quotes
Blog
Blog Carousel
Button
Flat Button
Border Button
Call to Action
Column Layouts
Contact Info
Countdown Counter
Dividers
Clear Both

Dividers
Demo Space
Custom Divider
Drop cap 1
Drop cap 2
Drop cap 3
Expandable Section
Fancy Box
Fancy Box Image
Fancy Ampersand
Fancy Headings h1,h2,h3,h4,h5,h6
Flickr Photos
Google Font
Google Map
Highlight
Highlight 2

Icon Box – 6 Styles
Fontawesome Icons
Line Stroke 7 Icons
Image
Image Icon Box
List Styles – Fontawesome & Pe Line Icons
Progress Circle
Progress Bar
Section Full Width
Services
Services Box
Staff Box
Tabs
Tabsnav
List Testimonials
Fade Testimonials
Carousel Testimonials
Twenty Twenty
Vimeo
Custom Backgrounds
Body
Pages
Header
Sub header
Featured Slider Area
Footer
Other Features
Extensive Documentation
Localization Ready
WPMU Compatible
WPML Plugin Compatible
WordPress 4.5+ Tested
Text Widget Support Shortcodes.
80+ Custom Shortcodes
This theme skinning options empowers you to change many elements such as backgrounds, texts, links, menu, typography, etc.
Custom Widgets
Autowash – Contact Info
Autowash – Recent Posts
Autowash – Button
Autowash – Sociables
Autowash – Iconbox
Business Hours Pro
Business Hours Holidays
Custom Post Types
Package
Services
Location
Slider
Testimonial
Gallery
Color Customization
Over 500+ Google fonts offered with theme
Unlimited combinations of colors editing for many elements
Background Images ? You can also upload background images on per section bases instead of solid background color for subheader, body background etc.
If you want to change only less places select only theme color from options panel and for menu define your own style.
Theme Localization
This theme is Internationalization and localization built into its structure to easily used for different languages. Few texts in the theme there is an option to change texts in theme options panel.
Updates Changelog
## 4.2 – 12-01-2018

Updated: Visual Composer to v5.4.5
Updated: Business Hours Pto to v5.2
Updated: Autowash Core to 3.2
Fixed: Update of Visual Composer not working
Fixed: Twenty Twenty Shortcode not working  …
Fixed: parenthesis removed from require_once statement
Fixed: Removed commented code for google map

## 4.1 – 27-09-2017

Updated: Orders post type changed to aw_orders
Updated: Visual Composer to v5.3
Updated: Business Hours Pro to v4.3.1
Updated: Autowash core to v3.1
Fixed: Footer Columns Responsive in iPad Portrait
Fixed: Footer Columns Responsive in Small Desktop
Added: Time duration up to 10 hours

## 4.0 – 12-06-2017

Added: Slot Booking Option  …
Added: Bookings Start Time option
Added: Bookings End Time option
Added: Customer Email Header Name
Added: Email Template Settings
Added: Email Header Logo
Added: Email Footer Text
Added: HTML formated email template
Added: Paypal Integration for the payments
Fixed: Booking Extra Services responsive issue
Fixed: Booking Extra Services hide if no services selected
Added: Default wordpress editor for the theme options textarea section
Updated: calender UI modified with a better look
Fixed: conflict with the business hours plugin activation and creating hours
Fixed: jquery timepicker handler changed to 'jquery-ui-timepicker-addon'

/-------------------------/
 Child Theme Mods
/-------------------------/
added: email_temp
updated: autowash-niche/index.php
updated: functions.php
style.css version number updated

## 3.0 – 24-03-2017

Fixed: issue overlapping slider caption in header style 4  …
Fixed: Minor glitches in Mobile devices layout
Fixed: Menu custom color issue
Fixed: Sociables not saving in theme options
Added: Gallery Post Type
Added: Gallery Shortcode
Added: function conditional code for gallery shortcode
Added: Extra Services Shortcode
Added: Pickup Address Shortcode
Added: Pickup Droppoff Address Shortcode
Added: Page Background Properties in Page Meta
Added: Vertical Left Header Menu
Added: Vertical Menu Footer Widget
Added: Model Input Field in Booking
Updated: Business Hours Pro to v4.1.0
Updated: Visual Composer to v5.1
Updated: Autowash Core to v2.0

## 2.2 – 2017-01-20

Fixed: Undefined variable for layoutclass
Fixed: Undefined variable for copyrightlink
Updated: screeenshot.png files

## 2.1 – 2017-01-11

Fixed: Subheader background image and color issue
Fixed: Subheader background image and color issue for header style 4
Fixed: Subheader background image and color issue for header style 5
Updated: Sanitization for the subheader output.
Updated: Fixed plugin autowash-core issue with blog post image format

## 2.0 – 2017-01-07

Added: Mins conversion to Hours
Added: New sample demo data
Added: autowash-core.zip
Added: Button color codes for the Bookings PAge.
Added: use default admin email if email not entered in theme options
Added: Weather Info enable/disable option
Added: One click import sample data.
Added: Autowash Core plugin and removed the old multiple plugins
Fixed: default state of the highlight in calendar
Fixed: Theme color issue with some tabs and shortcodes
Fixed: date picker calendar localization issue with other languages.
Fixed: typo error in script handle
Fixed: PrettyPhoto jQuery for the booking services description popup
Updated: UI for the theme options panel
Updated: screenshot png file
Updated: code revamped for the skin generator
Removed: unwanted footermenu ul li
Removed: One click demo installer in inbuilt
Removed: autowash-posttypes.zip plugin
Removed: autowash-vcaddons.zip
Removed: Import same data old concept from theme options
Removed: Autowash-VC Addons
Removed: Autowash-Shortcodes
Removed: Autowash-PostTypes

/* Child Theme Modification*/
Modified screenshot png file and functions.php file

Note: Existing buyers kindly please deactivate and delete the following plugins before making an update.
- Autowash-Post Types
- Autowash-VC Addons
- Autowash-Shortcodes

After that install and activate the autowash-core plugin.

## 1.5 – 2016-12-23

Fixed: Translatable strings 
Added: Time string translatable option
Added: Hour string translatable option
Added: Duration string translatable option
Fixed: Issue with currency spacing
Fixed: color for the selected date in the calendar field

## 1.4.1 – 2016-12-14

Fixed: Translatable strings 
Fixed: Service Request, Book Now
Fixed: Scroll to top button color issue
Fixed: duplicate handler for the parent stylesheet
Fixed: Theme version number not loading in options panel
Added: PrettyPhoto popup for more info for services text
Fixed: Currency Symbol in Package price total section
Updated: Autowash shortcodes updated
Removed: Old Options Settings  …

## 1.4.0 – 2016-11-26

Added: Theme Options Icons replaced with font awesome icons
Added: CSS Hamburger menu icon for responsive layout
Added: Booking Slug changing option
Added: Bookings Storing System
Added : Bookings requests to confirm / unconfirmed / cancel by default
Added: Bookings Post Type for storing the bookings
Fixed: Responsive Issue with Booking Packages columns
Fixed: Logo resize issue if it's large
Fixed: Theme version Issue in theme options panel
Fixed: price calculation issue
Updated: New Admin User Interface with clean and minimal look
Updated: Replaced old blue color with the new color
Updated: Font sizes for the headings
Updated: New Header Style 3 with customized menu
Updated: UI for the page meta fields
Updated: Visual Composer to 5.0.1
Updated: Autowash Shortcodes 1.2.0
Updated: Post type Plugin
Removed: Unwanted Images from admin and the theme

/* Modified Child Theme */
autowash-child/autowash-niche/index.php

## 1.3 – 2016-09-16

Updated: Widgets JSON data
Updated: Visual Composer to v 4.12.1
Updated: screenshot.png for parent and child theme
Updated: minor fixes for the responsive and the
Removed: unwanted images from the images directory
Updated Theme options sample data

## 1.2 – 2016-08-27

Updated : Flex Slider navigation arrows location  ?
Updated : Demo XML File
Fixed: Bookings page extra services list floats issue
Fixed: Several Responsive issues for the Bookings Page
Updated: Autowash Post type plugin
Fixed: Vehicle Type Taxonomy layout mess up issue

## 1.1 – 2016-08-26

Added: Owl Carousel Slider for frontpage
Fixed: Issue with columns in the responsive mode
Fixed: header responsive mode
Fixed: Location Info Overlay Box centered
Fixed: Line height for the recent posts widgets
Fixed: Page slider issue in page options
Fixed: Slider categories issue with page slider
Fixed: disables flex title if there is no caption
Fixed: subheader issues
Updated: Autowash Shortcodes with proper CSS color properties
Modified: Blog Redesign
Modified: flex slider display style
Removed: unwanted css rules from the responsive.css
Color Skin changes with proper color changes
default_editor case added
Plugins Modified - Autowash Shortcodes v1.1

Note: Images used in the live preview is only for live demo and are purchased from Shutterstock and some from Pixabay. You are not permitted to use any images from live demo as it's only for live demo