BRANDO – Restaurant & Cafe Online Booking Table
BRANDO is modern, clean and professionally crafted PSD Template is design which is ideal for Restaurant & Cafe, fast food, bar and any other website related with food and drinks. It also can be used for any other site. The design is very elegant and modern, and also very easy to customize, 28 PSD files included. The PSD file is perfectly organized, so You could easily customize everything.
This theme will be available in HTML and WP version as soon as possible. Stay tuned!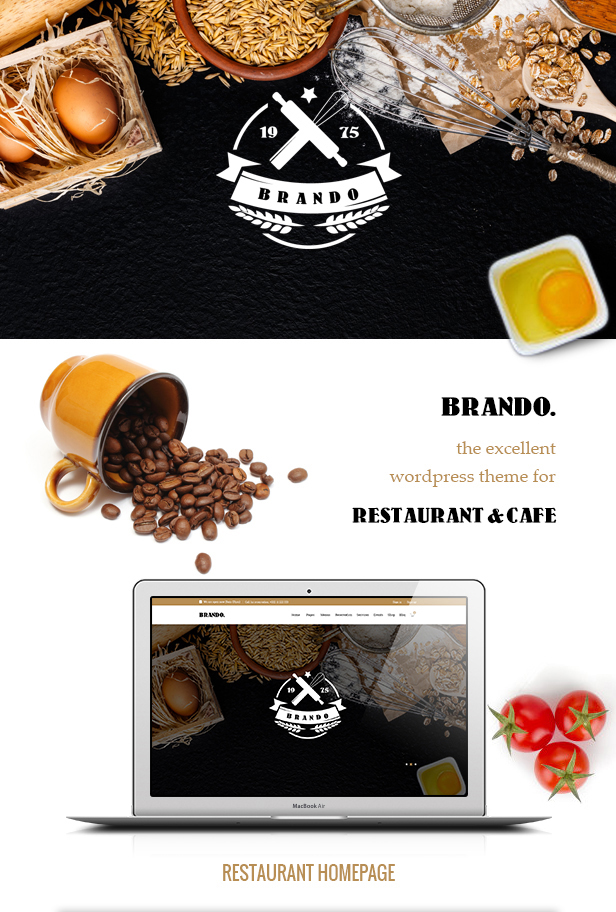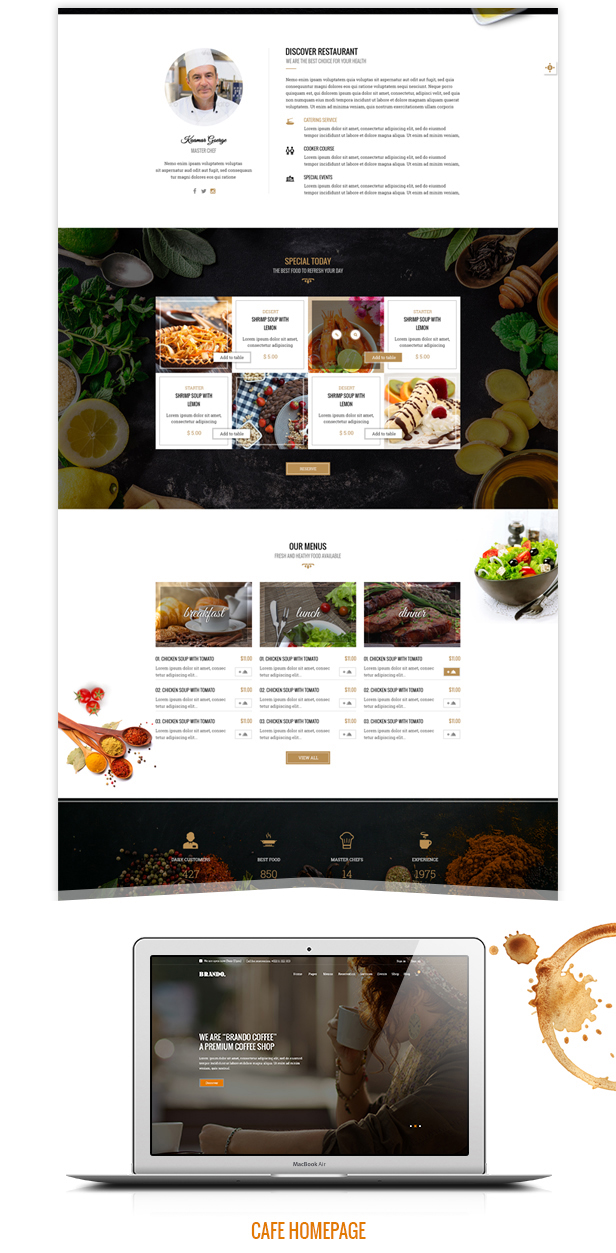 Adobe Photoshop Compatibility: These layered PSD files are compatible with Adobe CS5 and later.
Features:
29 layered PSD files
Restaurant Homepage
Cafe Homepage
Menu Management
Online Booking Food-Table
Single Reservation
Events & Services Layouts
Blog & Porfolio Layouts
Based on 1170px grid system
Bootstrap layout ready
Grid lines included
Well organized layers
Easy to customize
Free icons used (Included)
PSD files
This template has 29 layered PSD files:
01_01_HomeRestaurant.psd
01_02_HomeCafe.psd
02_01_Pages_AboutUs.psd
02_02_Pages_GalleryStyle1.psd
02_03_Pages_GalleryStyle2.psd
02_04_Pages_Contact.psd
02_05_Pages_Element_Header.psd
02_06_Pages_Element_Team.psd
03_01_MenuList.psd
03_02_MenuParallax.psd
03_03_MenuGrid.psd
03_04_MenuSet.psd
03_05_Menu_ItemDetail.psd
04_01_QuickReservation.psd
04_02_Reservation_AtRestaurant.psd
04_03_Reservation_AtRestaurant_PopUp.psd
04_04_Reservation_TakeAway.psd
05_01_Services.psd
05_02_Services_CateringDetail.psd
05_03_Services_CookingCourseDetail.psd
06_01_Events.psd
06_02_Events_Detail.psd
07_01_Shop_CulinarySpecialties.psd
07_02_Shop_Wine.psd
07_03_Shop_Detail.psd
07_04_Shop_Cart.psd
07_05_Shop_Checkout.psd
08_01_Blogs.psd
08_02_Blogs_Single.psd
Thank You!
Thank you so much for your interests. Your comments and ratings would be much appreciated.
If you purchase this template, you will get support. We will update this template time by time and we want to hear your wishes for the future updates or for complete new templates.
Credits
The images used in the template are not included in the main download file, they are only for the preview purpose.