Chameleon Circuit is a beautifully coded full featured admin panel theme ready to be implemented in the back end of your application, or as an intranet theme! The theme, like its namesake, can change colors into anything you want, so instead of a specific number of skins, you have an unlimited variation!
The theme uses HTML5 and CSS3 and degrades gracefully into older browsers, while using jQuery to build in interaction. Included are the PSDs as well as all the source files and even over 3500+ premade icons from famous Fugue Icon Library and 400+ customized icons that matches the menu navigation.
Chameleon Circuit is the perfect theme for your CMS applications and custom database based applications for your clients. It is also perfectly suitable for the back-end of Analytics.
Live Demo: http://circuit.themio.net
Unlimited Color Schemes
Features
Valid code
Liquid and fixed layout building on the 960 grid system
Cross-browser compatible (IE7+)
Switch to any colors and get unlimited color schemes
Unobtrusive jQuery powered effects
Implemented WYSIWYG editor
Beautiful, customizable graphs
Easy tabs on any widget
Dropdown Suckerfish menus
Client side form validation
Full sized AJAX calendars with Google Calendar integration
AJAX/PHP file uploader
Date picker
Sortable data tables
Fancy modal boxes
Custom font with @font-face
Easy skin customization with the provided layered PSD files
Files included in package
barebones/ – Stripped down basic version of template so you can start working on your project ASAP
docs/ – Documentation
html/ – A HTML version of the full theme for those without php
php/ – A PHP version of the full theme, sharing a common header and footer
psds/ – Three PSD files: A one with horizontal menu, sidebar as menu, and a large collection of custom icons for menus
upgrade/ – Only the files that needs be replaced to update the older version of the theme to a newer one
Support
Although we have tried to provide an extensive documentation, we realize that you might have questions or problems we have not foreseen. Please contact us and we will get back to you asap.
Our Newest Admin Panel!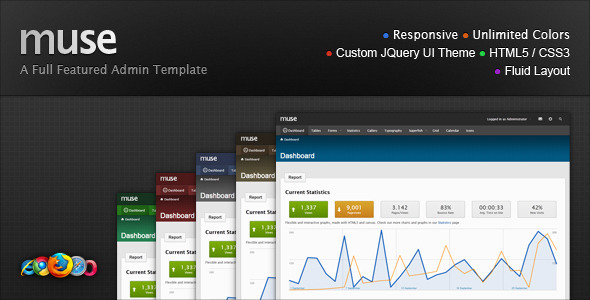 Changelog
v1.0 (12.08.2011)
v1.1 (26.08.2011)

Bugfix

Custom Selectmenu now works accross all browsers
Styleswitcher now works in Safari

Design

Modified designs of Text box, Buttons and Search
6 New Button Styles bringing the total to 10!
New attractive Login Page

Pack – Added an html only version

v1.1.1 (27.08.2011)

Bugfix – The files in htmlversion/ and phpversion/ are now in sync

v2.0 (1.09.2011)

Design – New sidebar version (updated barebones version + PSD)
Bugfix – Custom font is now loading propoerly

v2.1 (20.09.2011)

Bugfix

Submenus now go more than one level deep
Notifications now support more than one digit

v3.0 (05.10.2011)