Yes, Commerce is perfect template for your retail and online business store that makes you store more outstanding than standard store out there. Commerce is robust template with awesome HTML5 and CSS3 Framework. It's clearly that this theme is a responsive layout with adaptive approachment for each devices such as iPhone, iPad and many popular devices out there.
Looking for Commerce WordPress ecommerce theme?
There is available to purchase for WordPress version within this template
— Commerce WordPress ecommerce theme. Click image below if that's what you're looking for.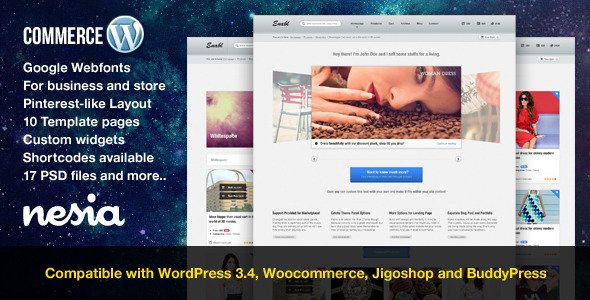 Built-in custom widgets — 13 custom widgets that are available for you to place on your sidebar or footer area. Twitter and Flickr widget are ready to use inside your template, just type your ID then show to your visitors. Check out screenshots page to view it.
Responsive with your mobile devices — Did we mention it earlier? Yes, it does responsive layout for your mobile devices. For viewport 1200+ (desktop computer), 1024+ (notebook and iPad landscape mode), 768+ (netbook and iPad portrait mode) and viewport under 640px (Smartphone). Of course, swipe support for all sliders and carousels on your devices.
Pinterest Layout — See this layout in action on Homepage IV, Homepage V and Products Page. We're to kind letting you have this layout for your nices store. Enjoy!
Five options for homepage layout and two type slider — Available with 3D slider or fullwidth carouslider. Choose it with your prefer slider to display. This homepage layout options really useful for A/B testing your homepage, which one that attract more visitor while visiting your online business store. Just select with what you want. See here Homepage I, Homepage II, Homepage III, Homepage IV, Homepage V or you can browse it through menu navigation on the demo site.
Tumblog format blogging — Yes, it support with many format including media files such video and audio using jPlayer. Also, it does responsive. Wohoo!
Attention, it's a large filesize for this template bundle. 8 PSDs files inside this bundle, the rest 9 PSDs files you can request manually through contact form on our profile page.
ZIP file size: 490MB+
Original files size: 1.3GB+
Sorry for this, because total size is 1.3GB+ and Themeforest just allow us to upload 500MB file size while submitting new item. So, we decide to split these files.
Complete template features
Custom widgets available with 13 types to display.
Pinterest layout for homepage and products page.
All slider and carousel displayed with responsive layout and swipe support for mobile devices.
Five homepage layout, useful for A/B testing.
Call-to-action on homepage, make it easy to direct an action for visitor.
Two layout options for products page, pinterest layout or standard non-dynamic image height format.
Two pagination options, with load more (infinite scroll) trigger or standard pagination through number of page.
PSDs format for customisation. All layers are separated and well organizing.
Video support for blog posts.
Audio support for blog posts using jPlayer.
Contact form with Google Map location.
Standard Fullwidth page.
Pixel perfect design orientation with large scalability in mind.
Build on top rock-solid framework, HTML5 Boilerplate and Twitter Bootstrap.
Compass and Haml markup available inside bundle for your own development phase.
Extensive documentation.
Yes, we build this template on top (very) rock-solid framework and that's all already inside this template bundle, just for you!
Sources and Credits
I've used the following images, icons or other files as listed.