Elegance – A Flawlessly Minimalist Blogging theme
Latest Version v1.0.3.3 – Feb 11 2017
- Allow users resizing sidebar width via theme options!
Responsive layout, Clean and Minimalist design, Elegance WordPress theme is built with love and passion for Personal Blog, Fashionistas or Food Recipes Magazine… Based on Underscores (_s) and Bootstrap Framework with Unlimited flexibility.
Elegance does support translating to Multi-Language with WPML, selling online with Woocommerce.
SEO (Search Engine Optimization) has been made a priority when building the theme. Tested carefully with Google Rich Snippets.
if you like this theme, please don't forget to rate it





, that will help us a lot on improving the theme and the support as well
Demo (All demo pages are exchangeable. WOW!). You can use site customizer in demo to mixed your own site!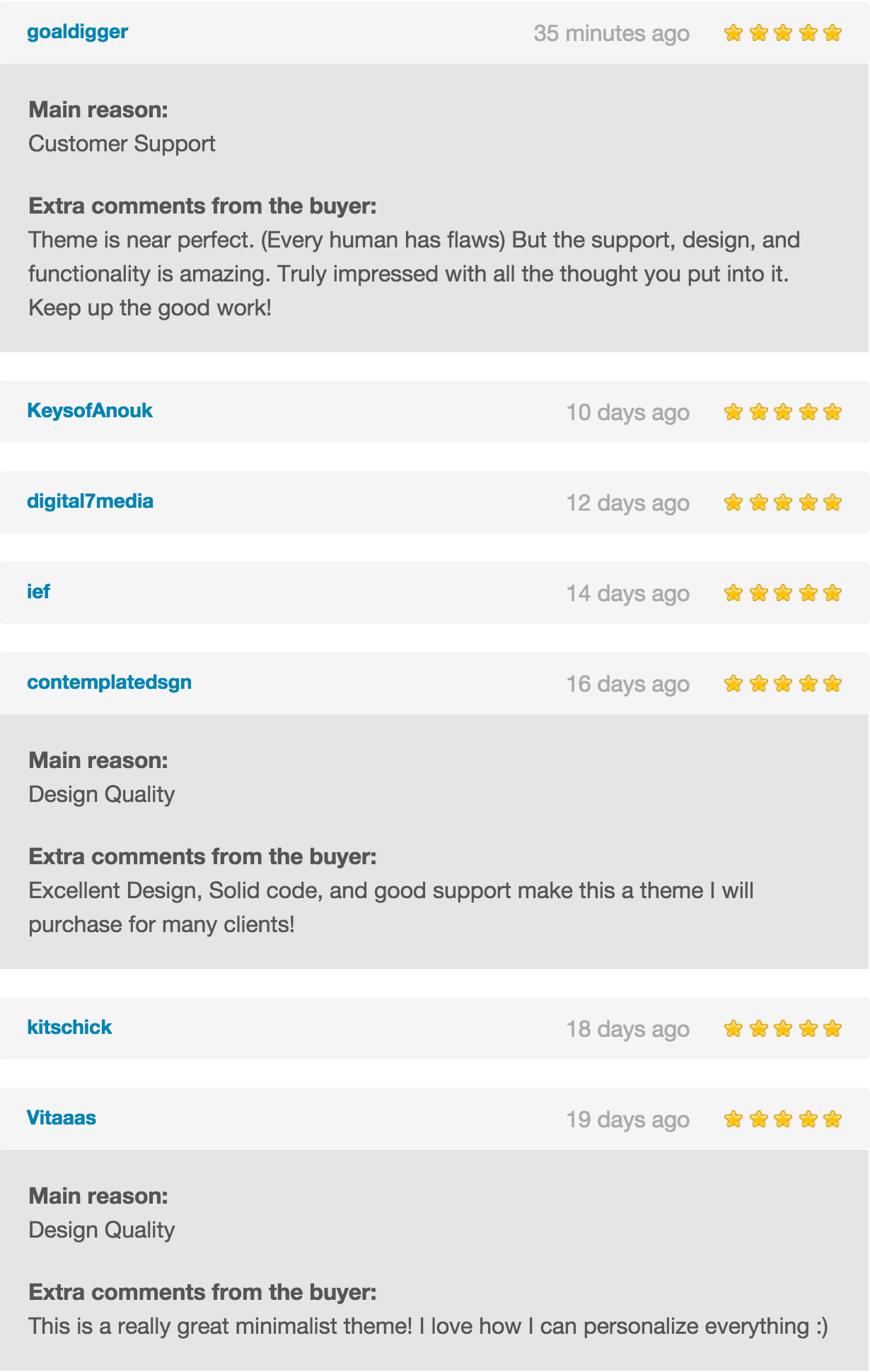 Please contact us before rating us 1 star as we can always sort out issues to your full satisfaction. Note: Images/Photos in live preview are not included in the package for sale, they are just for demonstration only. Main Features:

4 Styles of Header:
5 Styles of Hero Banner (Featured Posts):
3 Logo styles:
3 Styles of Posts layout:
13 Custom Widgets:
Ad space full
Ad space 125 blocks
Category's descendants
Child Pages (Automatically displays sibling pages)
Facebook Fan Page
Flick Photo Widgets
Instagram Feed
Ajax MailChimp Subscription form
Post with thumbnails (5 styles of appearance, supports infinite scroll)
Smart Tabby Widget ( Create unlimited tabbed widgets )
Social Media Links
Twitter Feeds
Twitter Profile
7 Ad spaces Manager (not counted from using widgets), you can put as many snippets (to one position) as you want:
Before Header
Inside Header (for Magazine header style)
After Header
Before Footer
Before Post content
Between Post content (Automatic)
After Post content
Sample Data:
Dummy data (Posts/Pages/Menus and other custom fields)
Theme options sample data
Free font combinations sample data is included. (7 styles);
Sidebars Data
Widgets sample data
Other features:
Unlimited Sidebars.
Sticky Menu Navigation.
2 Style of Posts navigation (Pagination and Direction Navi.)
Off Canvas Mobile Menu with smooth transition.
You may also like posts block
Related Articles (using similar tags)
Support All Google Web Font Library, even custom fonts
Support Infinite scroll on Main Blog post (Jetpack infinite scroll) and on Post thumbnail widget.
Support Boxed layout (Narrow page) and Fullwidth layout.
Support Liveblog plugin
Social sharing buttons with counter using Javascript (only executes after done loading page so you page won't be slowed down ).
Requirements:
-WordPress 4.0 (and higher) -PHP 5.3+
Change Log:

= v1.0.3.3 - Feb 06 2017 - Pending
- Removed Smooth anchor
- Fixed auto scroll on single product
- Updated twitter widget
- Updated Instagram Instruction in theme option -> Subscribe and Connect -> API
- Updated Documentation
- Updated Google Fonts
- and other bug fixes


= v1.0.3.2 - Nov 28 2016
- Fixed instagram feed issue.
- Minor bug fixes


= v1.0.3 - Oct 19 2016
************************************
- Improved infinite loop for Hero slider
- Updated new url
- Updated Translation files
- Removed Deprecated functions
- Updated Plugins
- Minor bug fixes
- WP 4.6+ compatible


= v1.0.2 - Aug 31 2016
************************************
- Increased Instagram cache time.
- Minor bug fixes.
- Brought back Share counter for facebook and pinterest
- WP 4.6 compatible


= v1.0.1.9 - Apr 22 2016
************************************
- Remove deprecated jquery events and functions
- Minor bug fixes.
- Updated Shortcode Generator (v1.0.7.3)
- Updated Sidebar Generator (v1.0.3)
- Updated Post View Tracker (v1.0.3.3)
- WP 4.5 compatible


= v1.0.1.8 - Feb 20 2016
************************************
- Fix minor css bug for admin backend.
- Improved page speed.
- Added support for Lazy Load plugin.
- Fixed minor bugs.
- Improved Hero Banner.
- Improved instagram feed.
- Removed shares counter.
- Improve facebook widget
- Updated localization files
- Still updating...

= v1.0.1.7 – june 06 2015

************************************
- fixed minor bugs
- improved sticky nav
- update shortcode generator
- Update Post view tracker
- enabled mini cart when adding new product

= v1.0.1.6 – apr 29 2015

************************************
- Improved Jetpack Infinite Scroll Compatibility
- fixed minor bugs
- FIXED XSS vulnerability

= v1.0.1.5 – Apr 15 2015

************************************
* Changed: 
  - added WooCommerce Quantity Increment to recommended plugins
  - css fix for custom menu widget
  - fixed Favicon issue for maintenance mode

=v1.0.1.4 – Mar 13 2015

* Changed: 
  - Fixed update issue with envato toolkit
  - Improved performance for mobile devices
  - Imporved Sticky Nav Menu
  - Added autoplay option for Carousel Slider
  - Updated language files

= v1.0.1.3 – Mar 5 2015

* Changed: 
  - Fixed long logo with Sticky menu
  - Fixed changing logo issue.

= v1.0.1.2 – Mar 3 2015

* Changed: 
  - Fixed Sticky menu issue on firefox
  - Allow to change sidebar width from theme options -> Styling options.

= v1.0.1.1 – Mar 2 2015

* Changed: 
  - Add plugin Autoptimize compatibility
  - You might also like unclickable issue.

= v1.0.1 – Feb 28 2015

* Changed: 
  - Fixed Mobile menu bug
  - Update twitter API exchange, replace cURL functions with native wordpress functions
  - Fix SSL issue for getting remoted data (wp_remote_get)
  - Fixed issue with hiding featured image in single post
  - Add standard post format for option "Hide featured image" 
  - Fixed Ad 125 widget issue

* Files changed:
  - js/
  - framework/
  - includes/
  - style.css

= v1.0 – Feb 21 2015

  - Initial release