Version 1.1.2 – Updated on Sep 13, 2018 >> View Changelog
EMARKET – THE MULTIPURPOSE OPENCART 3 THEME
Rich eCommerce Features – High Performance – SEO Optmization – Highly Customizable Designs – Regular Updates!
eMarket is one of our key products with many effort and support. Theme is designed to become the ALL-IN-ONE theme. It means that you only need eMarket to build any eCommerce site.
Theme is released in 2017 and updated regularly with more trending homepages and new features. We usually listen to our customer's needs to improve our theme. If you find any bug or have any comment for eMarket improvement, please let us know. We highly recommend all your feedback!
Besides, eMaket supports multi- vendor plugin to turn your site become marketplace with multi vendors.
Supporting the latest version of OpenCart 3.0.x, this theme has full of functioning features of a modern template for any eCommerce website.

eMarket – The High Performance OpenCart 3 Theme
Although eMarket is a rich-feature theme, we've tried to improve and optimize to make this theme get the highest performance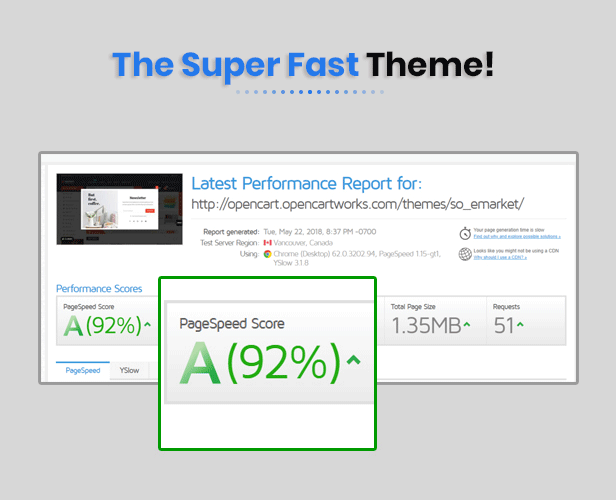 Theme also is optimized for SEO to make your site standing out among thousands of websites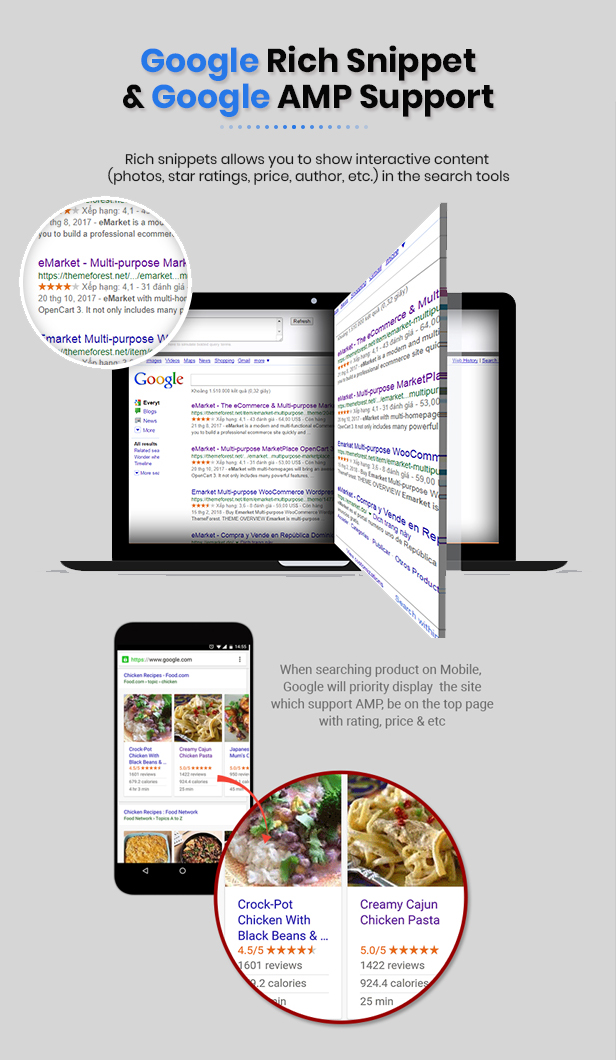 HOT – 100% Responsive Designs & 3 Mobile-Specific Layouts Included
Our theme supports not only responsive layouts on any devices, but also it is packed with 3 mobile-specific layouts that allows you to create professional online shop on mobile. You can easy to set up the layout you want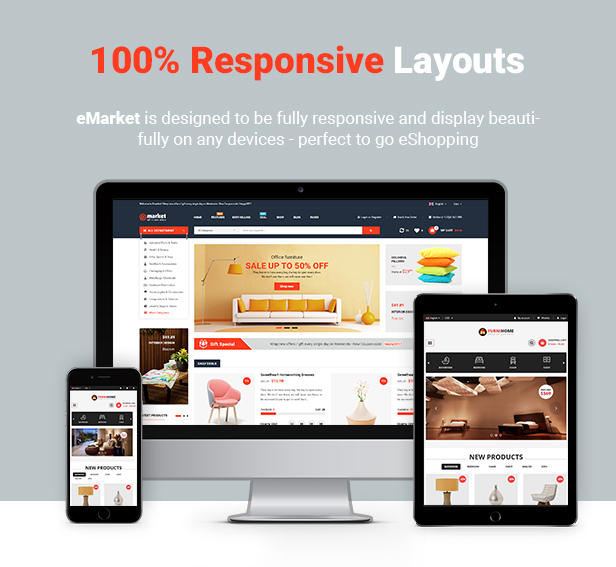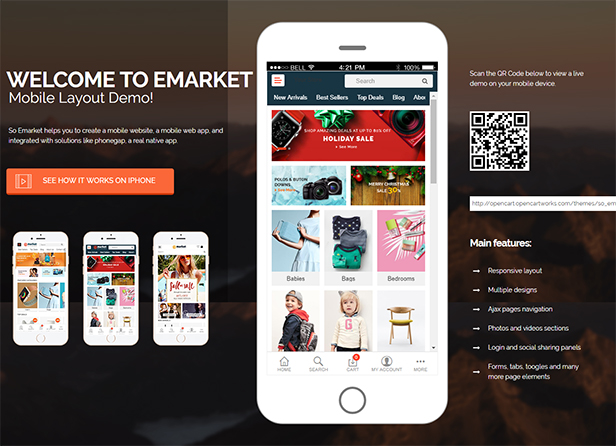 Multi-Vendor Marketplace Compatibility
eMarket is compatible with the multi-vendor plugin of Purpletreesoft to turn your online shop to a marketplace site with multi vendors.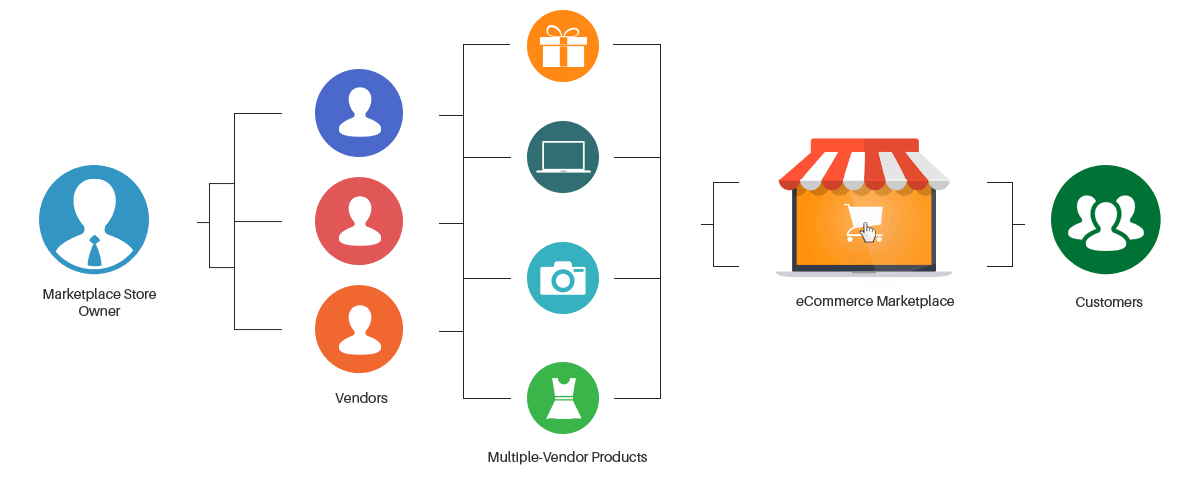 Check Marketplace Demos of eMarket theme

/
SOME KEY FEATURES OF EMARKET THEME
eMarket is included a lot of Pro eCommerce Features. You only need one theme to build any webstore you want. Below we memtioned some features, please check our demos to get more experience
Layout Variation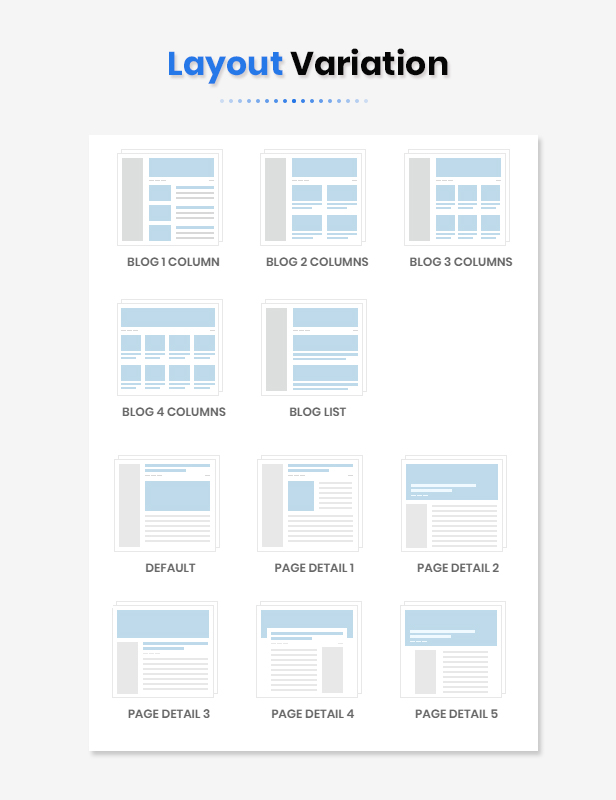 Powerful Admin Panel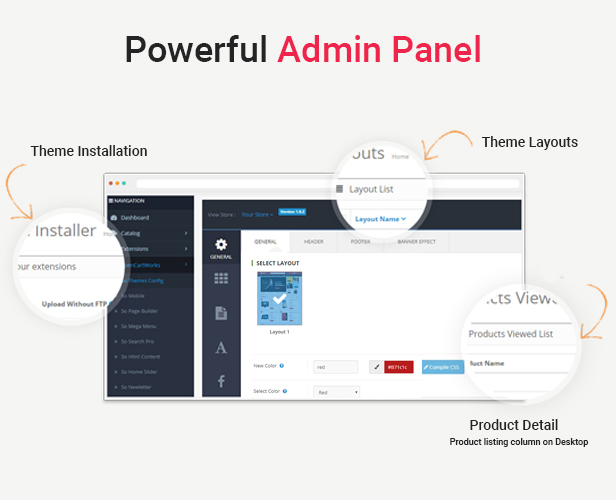 The visual drag-n-drop Page Builder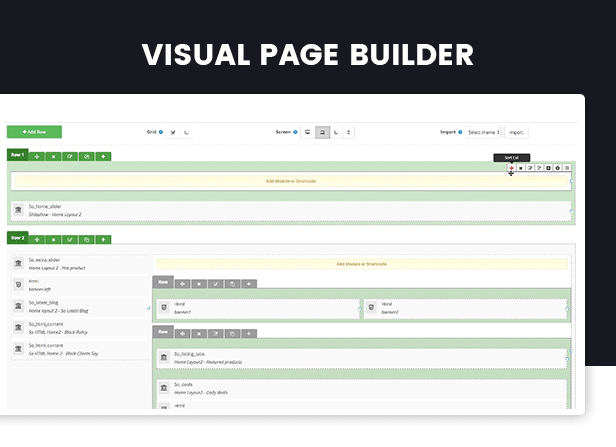 Slider Revolution Compatibility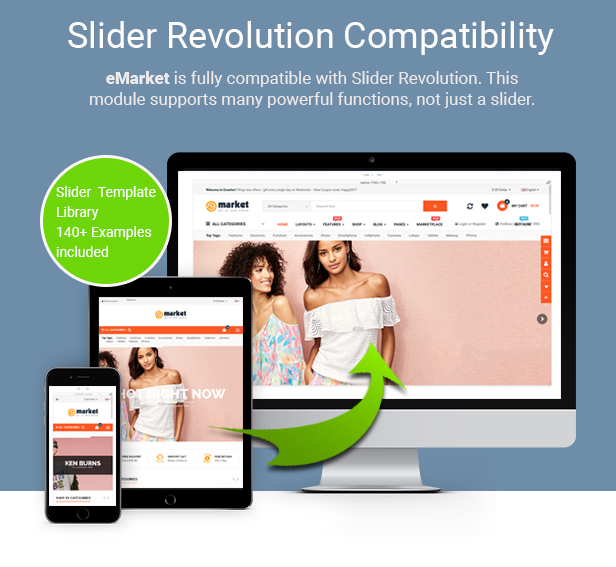 Product Design Module Compatibility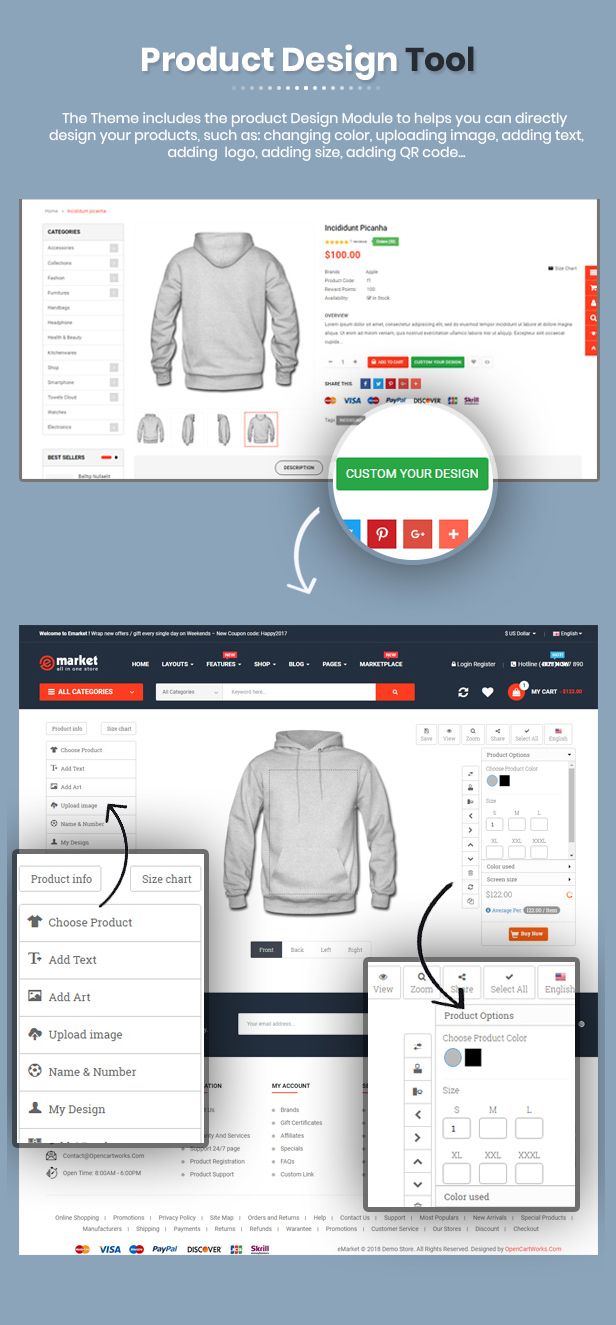 Lazy Loading Product Images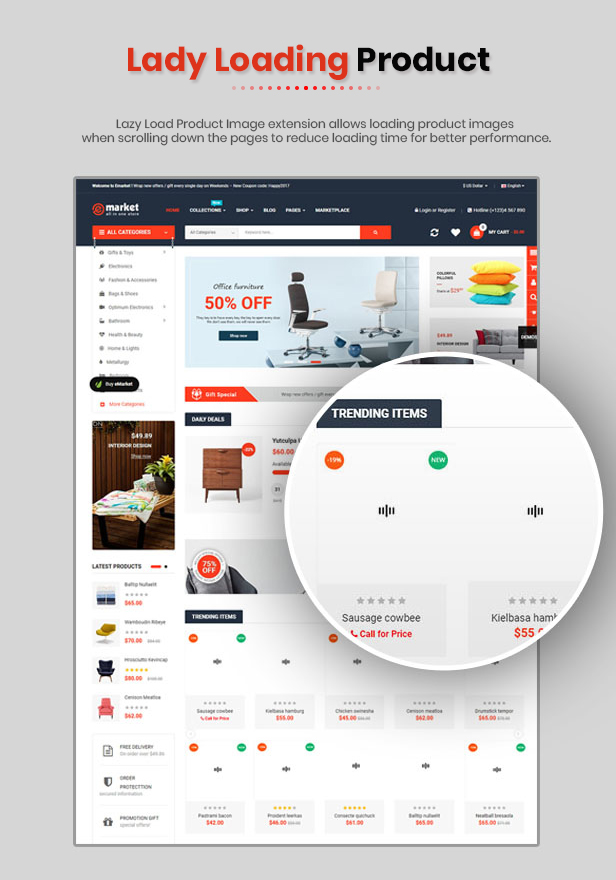 50 Pages Styles for Shop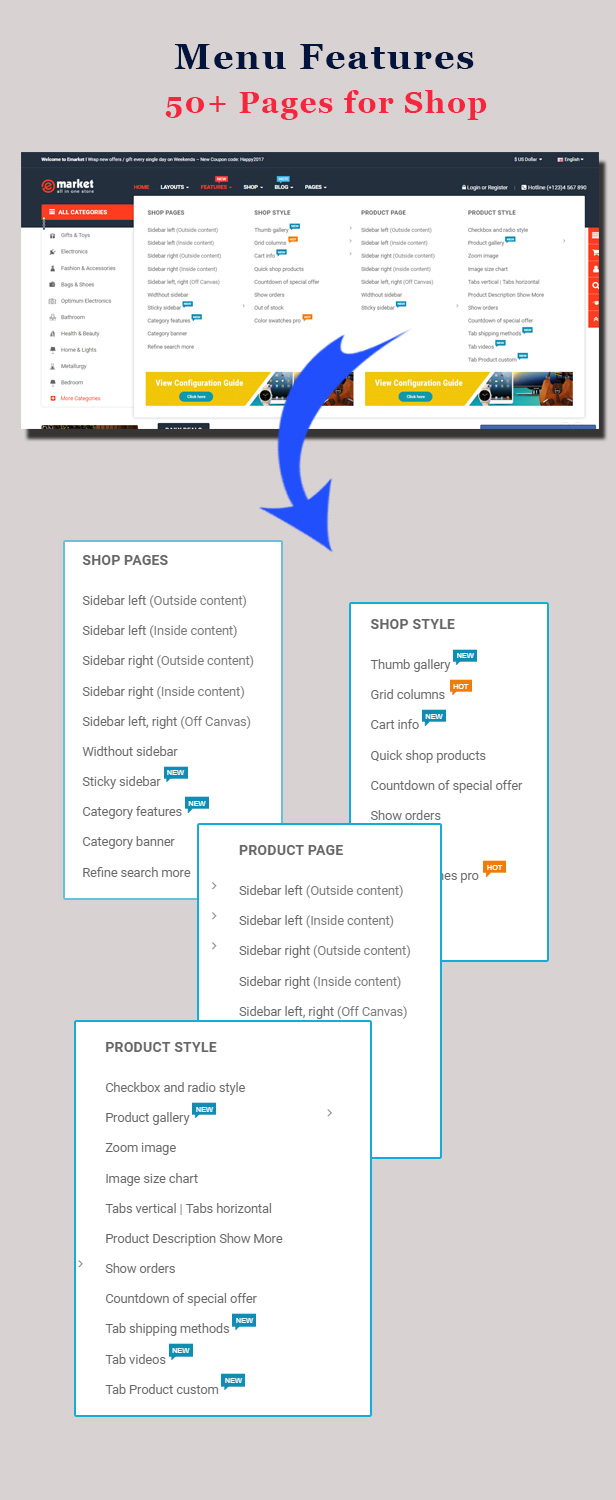 Call For Price Module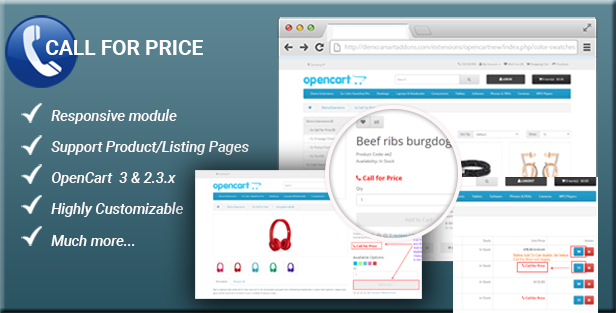 The Advanced Mega Menu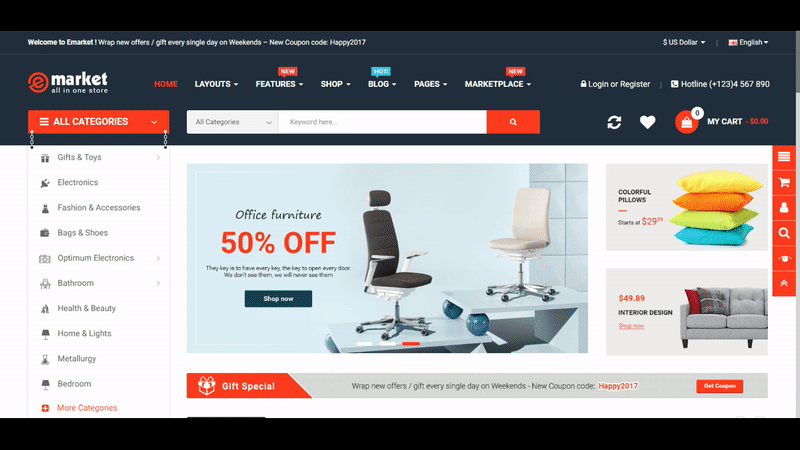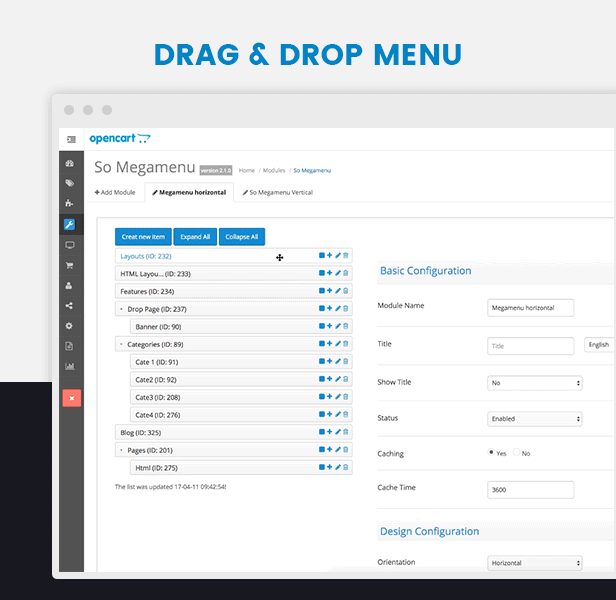 Daily Deal Module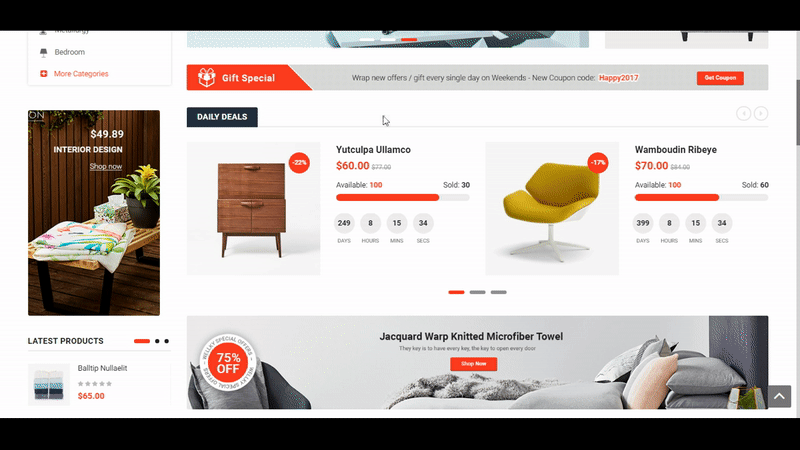 Quick Tool Module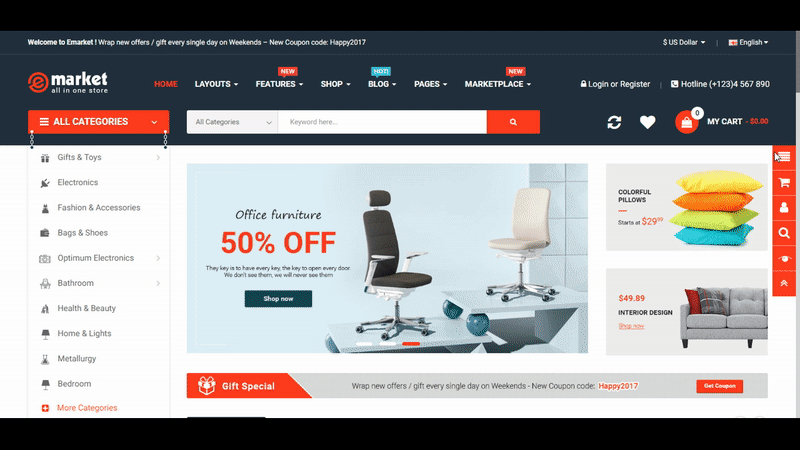 OnePage Checkout Module Ready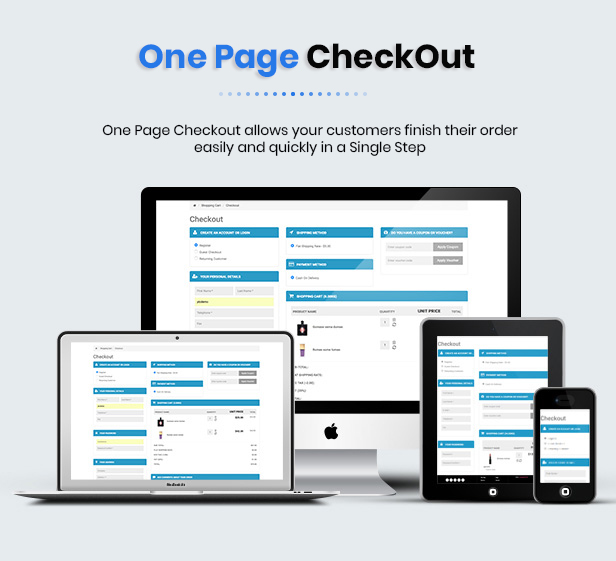 RTL Support & Multi-Language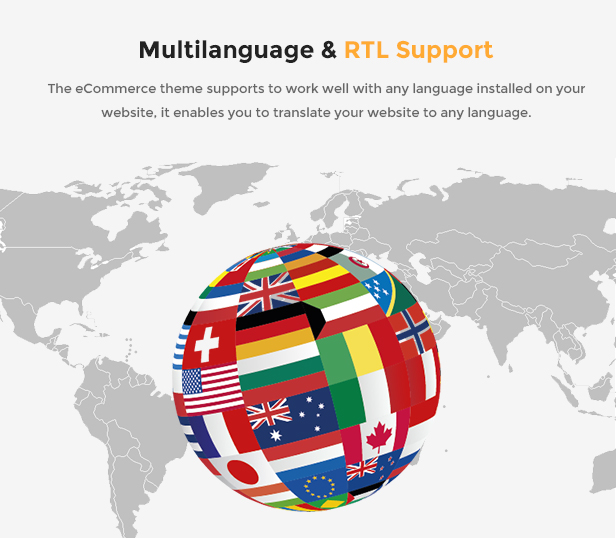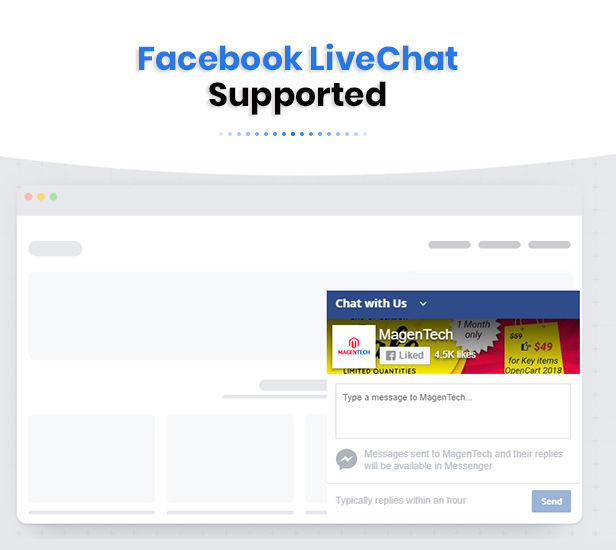 Full Of Features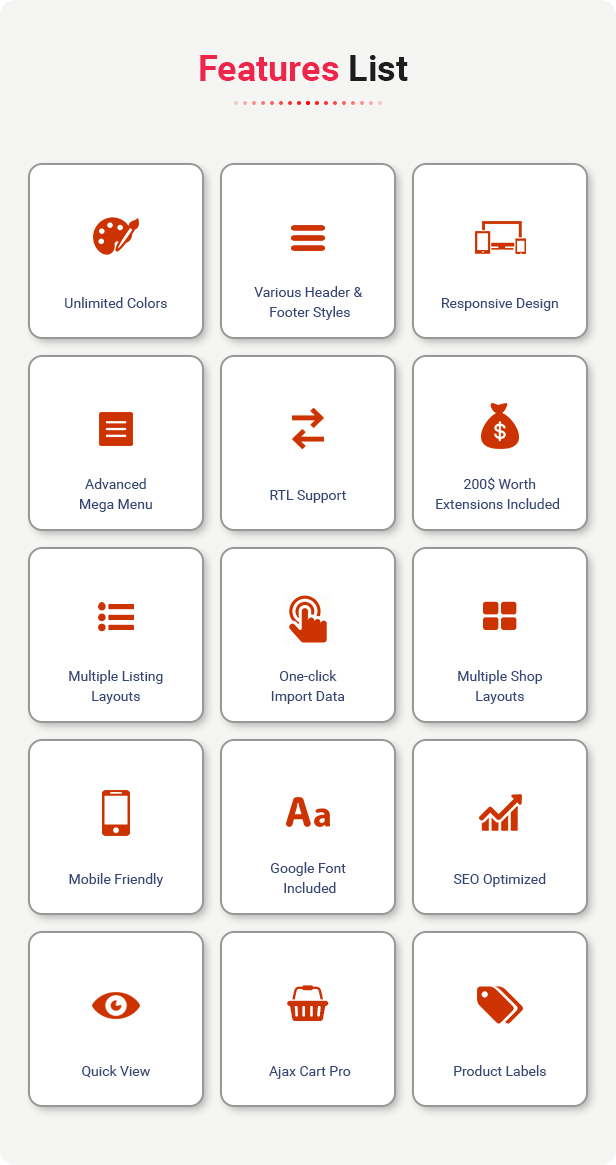 Core Feature
Compatible with OpenCart 3.0.x
Responsive layout for all devices
Multi-vendor Marketplace support
Mega Menu support (Horizontal & Vertical)
Boxed and RTL layouts
Color Swatches Pro
Countdown Popup
Quick Tool Module
OnePage Checkout
Latest Blog Support
One-Click import Data
Multiple Language support
Multi color Options for website skin
Fully integrated with Font Awesome Icon
Social Networks integration
CSS3 table-less design
Setup rows and columns
Experience the Live Demo Via QR code
Display static blocks contain texts below menu items
Full control over site width; content area and sidebars
Back to top button
SEO friendly
Social Login Module
Optimized codebase
Compatible with IE10+, Firefox 4+, Netscape, Safari, Opera 9.5 and Chrome
Note: All images are just used for preview purpose only and NOT included in the final purchase files.
Change Log
------------ Update: VERSION - 1.1.2: Sep-13-2018 ------------- 
[Fixed-bug]  Remove folder overriding so one-page-checkout module

------------ Update: VERSION - 1.1.2: Aug-21-2018 ------------- 
[Fixed-bug]  so module setting cache not working 

------------ Update: VERSION - 1.1.2: Aug-08-2018 ------------- 
[Fixed-bug] compiler scssphp on php 7.2

------------ Update: VERSION - 1.1.2: July-17-2018 ------------- 
[Update] Add extra index #15

------------ Update: VERSION - 1.1.1: Updated on July-07-2018 ------------- 
[Fixed-bug]-[Mobile]  Product detail Add to cart doesn't show when the options ( size, colors) was selected 

------------ Update: VERSION - 1.1.1: Updated on June-05-2018 ------------- 
[Update] Edit text language in module SO Lastest blog 
[Update] Mod so_onepagecheckout v1.14

------------ Update: VERSION - 1.1.1: Updated on May-23-2018 ------------- 
[update] Update index 13 + 14
[update] Update Google Amp
[update] Google SEO rich snippets

------------ Update: VERSION - 1.1.0: Updated on May-14-2018 ------------- 
[update] Layout Mobile - do not have Ajax live search

------------ Update: VERSION - 1.1.0: Updated on May-10-2018 ------------- 
[Fixbugs] The menu does not collapse on  iMAc with a 2560 x 1440   

------------ Update: VERSION - 1.1.0: Updated on Apr-19-2018 ------------- 
[Update]- Lazy load image for so modules to speed site up.

------------ Update: VERSION - 1.1.0: Updated on Apr-10-2018 ------------- 
[Updated] 2 new Indexes #11 + #12 
[Added] Module Call for Price

------------ Update: VERSION - 1.0.9: Updated on Mar-29-2018 ------------- 
[Update] Compatible with Revolution Slider
[Update] Compatible with  Product designer 
[FixBugs] SO Newsletter: email can't  be sent if configure SMTP
[FixBugs]  Jquery Image Zoom hover the image but JS still running 
[Update] Themesetting Click into button apply default setting, add extra option yes/no

------------ Update: VERSION - 1.0.9: Updated on Mar-19-2018 ------------- 
[Fixbug] Error Menu on iMAc with a 2560 x 1440 dimension

------------ Update: VERSION - 1.0.9: Updated on Feb-27-2018 ------------- 
[Fixbug] Mobile Layout - show not good side menu
[Fixbug] Translate - some text not translate

------------ Update: VERSION - 1.0.8: Updated on Feb-12-2018 ------------- 
[Fixbug] So Search pro - slow speed OpencCart site
[Fixbug] Mobile Layout - show RTL language

------------ Update: VERSION - 1.0.8: Updated on Jan-19-2018 ------------- 
[Fixbug] SO Megamenu : not translate language

------------ Update: VERSION - 1.0.8: Updated on Jan-12-2018 ------------- 
[Update] Menu Features: 50+ pages for Shop

------------ Update: VERSION - 1.0.7: Updated on Jan-02-2018 ------------- 
[Fixbug] Error happen add new language
[Fixbug] Product detail - click options but price tax not change
[Fixbug]  So Filter Shopby - structure is not valid mysql old

------------ Update: VERSION - 1.0.7: Updated on Dec-27-2017 ------------- 
[Update] Added index #9 & #10

------------ Update: VERSION - 1.0.6: Updated on Dec-20-2017 ------------- 
[Fixbug] So Megamenu - Translate Megamenu not working

------------ VERSION - 1.0.6: Updated on Dec-05-2017 ------------- 
[+] Added Indexes #7 and #8

------------ VERSION - 1.0.5: Updated on Dec-05-2017 ------------- 
 [Fixbug] So Megamenu : Error not remove menu item of Megamenu
 [Fixbug] So Mobile : Click button compile css not working
 [Fixbug] Maintenance mode: gives an error
 [Fixbug] So Color Swatch: for display product category

------------ VERSION - 1.0.5: Updated on Dec-01-2017 ------------- 
[+] Added the module Facebook Messenger

------------ VERSION - 1.0.4: Updated on Nov-29-2017 ------------- 
[Fixbug] Error happen add new language
[Fixbug] Product detail - click options but price tax not change

------------ VERSION - 1.0.4: Updated on Nov-25-2017 ------------
[+] Fixed bug: Translate language not working

------------ VERSION - 1.0.4: Updated on Nov-22-2017 ------------
[+] Fixed bug: SO Themeconfig - Tab social not working

------------ VERSION - 1.0.3: Updated on Nov-21-2017 ------------
[Update] Package so_emarket_patch_language_v.3.0.x.zip
[Fixed] Error translate for module so onepagecheckout

------------ VERSION - 1.0.3: Updated on Nov-15-2017 ------------
[+] Update index 6

------------ VERSION - 1.0.2: Updated on Nov-08-2017 ------------
[+] Fixed bugs

------------ VERSION - 1.0.1: Updated on Nov-01-2017 ------------
[Fixbug] Module so color swatches pro - undefined index: default_of_color

------------ VERSION - 1.0.1: Updated on October-25-2017 ------------
[Fixbug] Page My account - language display wrong
[Fixbug] So onepagecheckout - text language not translates
[Fixbug] Layout Mobile - not working Compile CSS

------------ VERSION - 1.0.0: Updated on October-24-2017 ------------
- update version 1.0.0:
[+] Fixed Error: language on heading_title

------------ VERSION - 1.0.0: Release on October-20-2017 ------------
[+] Initial Release


Other Versions

Here are some Top OpenCart Themes 2018