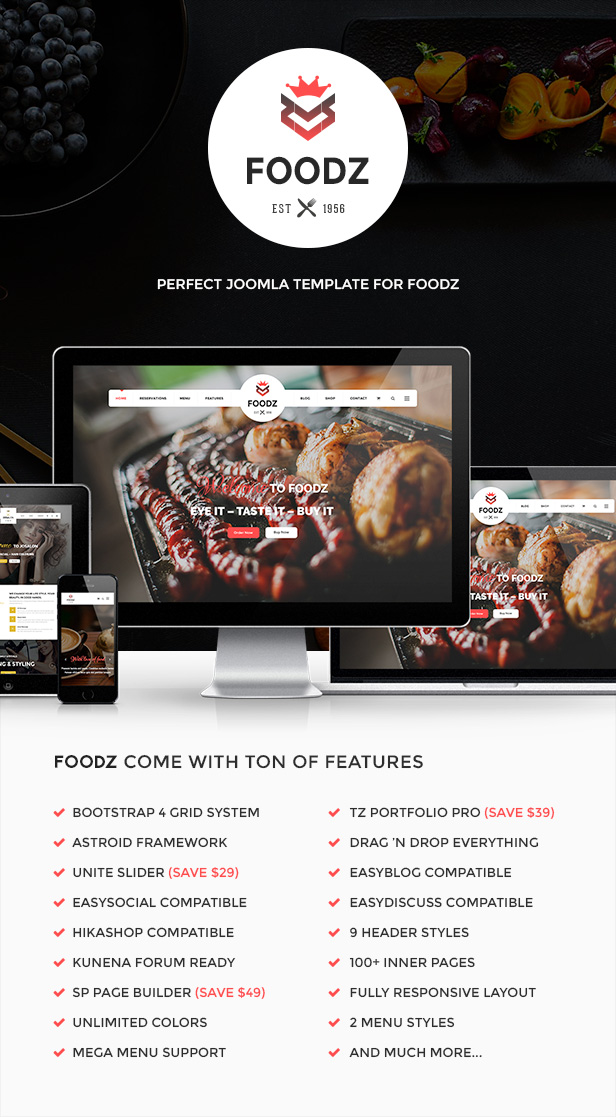 Foodz – Restaurant, Spa & Salon Joomla Template
Foodz is a Joomla Template for food business companies or individuals. It will help you present your drinks and food (cuisine, burgers, fries, pizzas, meals, hot dogs, bakeries, sweets etc.) in an easy way so that visitors see your amazing food. No matter if you use it for websites on spa and salons.
It is also responsive in order to suit to all devices (mobile, tablets, etc). If you like a clean and modern design, it is an absolutely perfect template helping you to build a unique website with little time. Foodz comes out with tons of meaningful features, plus glorious design and the vast amount of options for configuring this template. Let's have a walk through and experience this outstanding template!
Now, do not hesitate anymore, let go with us to discover Foodz.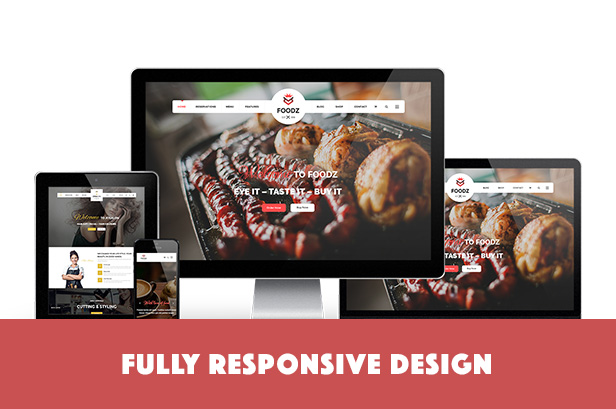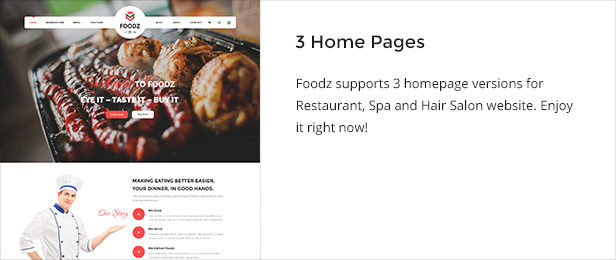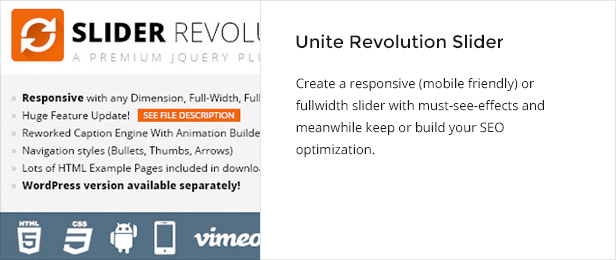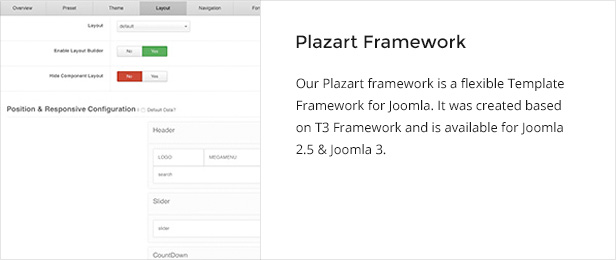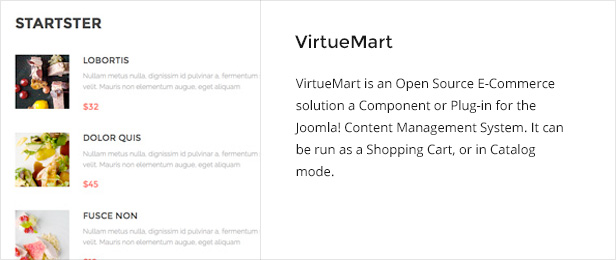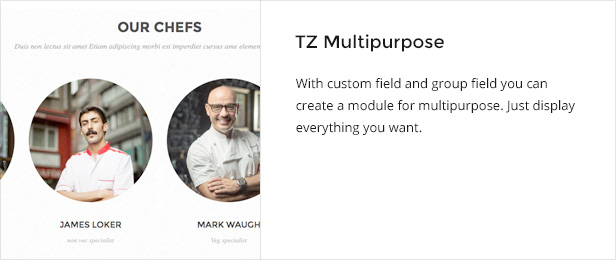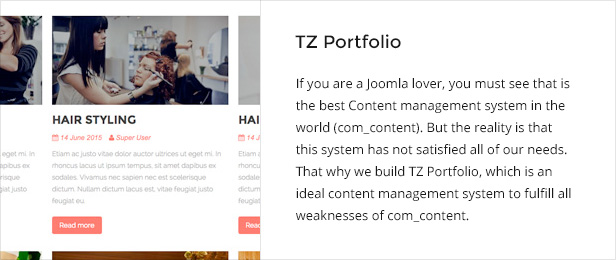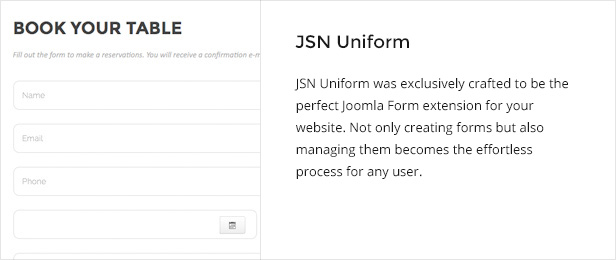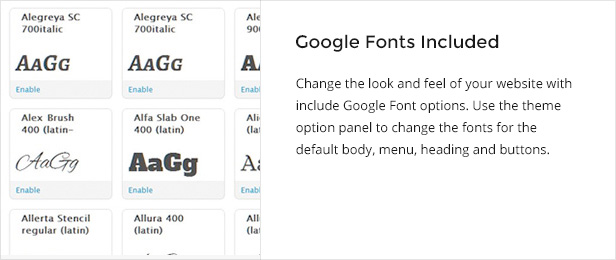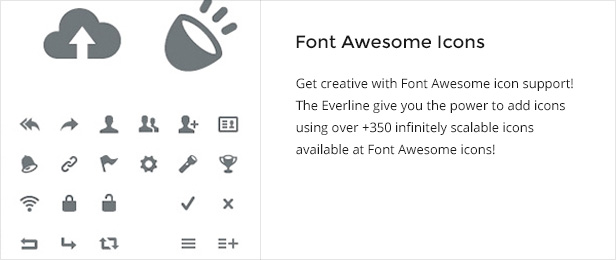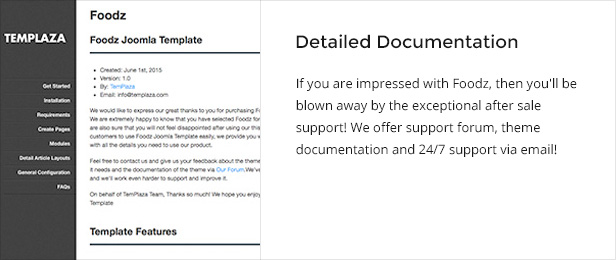 Responsive Design: Foodz is a Responsive Joomla Template . It supports Bootstrap, your template will adapt automatically to the screen size of the device and display all the content in an intuitive and simple way.
3 Home Pages: Foodz supports 3 homepage versions for Restaurant, Spa and Hair Salon website. Enjoy it right now!
Unite Revolution Slider: Create a responsive (mobile friendly) or fullwidth slider with must-see-effects and meanwhile keep or build your SEO optimization.
Plazart Framework: Our Plazart framework is a flexible Template Framework for Joomla. It was created based on T3 Framework and is available for Joomla 2.5 & Joomla 3.
VirtueMart: VirtueMart is an Open Source E-Commerce solution a Component or Plug-in for the Joomla! Content Management System. It can be run as a Shopping Cart, or in Catalog mode.
TZ Multipurpose: With custom field and group field you can create a module for multipurpose. Just display everything you want.
TZ Portfolio: If you are a Joomla lover, you must see that is the best Content management system in the world (com_content). But the reality is that this system has not satisfied all of our needs. That why we build TZ Portfolio, which is an ideal content management system to fulfill all weaknesses of com_content.
JSN Uniform: JSN Uniform was exclusively crafted to be the perfect Joomla Form extension for your website. Not only creating forms but also managing them becomes the effortless process for any user.
Google Fonts Included: Change the look and feel of your website with include Google Font options. Use the theme option panel to change the fonts for the default body, menu, heading and buttons.
Font Awesome Icons: Get creative with Font Awesome icon support! The Liona give you the power to add icons using over +500 infinitely scalable icons available at Font Awesome icons!
Detailed Documentation: If you are impressed with Foodz, then you'll be blown away by the exceptional after sale support! We offer support forum, theme documentation and 24/7 support via email!
Need supports?
* Support Forum
When being our member, you have access to our forum where you can post your problem and get support to solve it.
* Support Desk System
http://www.templaza.com/tz_membership/envato_customer.html
It includes two supporting systems: the Ticket system, by submitting a ticket about your problem to us, member will receive answer to the problem. It is also fast and easy to check whether your problem has been solved and how it is fixed. The second worth-mentioning supporting system is FAQ includes a lot of useful information to be found.
* E-mail
It is also possible to e-mail to support@templaza.com in order to ask them for help.
Changelogs:
Version 3.0.3

+ Rebuilt everything
+ Bootstrap 4 Ready
+ SP Page Builder Pro Included (Save $49)
+ TZ Portfolio Pro Included (Save $39)
+ Unite Slider included (Save $29)
+ Astroid Framework Powerful admin Panel
+ Mega Menu Support
+ 8 Header modes
+ Hikashop support instead of Virtuemart
+ Kunena Forum support
+ EasyBlog, EasySocial, EasyDiscuss support
+ Drag'n Drop everything
+ Fully responsive layout.
+ And much more.

Version 1.2

    - Update Joomla version 3.4.8
    - Update Plazart Framework version 4.9
    - Update VirtueMart version 3.0.12
    - Fix error responsive menu

Version 1.1


    Update joomla v3.4.3.
    Update Plazart Framework v4.5.
    Update Revolution Slider v4.6.5 b1.
    Update TZ Portfolio v3.3.2.
    Insert css for edit module view in front-end.
    Fix product description does not display in detail page.
    Fix more images style in product page.
    Fix error when click on the Edit Module at the Front end.


Featured Item: Wedding Event – Everline WordPress Theme