Login credentials:
user: demo
pass: demouser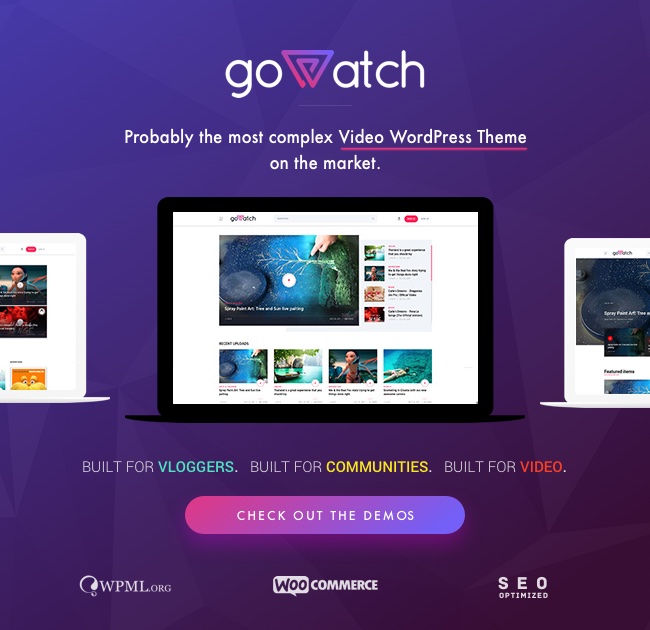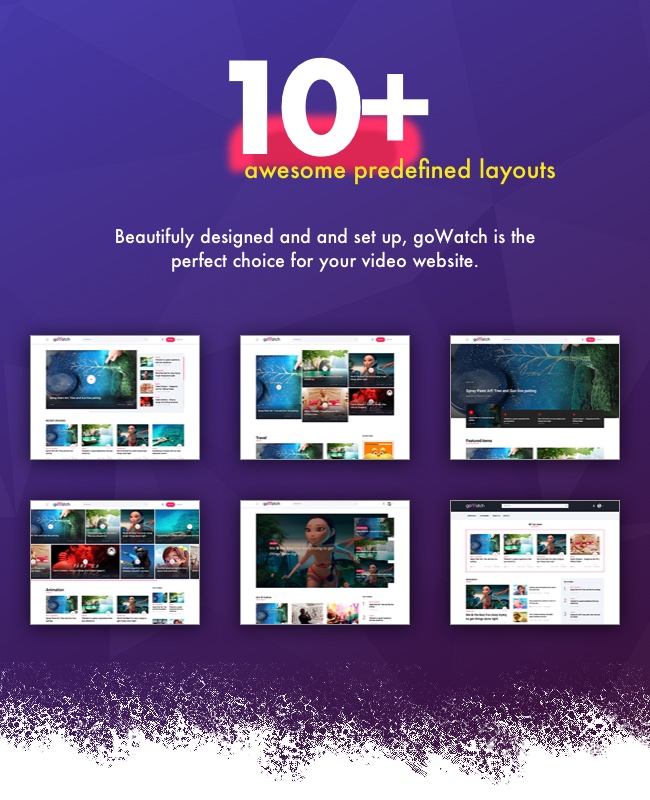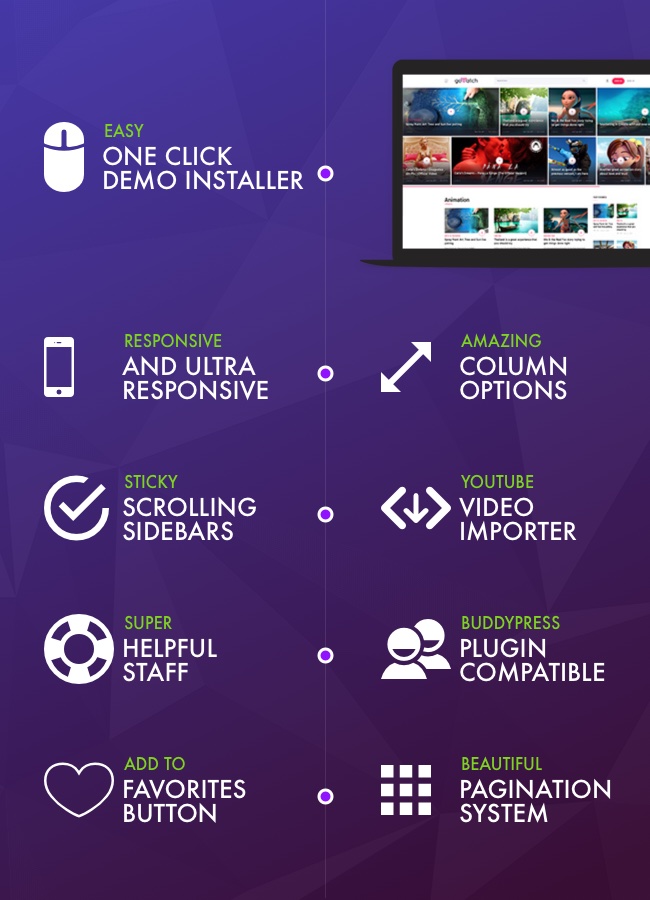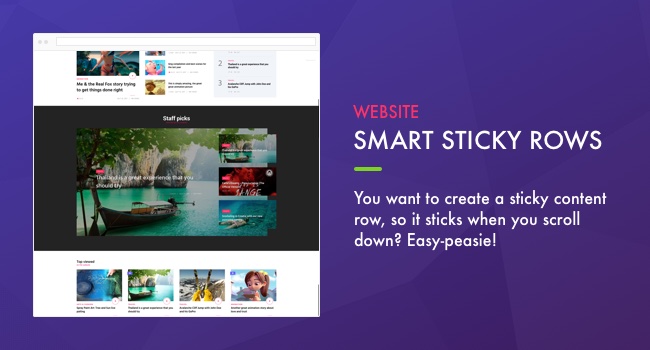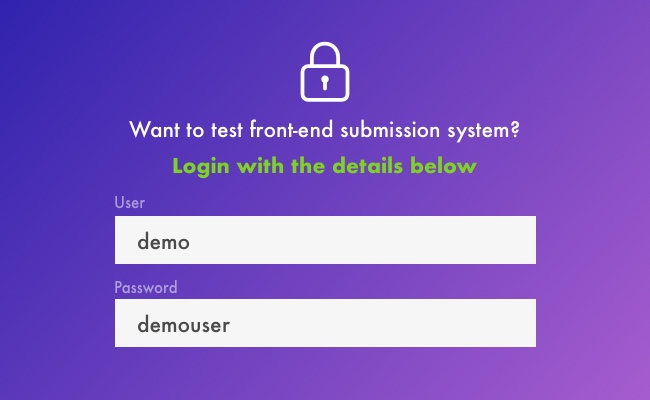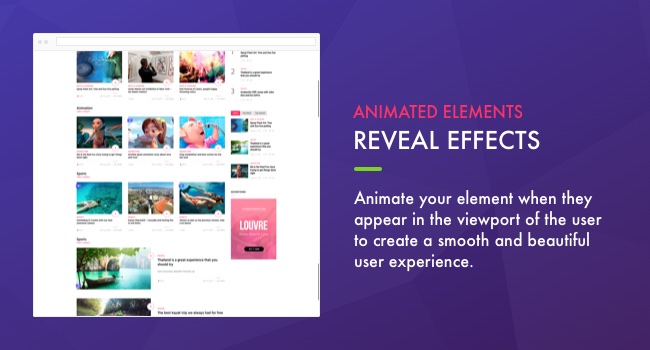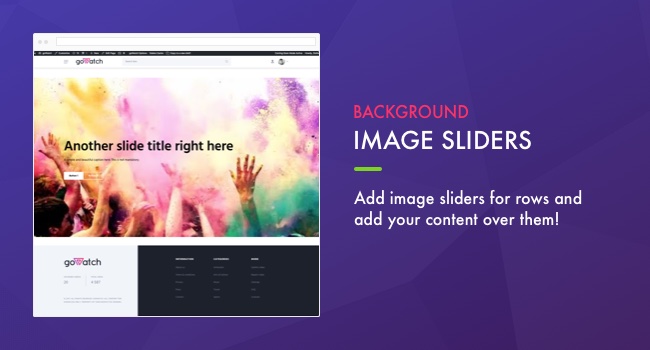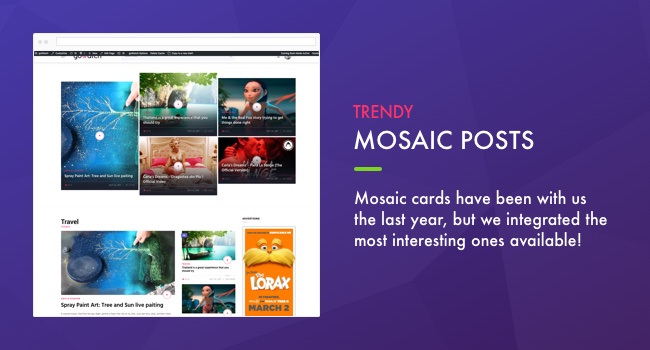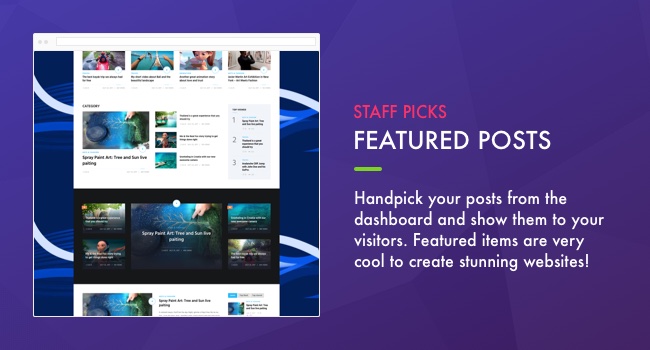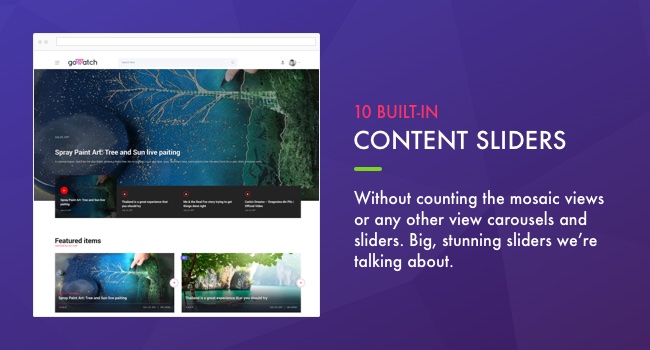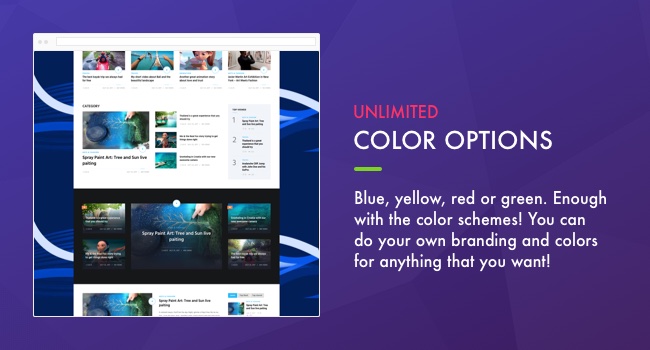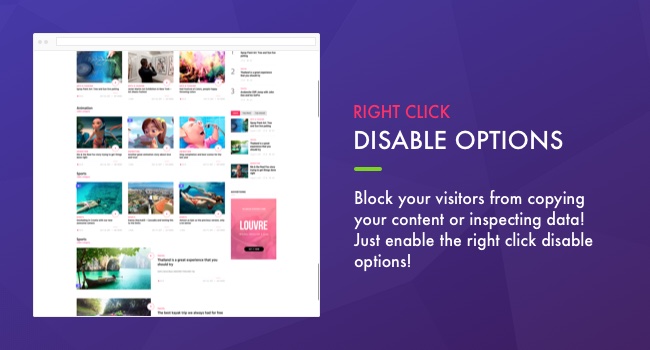 This theme provides a sleek and elegant template perfect to create professional website with ease. Built-in mega menu, 12 column layouts, contact form with custom fields, custom posts like video, gallery, portfolio, slider and more, makes it very easy to categorize your content and showcase it in a beautiful way. It's a retina ready (high definition) markup and settings coupled with unlimited color options, beautiful social sharing options, carefully crafted elements create a perfect and harmonious website for you, making it the perfect choice from a simple blog to a big, content heavy photography website.
It is fully translatable and WPML ready, 8 included sliders that can showcase posts, galleries, videos or custom slides, and fully responsive down to mobile – goWatch is a premium theme that brings your website to a new level.

Attention to details, carefully crafted elements for increasing your content views and visitor engagement and SEO were a few of the things we, at TouchSize had in mind when we developed and launched this theme. We created a product to set new standards of options and visually excellent.
Sticky sidebars
Content is important, and your sidebars might have very important content indeed. Even advertising can get sticky so that you get more clicks on your banners. It's easy and simple to do.
Custom widgets
TouchSize is well known for awesome widgets and options. These theme is no exception and we included all the widgets available here as well: Latest posts, videos, galleries, portfolios, Most liked, Most popular, Tabber, tags, etc.
Video Custom Post
As our other beautiful themes, goWatch also uses video custom post. This means that video posts are separated from the default posts making it easy to categorize your content and also use it as you need. This also leaves the opportunity to use create a blog on the same installation with ease.
Gallery Custom Post
Use the default WordPress posts for creating a nice blog. We provide a custom post specially made for galleries!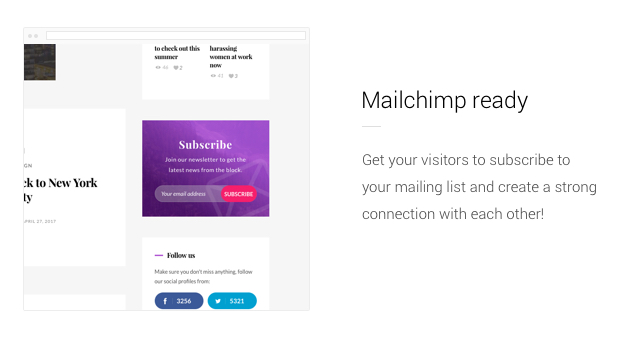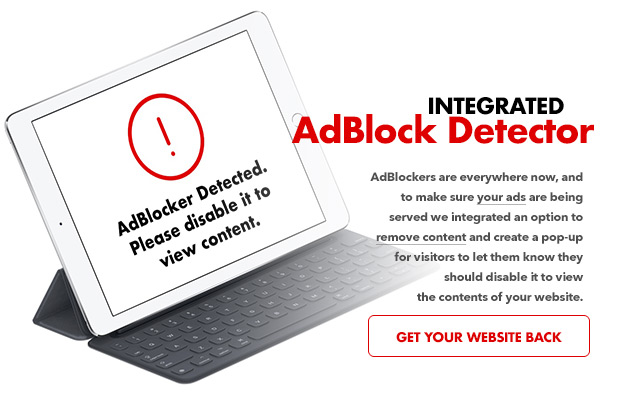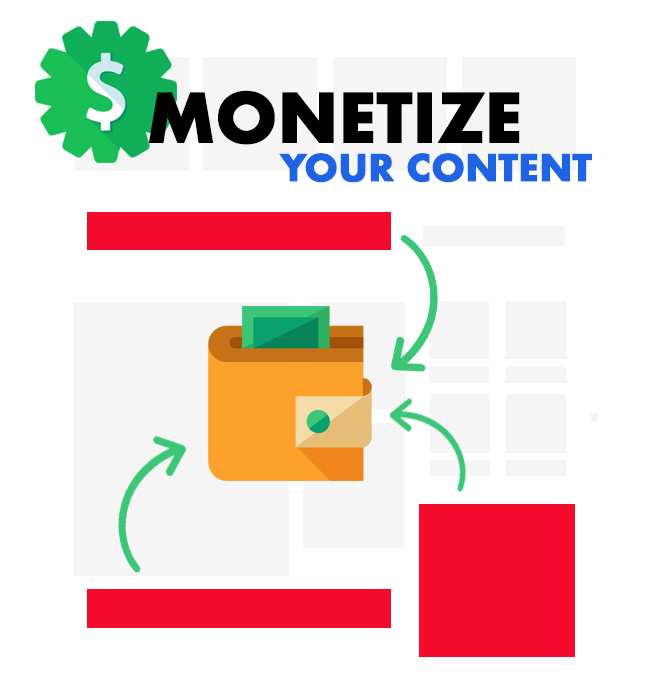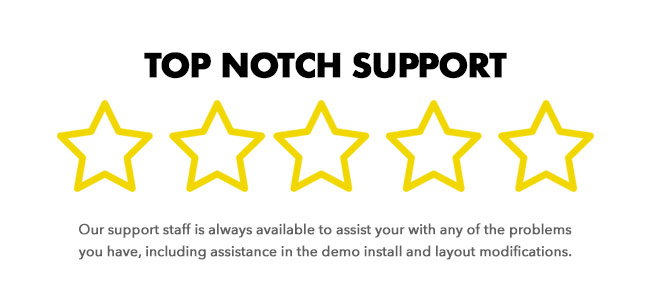 Requirements

- PHP 5.6+
- memory_limit 256MB
- max_execution_time 120
- upload_max_filesize 32MB

Changelog


Version 1.1.4 - October 7, 2020
- Fixed attachment delete for mobile devices for front-end submission
- Updated WooCommerce styles
- Updated mosaic view image sizes
- Added WooCommerce Memberships compatibility
- Fixed theme updater issue for some cases
- Added option to thumbnail view and grid view for 2 columns for mobile
- Fixed Facebook Share
- Fixed user profile redirected non-logged in users
- Moved everything to https
- Fixed admin builder styles for conflict with jQuery UI
- Fixed pagination
- Fixed tabs to be able to use shortcodes
- Updated sticky video styles
- Removed the new user to set password again after registration
- Fixed user profile page title
- Fixed labels for empty fields on front-end submission/registration pages
- Added WooCommerce memberships compatibility/fixes

Version 1.1.3 - August 11, 2020
- Improvement: for add new page, added loading for when button is pressed
- Improvement: added minified versions (experimental still), but working
- Improvement: changed profile URL to use slugs instead of IDs
- Fix: Removed Google+ from the theme completely
- Fix: load more button now shows only if there are enough posts remaining
- Improvement: Fixed images and metadata details
- Fix: sharing stats showing nothing by default
- Fix: showing country fields for submission forms
- Fix: twitter sharing link that was not working properly
- Improvement: update/fix for styles for the single video meta

Version 1.1.2 - April 21, 2020
- Updated WooCommerce files
- Fixed styles for BuddyPress
- Fixed admin notices
- Fixed autoplay for playlists
- Fixed styles for elements
- Added compatiblity styles for WP Subscribe to User plugin
- Fixed the verification issue for license if an error is triggered
- Fixed license verification http call
- Fixed meta date for single video

Version 1.1.1 - March 28, 2020
- Fixed boxed version for mobile
- Added option for article listings to choose post ID
- Fixed wp_kses_post issue from lastest WP update
- Added functionality to be able to add other file extentions for the upload
- Fixed author cover image update issue

Version 1.1.0 - Feb 13, 2020
- Fixed profile errors
- Fixed dismissed issue for notifications in admin
- Fixed styles for comments
- Updated user element and fixed it
- Fixed share to Twitter link issue
- Fixed user social profiles links
- Fixed license verification issues
- Fixed forms notices
- Code optimization

Version 1.0.9 - July 12, 2019
- Updated the theme updater
- Fixed lost password form issue
- Updated the typography class
- Fixed notices
- Fixed maps API key to used from options
- Updated forms to use right files for child themes
- Updated WooCommerce files
- Minor CSS fixes

Version 1.0.8 - June 3, 2019
- Fixed theme updater
- Fixed Countable error
- Fixed category issue on single page
- Added actions before and after header
- Fixed issue with double content for videos
- Fixed save button so it uses the default WordPress update button
- Fixed video importer
- Fixed fields class
- Fixed menu for language switcher
- Added sticky header option for header 5
- Fixed author for category view
- Removed Google+ options
- Minor CSS fixes

Version 1.0.7 - March 25, 2019
- Updated TouchCodes
- Fixed textarea spaces
- Included tags in search
- Fixed import settings for child themes
- Added videos and galleries in BuddyPress pages
- Fixed WordPress 5.1+ Save Layout Changes button
- Fixed Facebook Modal Bug
- Minor CSS fixes

Version 1.0.6 - January 6, 2019
- Fixed issue for theme activation without WooCommerce installed
- Minor CSS fixes

Version 1.0.5 - December 23, 2018
- Fixed text editor issues
- Fixed the delete button for front-end
- Fixed postmeta categories issues
- Fixed lazy loading for srcsets
- Fixed breadcrumbs
- Fixed comment date for human times
- Fixed video URL textarea when video was different from external
- WP5.0+ Fixes
- Added subscribers only video option
- Updated TouchVideoAds
- Fixed stats widget
- Fixed video playlist autoplay
- Updated WooCommerce files
- Fixed bug for header on shop page

Version 1.0.4 - August 2, 2018
- Fixed single page meta styles
- Added video reporting feature (with admin approval)
- Fixed date format for widgets
- Fixed Instagram widget with transients
- Updated sticky sidebars
- Updated TouchCodes Plugin
- Updated WooCommerce files

Version 1.0.3 - May 7, 2018
- Fixed text editor issues
- Fixed search results
- Fixed styles for jQuery UI
- Fixed hidden embed textarea for videos
- Fixed row background video option
- Added option for automatic video grabber for oEmbed videos
- Added option to get video from text editor content area
- Added custom meta key option for reading content (for plugin compatibility)
- Fixed default form post type
- Fixed Instagram widget
- Fixed author option on single
- Updated WooCommerce files
- Updated TouchCodes Plugin for child theme compatibility

Version 1.0.2 - February 19, 2018
- Fixed sticky video for mobile
- Fixed login/registration page for mobile
- Added system status page
- Fixed mosaic rectangles on mobile
- Fixed sticky video
- Added PHP verification for lower than 5.6
- Fixed upload on mobile devices
- Updated facebook comment scripts
- Added close option for sticky videos
- Fixed notices for parallax images
- Added compatibility for old video themes
- Fixed conditional logic scripts
- Fixed upload for mobile devices
- Redirect single playlist to first video added in the playlist
- Fixed meta options for showing/removing meta data from page
- Updated WooCommerce files

Version 1.0.1 - September 28, 2017
- Fixed colors issues
- Included latest demo exports
- Added sticky video option
- Minor CSS styles



By purchasing this item, you agree to the terms and conditions and the refund policy for our products.