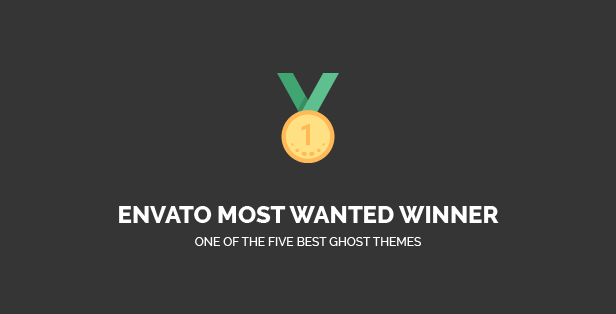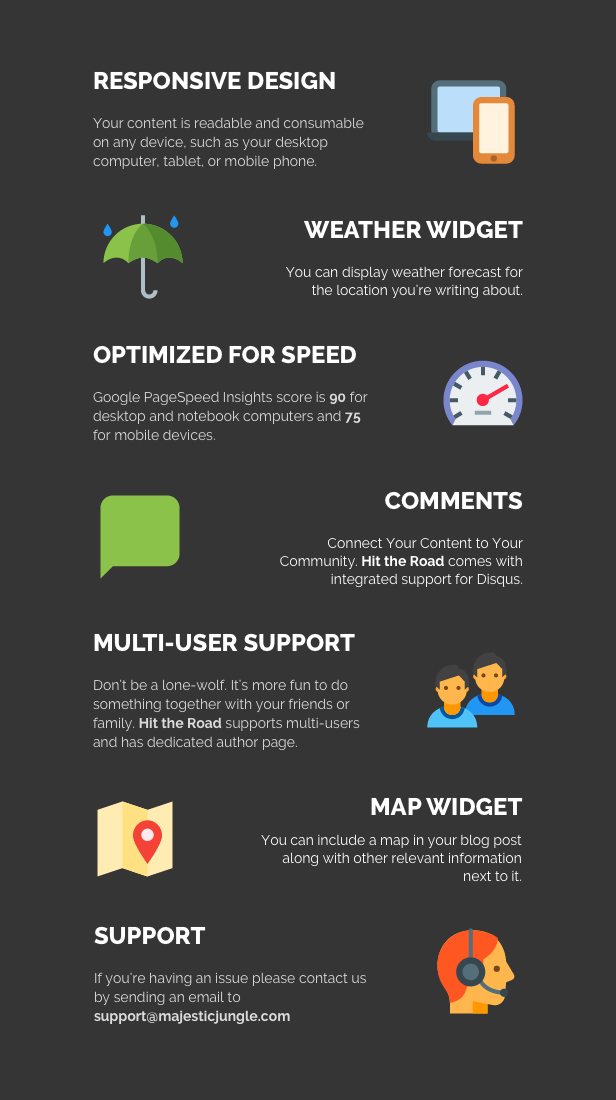 Hit the Road is clean & minimalistic Ghost blog theme for those who want to share their beautiful travel stories. This theme is an easy way to create a professional-looking blog where your reader can enjoy spending their time.
Features
Ghost 1.0 compatible
Fully responsive
3 index page layouts
Dedicated author page
Dedicated tag page
Weather widget
Newsletter sign up widget
Popular tags widget
Disqus comments
Google PageSpeed Insights 90/100
Valid HTML5/CSS3
Credits
All cover images in the preview are used under Creative Commons Attribution 2.0 Generic license. The list of all images with it's respective authors and links to the original locations can be found in the preview's About page.
NOTE: Cover images used in live preview are not included in this item. Due to licensing issues Map Glyphs are not directly included in this item, but can be downloaded separately from their site for FREE and used on the theme without restrictions.
Icons are from Font Awesome and Icons8
Support
If you're having an issue please contact us through support tab or leave a message in the comments.
Change log
22-12-2017 – Version 1.8.0
Made post header tags clickable
10-11-2017 – Version 1.7.1
Removed unnecessary code that was accidentally added by automated build system
Fixed JavaScript error that occurred on pages where scroll hint was not present
30-10-2017 – Version 1.7.0
26-10-2017 – Version 1.6.0
26-08-2017 – Version 1.5.0
Added option to show marker on Google Maps widget
30-07-2017 – Version 1.4.0
Updated to support Ghost 1.1.0
28-06-2017 – Version 1.3.3
Fixed issue with having a broken layout when posts per page option is greater than 8
18-03-2017 – Version 1.3.2
Fixed usage of deprecated table in Yahoo Weather API
21-09-2016 – Version 1.3.1
Removed protocol part from all Google Font URLs
19-09-2016 – Version 1.3.0
Updated to support Ghost 0.11
Added search support
Fixed grid display issue in inner pages
Fixed some CSS inconsistency between templates
06-06-2016 – Version 1.2.0
Added support for the Facebook and Twitter profile in the author bio widget and the author page.
26-05-2016 – Version 1.1.1
Fixed the author bio display issue on Safari browsers
Reduced the minimum height of the header image
10-05-2016 – Version 1.1.0
31-10-2015 – Version 1.0.2
Added Google Maps widget
Updated React to newest version
Removed unused JavaScript dependencies
16-10-2015 – Version 1.0.1
Added missing ghost_foot helper
12-10-2015 – Version 1.0