CHECK OUT our brand new Magento 2 products:
[M2] UB Data Migration Pro – Handy tool to migrate data from Magento 1 to Magento 2 with ease. If you are new to our migration tool, this [Video Tutorial] will walk you through 9 visualized migration steps, using UB Data Migration Pro.
CURRENT VERSION: 1.0.7 FULLY COMPATIBLE WITH 1.9.3.1 Security Patch.
Looking for a hip-hop or street style fashion store? Siotis is here to answer your call.
Siotis now comes with 6 exciting extensions including: Mega Menu, Slideshow2, Products slider, Product, Quick Buy and the awesome Basetheme. This means you now have unlimited color choices for your site with much less effort spent on customization.
Siotis is a responsive template with the extra bonus of an Off-Canvas menu for mobile. All these amazing features are blended together in Siotis – your powerful, stylish and attractive Responsive Magento Fashion Theme.
  Developed by us, UberTheme.com, Siotis is the first
Responsive Magento theme
which supports
off-canvas navigation
used in mobile and tablet devices. The theme also comes with the latest QuickBuy module, which supports transitions and effects developed specially for this theme only. Not to mention the Mega menu with featured products, Basetheme for easy customization and an auto-updated shopping cart feature this theme is loaded with.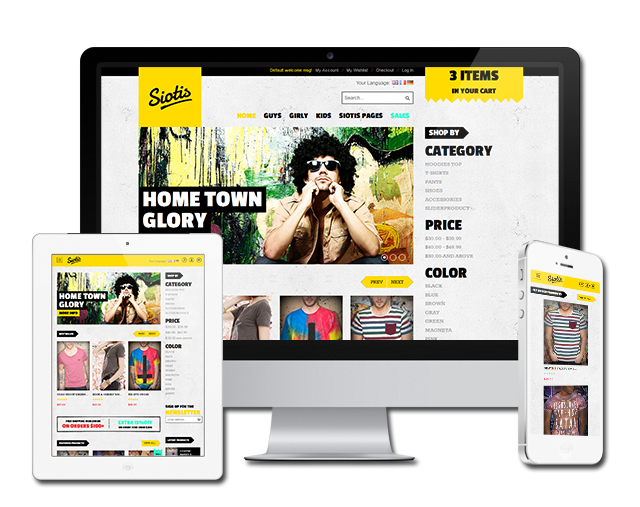 Responsive Magento theme Siotis
Just a glance at Siotis and you will be drawn to it by its bold big typography and contrasting color blocked graphics. Sitois Magento theme has itself a very strong urban style in every corner but still keeps down to minimal design.

Off-Canvas Navigation solutions for Responsive Magento Theme
If you ever surf Facebook on mobile or tablet, you must be familiar with the idea of Off-canvas menu on Facebook mobile already.
Technically off-canvas is a design pattern which has up to 2 or 3 panels, displayed differently depending on device's width. Taking advantage of off-the-screen space, off-canvas navigation keeps the content ready and be visible when users take action to expose it or when on a larger screen mode.
Siotis is the first Magento theme that supports Off-canvas navigation, applied for the main menu and shopping cart. Imagine how convenient for your online shoppers to views all your products on mobile without losing track where they are.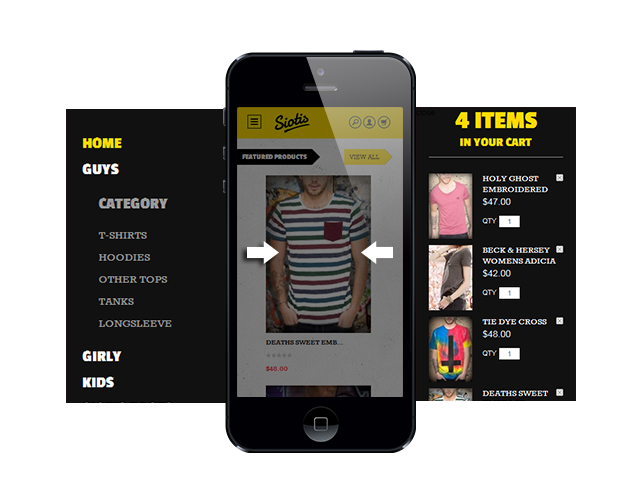 Off-canvas navigation layout for Siotis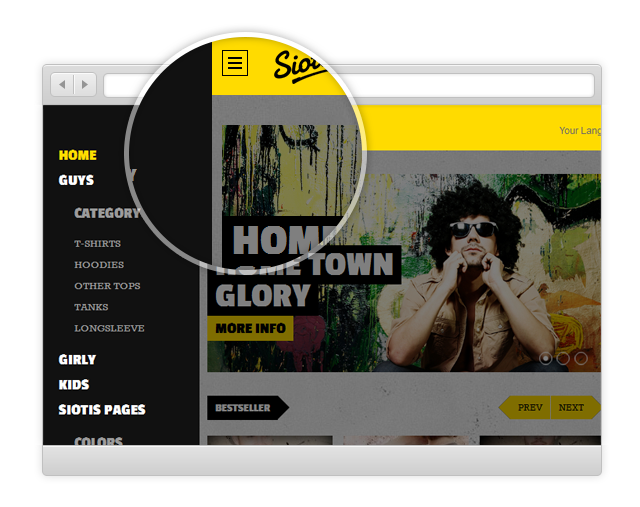 Off-canvas navigation for main menu
BaseTheme for Magento color customization
Want to have your own color of choice rather than our 6 color schemes? Basetheme gives you the full control in customizing Magento theme color schemes. A quick setting in back-end and you can set the color you want from header to footer, you can even personalize the product details page and product display layout.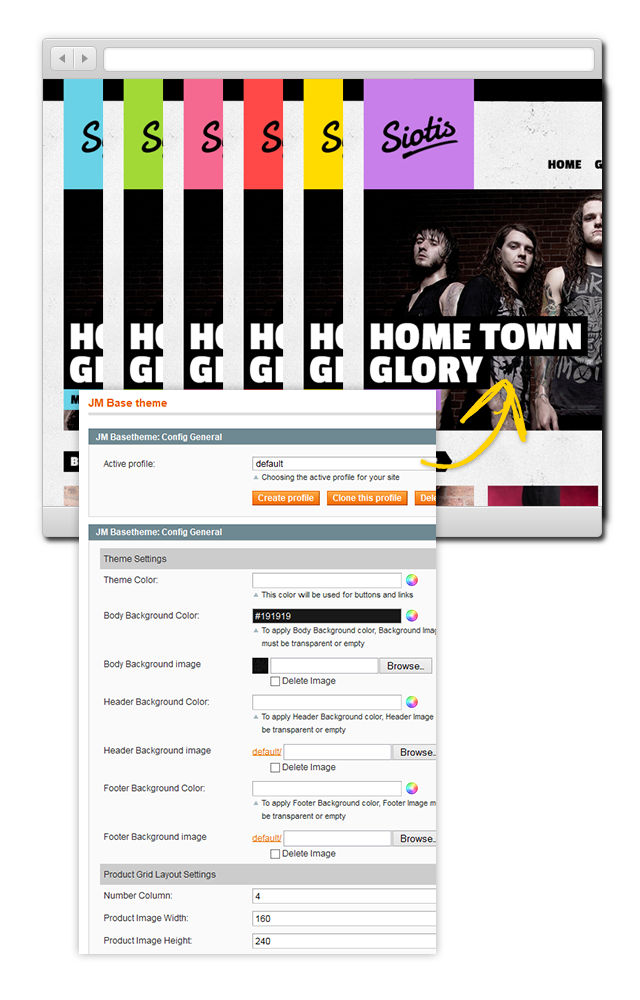 Easy to customize color schemes using Basetheme


Magento theme Mega menu with feature products
As a compulsory part of our Magento themes, Siotis supports a slick Mega Menu with custom blocks to display featured products and even embed videos.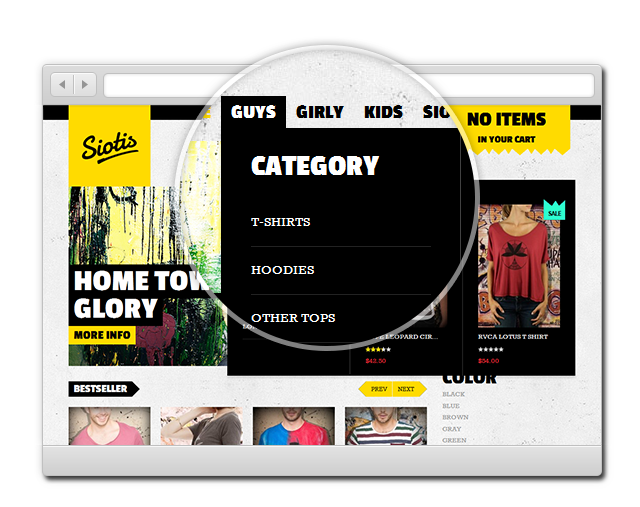 Mega menu supporting custom block for feature products and videos display
Magento QuickBuy Extension
An auto-update shopping cart without reloading the page is the main advantage that your store would have with QuickBuy Besides, Siotis also support various effects and give an interesting online shopping experience.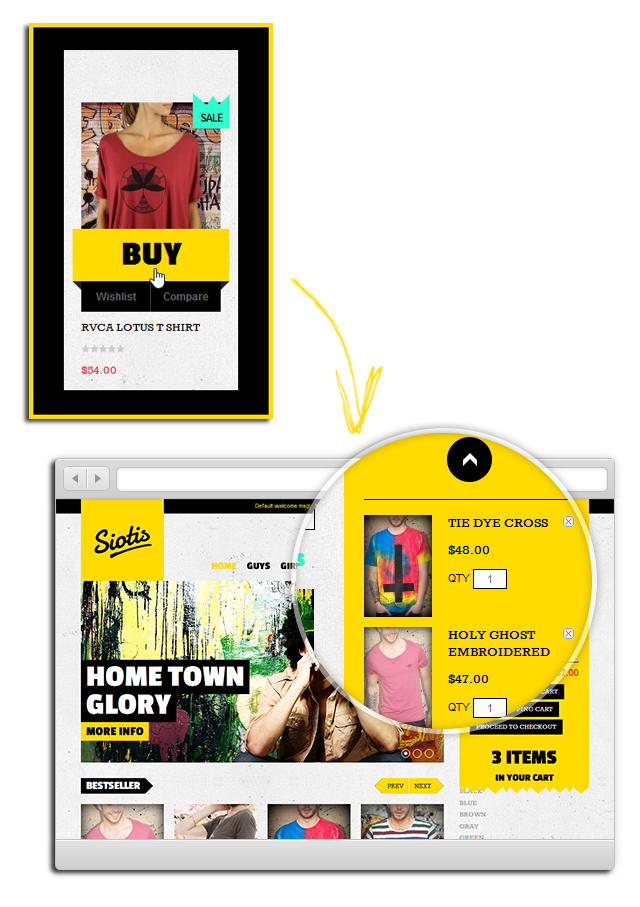 Auto-update shopping cart with Magento Ajax Cart module
Bonuses
In this theme Siotis, we support the menu style for multi-language: English, French and German..etc..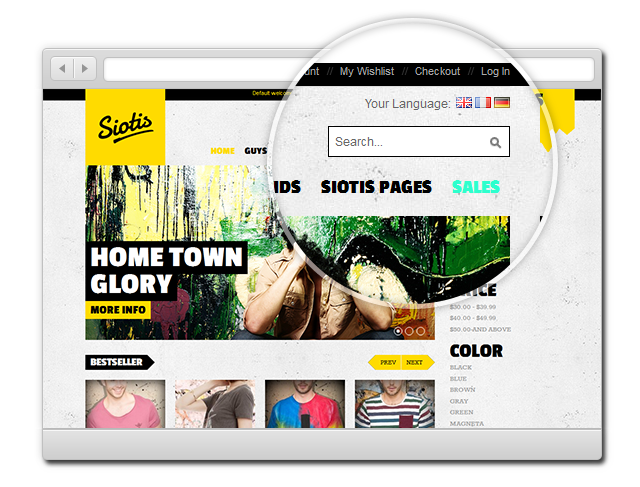 The extra HOT and SALE badge on any product.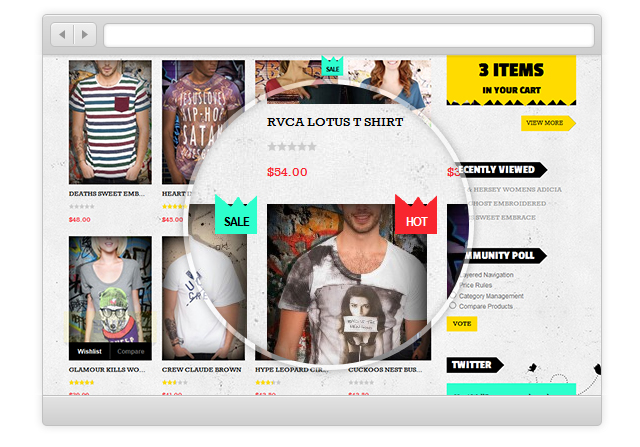 Full Features
Custom Background, Colors via BaseTheme
Create Multi-Store easily
Fully Responsive
Google Web Fonts
Cloud Zoom : To enlarge product images
Compatible with all types of products attributes
Add to cart easily with QuickBuy extension

Support Shop by on Side bar
"Sale" label for products with special price
"New" label for products
Two kind of Product View Layout: Grid and List
Compatible with all types of product attributes
Fully compatible with Magento 1.7.2
Cross Browser support (IE8+, Safari, Firefox,Chrome, Opera)
Valid XHTML and Css Markup
Tutorial and userguide for installation and using
User guide Documentation .html file
PSD files included
Version and Changelog

Head over to our Changelog and Version for more details.
Support


DISCLAIMER: We support through UberTheme system ONLY. Comments in this thread barely reach our Technical Support team. Should you have any technical issue, kindly follow these steps to contact us:
Step 1: Submit your question to UberTheme
1. Go to http://www.ubertheme.com/questions/ 2. Fill in the question information 3. Provide ticket details with your email address (don't worry, we'll NEVER spam!)
Step 2: Leave your Question link under Comment tab in this thread (highly recommended)
Please note:

Support time: Monday – Friday 8AM to 5PM GMT +7
Response Time: Within 24 hours (1 business day)
Support is not available on Saturday & Sunday due to our weekend break
Items support includes:

Responding to questions or problems regarding the item and its features
Fixing bugs and reported issues
Providing updates to ensure compatibility with new software versions
Items support does not include:

Customization and installation services
Support for third party software and plug-ins
Installation Services:

Quickstart installation services cost $40, how to purchase: 1. Go to http://www.ubertheme.com/questions/ 2. Select "Installation Services" Category 3. Provide credentials to install your website
YOU MIGHT BE INTERESTED IN OUR NEW MAGENTO 2.x RELEASE