Josie is a modern, fresh and elegant theme. Specially built for blogs, magazines and news. Supports RSS subscription and subscription to email lists default Ghost. In addition to comments given with "discussion thread". Josie theme is built with great support devices. It is easily accessible to the labels in both desktop and mobile. It features an elegant and energetic design in all its views. It supports templates: author, post, tag, pages, custom styles for quotes, great covers, navigation adapting to scroll to better experience and more.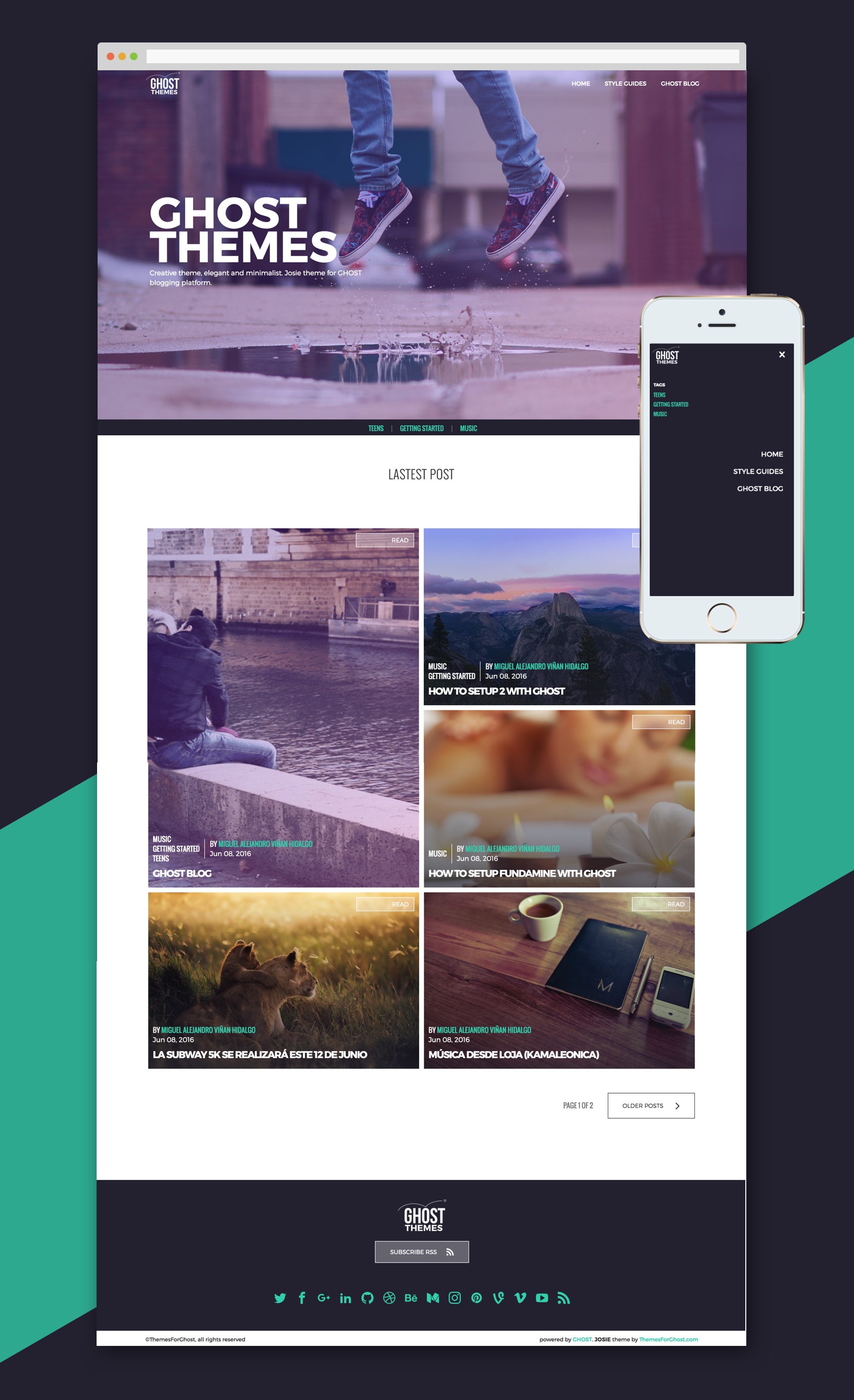 This theme is 100% responsive, minimalist, elegant and youthful, has easy setup for Disqus comments. Support for subscription includes the version of Ghost v0.8.0. Animated Sticky navigation for a good read in the post, typography adapted 100% responsive. It contains only the necessary icons to increase performance. It has support for Google Fonts. The theme uses own styles designed by our team. Only use Bootstrap 3 grid system. It is simple, easy and very effective when you install and operate. Allows you to modify their styles, colors, it is easy to navigate and usability. We have a unique menu labels and nonintrusive navigation between them easily adapted to mobile and desktop. It has templates for authors, post, label, home, pages, etc. All built for "Ghost Blogging Platform" version 0.8.0. Excellent for personal blogs, magazines, news, companies, broadcasters, writers, multipurpose.
Update 2.0.0
Now, we update the theme for the new version of Ghost v1.10.0.

Update 1.1.0
- Fix typo, did not allow to load the assets correctly.
- Change navbar styles and was added sticky menu-tags